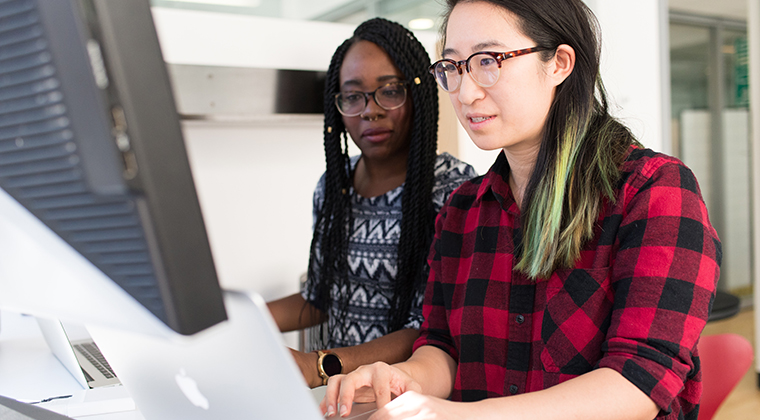 Sticky B2B SaaS is Effective B2B SaaS
There have never been more SaaS applications, yet usage rates within any given organization remain relatively low. According to data collected by Productiv, a leading SaaS management solution, the average company has 254 SaaS apps, but less than half the licensed employees use the SaaS programs available. This is an interesting conundrum. Upping the stickiness of your product, becoming so valuable that customers feel they can't work without it, ensures it's regularly used, increasing user engagement. This results in higher retention rates, more upsell/cross-sell opportunities, increased customer lifetime value, and higher referral levels than rarely used products.
For SaaS companies to thrive, you need to ensure your customers are renewing year after year. This post will provide you with five ways to up the stickiness of your SaaS program.
Table of Contents
Five Ways to Make Your SaaS Applications Stickier
Ensure Your Product is Easily Integratable
No SaaS solution exists in a vacuum (remember, the average company's individual SaaS products are living and working with 253 other providers). It serves every SaaS product to realize it exists in a broader SaaS ecosystem and makes it easier to integrate into the other platforms an organization is utilizing.
Solid integration compounds the stickiness of your SaaS product by adding additional pathways to and from the product. This gives your product more value and engagement opportunities—users can build workflows around your product and consistently interact with your product in various stages of bigger-picture processes.
Despite the power of integration, it's often overlooked. Here at HiringThing, we work in HR tech, developing integrative recruiting software so we can speak to that field. The HR Research Institute found that only 16% of recruiters said their recruiting software integrates seamlessly with the other HR tech applications. Aptitude Research found poor integrations are talent acquisition professionals' most significant frustration with HR tech.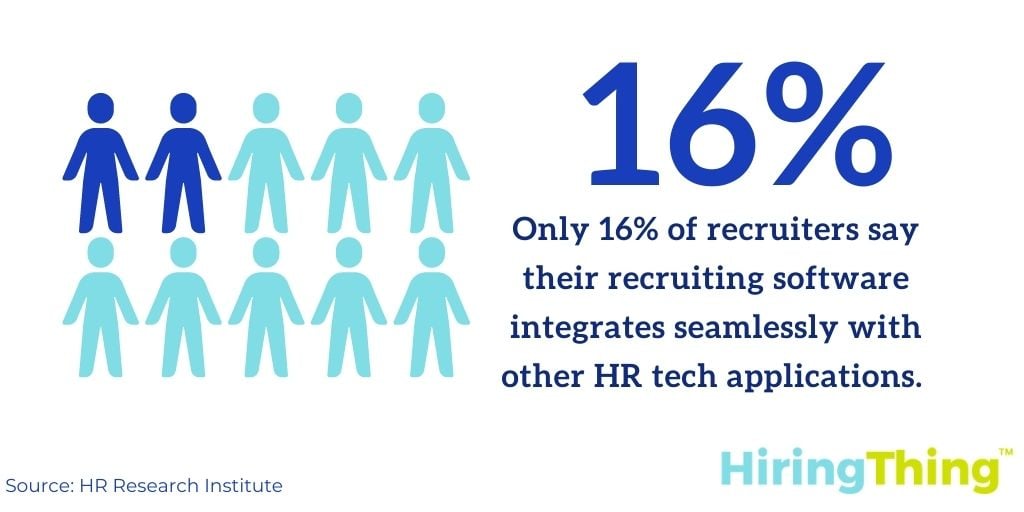 What's the reason for this lack of integrations? An SHRM article cites, "Many companies lack the dedicated resources and underestimate the needs and expectations of IT to build integrations." Don't make that same mistake. Being highly integratable will do wonders for the stickiness of your product. It's worth investing time and resources into ensuring your product has seamless integration capabilities.
Ensure Your Product is Personalized
Not every solution is universal. Sometimes niche problems in niche industries or for niche positions require niche solutions. Periodically companies will attempt stickiness by adding tons of new advanced features, which is misguided.
A Strong Customer Success Team Can Help
=Instead, ensure that your users can personalize workflows and processes, tailoring your solution to their unique needs. This is also where having a customer success team is essential. While almost every B2B SaaS will have customer support to help with troubleshooting or questions, customer success works with your customers at a higher level to ensure your SaaS app is helping grow their businesses. They can work with customers to ensure they are platform experts and know how to personalize your product to their greatest advantage.
Ensure Your Product is User Friendly
30% of SaaS users say a SaaS product is easy to use if their non-technical employees can easily learn how to use it. That's valuable because the more licensed users use your product, the stickier it is. If it's easy for even non-technical employees to use, then usage and engagement will grow.
56% of SaaS users also indicated that they consider most SaaS solutions very difficult or challenging to use, and 43% of SaaS users say that if the software is difficult to use, they won't use it, even if the features and price points are what they were seeking. These aren't great stats; if you can buck this trend, you're already setting yourself apart from any competition and other SaaS applications your organization uses.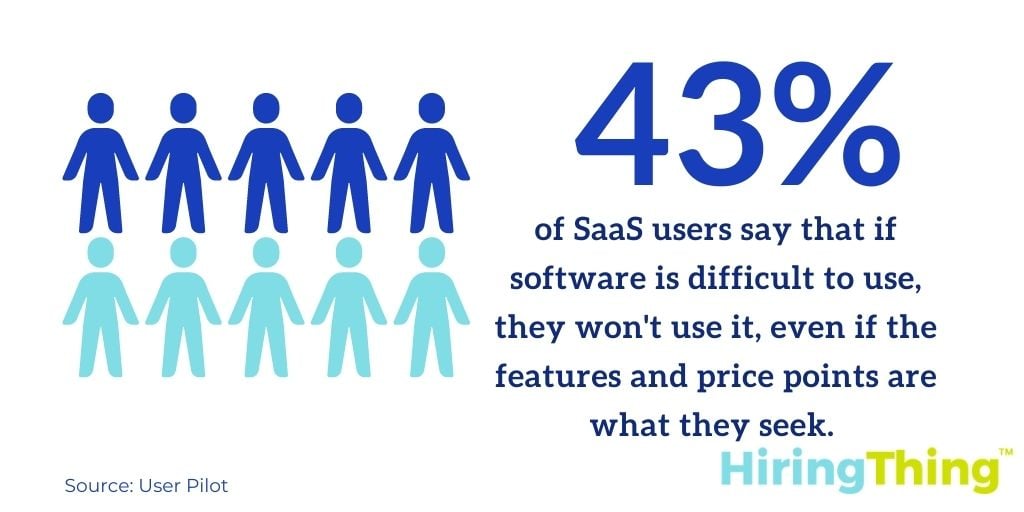 To ensure your SaaS product is user-friendly, savvy organizations will:
Conduct a robust onboarding that introduces users to best practices and troubleshooting and the resources available to help them become more proficient in usage.

Offer continuing education in the form of webinars or tutorials that further help users become experts.

Design your product to be intuitive for individuals with all technological competencies.

Establish a solid knowledge base and customer service team can help end-users become more proficient.
Prioritize the Customer Experience
According to Salesforce, 84% of customers say a company's experience is just as necessary as its products and solutions. Customer experience is integral to SaaS companies growing their revenue and business—86% of customers are willing to pay more for a great customer experience!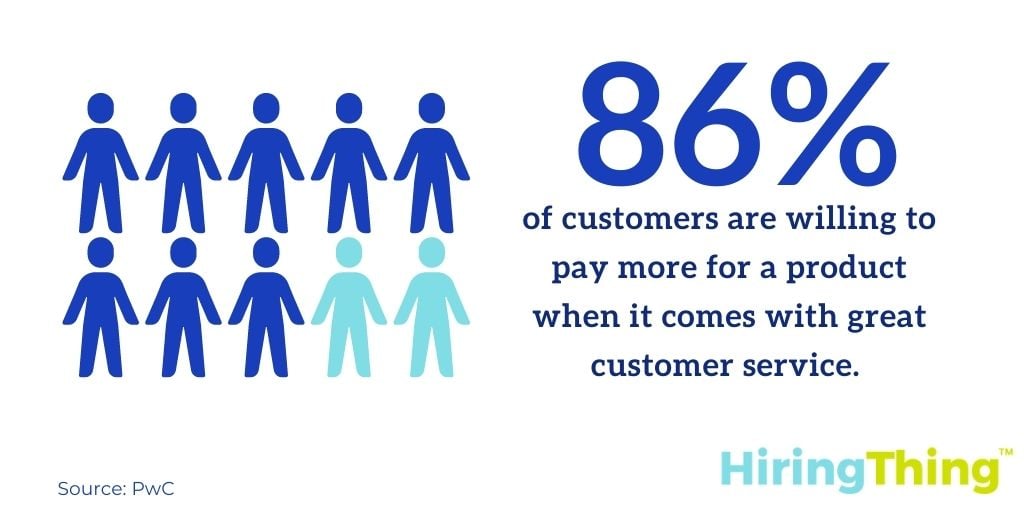 Today's consumers have never had more freedom of choice regarding service providers. Today's competitors can easily copy you, and they can potentially deliver something that works better and faster. This means you need to always be in touch with your customers. Build relationships, improve the customer experience, and understand what factors drive them to a new product.
Some easy ways to improve the customer experience include:
Make customer service a company value and top priority.

Train customer-facing employees to show empathy, be people-centric, and prioritize relationship building.

We've already talked about the difference between customer service and customer success. Have teams in place and strategies for both.

Communicate and check in with customers often. Have a customer communication strategy in place.
You can check out HubSpot's "Customer Service 101: The Ultimate Guide" for a powerful, in-depth look at building a robust customer service strategy.
Be Good at Your Core Competencies
Your customers are looking for you to solve their major problems and pain points quickly and efficiently. The most significant way to drive your product's stickiness is to ensure your customers can find value in your product, namely because, first and foremost, you solve the challenges they initially purchased you to solve.
We mentioned earlier how often SaaS products will attempt stickiness by adding tons of new advanced features, which could be misguided if it's not executed correctly, namely if all these new bells and whistles come at the expense of your core competencies. Your core competencies should always be the number one priority.
A great way to add new competencies without overextending the team responsible for your core competencies is to private label new solutions. Savvy SaaS companies are partnering with other SaaS providers to sustainably scale their functionalities. That's something we here at HiringThing know a thing or two about since we offer organizations who want to add recruiting solutions the ability to do so through private label partnerships. In the next section, we'll explore private labeling and how it can help with stickiness.
Private Labeling Can Help With Stickiness
What is Private Labeling?
Private-label software is purchased by a company from a SaaS provider and customized with robust, user-friendly solutions. In the case of applicant tracking systems (ATS)—recruiting software built to automate and streamline hiring—this includes tailored workflows and single-sign-on capabilities.
Organizations that partner with a private label SaaS provider work with said provider to ensure the products meet their specific recruiting needs. The strength of private labeling is that consumers who buy or use the end product are not aware it was initially produced by the private-label provider, strengthening the brand of the private-label purchaser.
You may have also heard private labeling called "white labeling." Though many use private labeling and white labeling interchangeably, White-labeled platforms are produced by a SaaS company and rebranded by other companies, while private labeling allows companies to brand a SaaS product as their own but work with the SaaS developer to customize the platform to suit their organization's specific needs.
HiringThing has developed a private label applicant tracking system, hiring software built to streamline, automate, and strengthen the hiring process.
How Can Private Labeling Help With Stickiness?
By investing in private labeling solutions, organizations can increase the scope of their offerings, which increases their value, without compromising the integrity of their core competencies. Private labeling allows organizations to add their new offerings fast—this means quickening your responsiveness to customer challenges with almost immediate solutions. Companies that partner with a private label SaaS provider don't have to spend time and money developing a solution they may not have background expertise on. Instead, they can direct their resources towards ensuring their core product remains strong.
Additionally, when you work with a private label developer, you're typically gaining the knowledge and expertise of their team. In this case of HiringThing, all of our private label partners extend the bandwidth of their sales, marketing, engineering, and customer support teams, with our knowledgeable staff ensuring we fully support our partners and their customers. Our customer success team will work with partners to ensure they know the best ways to grow their business via our platform.
Related Resources
About HiringThing
HiringThing is a modern recruiting platform as a service that creates seamless hiring experiences. Our private label applicant tracking system and open API enables technology and service providers to add hiring capabilities to their solution. Approachable and adaptable, their platform empowers anyone, anywhere, to hire their dream team.