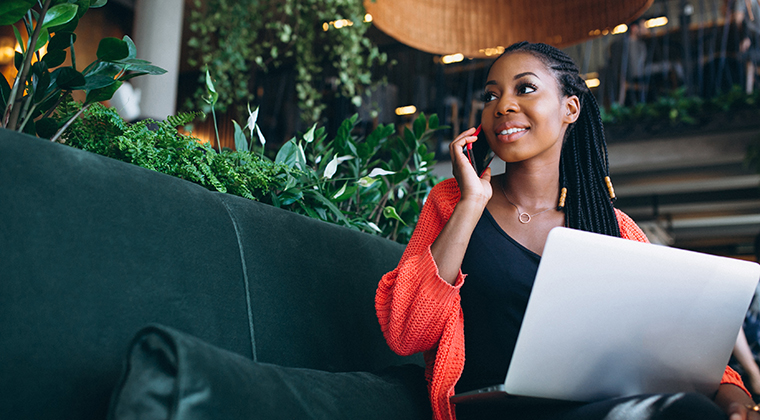 Good Onboarding is Good Onboarding, Whether In-Person or Remote
It may seem like a daunting task to onboard remote employees, but take it from HiringThing—a company that's been remote, and so onboarding remotely since 2012—it's easy! The same principles that govern good onboarding processes apply to both in-person and remote onboarding experiences. The biggest thing to take into consideration for remote onboarding is that not everyone has worked in a remote capacity before, so you may need to not only give new employees an overview of what working for your organization is like, but best practices and time-honed tips for being a productive remote employee.
Onboarding Remote Employees
1. Provide Clear, Consistent Communication
With remote hires, you should hold regular progress meetings to ensure they're on the same page and feel connected to the team. Remote workers who aren't quickly made a part of the collaborative environment can feel alienated and hesitate to take initiative.
Structure your projects so that team member interacts with the remote hire. This will help them form relationships and feel comfortable about reaching out. A mentoring system with a senior employee can also help form a solid relationship while providing the new hire with guidance and knowledge. Having someone to rely on will provide the new employee with more confidence while accelerating their acceptance into the team culture.
HiringThing Pro Tip: As part of the onboarding process at HiringThing, we have each new team member write a short bio and publish it in one of our Slack channels. This opens up a line of casual conversation with fellow team members that can start conversations, create bonds, and learn more about one another.
2. Define Clear Expectations
You should clearly spell out the new hire's responsibilities, explain company values, team objectives, time frames, and processes for employee reviews. Ensuring that new employees have a clear understanding of what's expected from them sets a solid foundation that can ease stress and promote a smoother onboarding process.
One of the main perks of remote work is flexibility, but it helps if managers let new employees how that flexibility works for their departments—customer service, for example, may have less flexible hours than marketing or engineering.
HiringThing Pro Tip: We hold two weekly company-wide meetings. We hold one on Monday so everyone has clear expectations as to what the week holds for the company. On Thursday, rotating departments present, so that all employees have clear expectations on projects and initiatives their colleagues are completing.
3. Ensure Employees Can Help Themselves
Before the remote worker starts, you should provide instructions that will help them to answer their questions. They need to know where to get help, how to find forms or reports, where they can find additional information, and current procedures for executing the tasks they will perform regularly.
While it isn't necessary to print out a thick employee manual, a few pages of documentation can help them get started, whether it's posted on an internet source or sent as an email attachment. Before their first day, remote hires should know what tools they'll be working with, what resources are available, and what policies are in effect relating to various tasks they'll perform. By providing everything they need on day one, you will enable them to get off to a strong start.
In order to communicate and utilize the information you provide, you must also ensure that the remote worker will have network access, a company email account, database and application privileges where required, and any hardware such as printers or mobile devices. Everything should be in place for them to step into their new role.
HiringThing Pro Tip: We have our new hires do several onboarding meetings with more senior team members from various departments so they can ask their colleagues questions person-to-person in a casual environment.
4. Consistently Audit Your Onboarding
The time required to effectively onboard a remote worker depends on a number of factors, such as their job description and the availability of training, technical, and other resources. In most cases, it will take about ninety days on the job before a new hire feels comfortable and productive in their role. You'll want to make improvements to accelerate this as much as possible.
Once the onboarding process is satisfactorily completed, touch base with the new hire to get their reactions to your onboarding program. That can tell you where they wanted additional information, or what seemed to be a waste of time. Also, query the other members of the team for suggestions on what could have made the orientation process more effective.
At every onboarding process, you should take steps to gather feedback and make any needed improvements to orienting new hires, especially remote ones. A combination of experiment and direct feedback will suggest continuing improvements that make onboarding easier and more effective going forward, even for new hires that are thousands of miles away.
HiringThing Pro Tip: Our COO meets with every new hire once their 90-day probationary period is complete to see how our onboarding process can be improved. Your company might not have the bandwidth to have a member of the C-Suite meet with every new employee (that's one benefit of having a "small but mighty" team), but having someone who's part of the team designing and implementing the onboarding process meet with all employees is crucial. The big must here is that you must be open to feedback, the good the bad, and the potentially ugly!
Good Onboarding Benefits Everyone
In summary, the digital landscape is allowing employers to look farther afield to find the best talent for their workforce. It's important to develop a strong onboarding process at your company so that these remote workers can quickly become productive and engaged team members. New hires that bond better with the company and their colleagues are more likely to stay with the company for the long term and have greater enthusiasm. Making the experience better and easier provides greater value to the employee and to the company.
Good onboarding can strengthen your employer brand and increase your applicant traffic. Want more ways to get more candidates interested in your company. Check out The HiringThing Guide to Increasing Your Applicant Traffic.
About HiringThing
Approachable and adaptable, the HiringThing platform empowers everyone, everywhere, to hire their dream team. Try HiringThing's easy-to-use, feature-rich applicant tracking system with a free 14-day trial today!