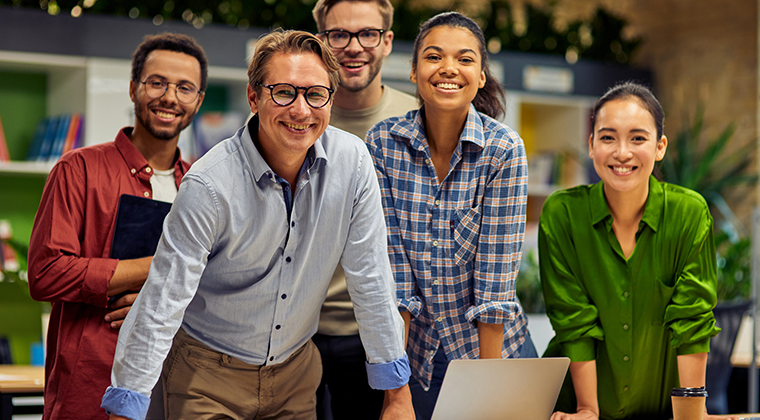 An Overview: Our New Recruiting Challenge
There are currently 11 million job openings in the United States and a record number of individuals quitting their jobs. The ways we work have shifted in historic ways, and the repercussions from those shifts will resonate for years.
It's pertinent for organizations who hire or help others hire to reevaluate the hiring and recruiting strategies they've been using to set themselves up for success moving forward.
This post will examine how we got here and how this massive talent migration will define our new recruiting reality. More specifically, we'll dive into:
Here at HiringThing we have our fingers on the pulse of what's happening in the world of recruiting. Check out our other #HiringTrends content for more scoop.
A Discrepancy Between Statistics and Reality
In an October 8, 2021 speech on labor statistics, President Joe Biden extolled how the unemployment rate was below 5% for the first time since March of 2020. He cited this as "a sign that our recovery is moving forward even in the face of a COVID pandemic." Similarly, the Bureau of Labor Statistics reported that "job growth was widespread, with notable gains in leisure and hospitality, in professional and business services, in manufacturing, and in transportation and warehousing."
While this makes it sound like things are good for the labor market, there's a discrepancy between how statistics are collected and what businesses are actually facing. Take, for example, headlines reporting what companies have been going through the past few months.
"3 mismatches between what employers want and what workers are looking for amid the labor shortage" is a Business Insider headline from November 8, 2021. "There are 11 million open jobs as the quitting spree continues," is from CNBC on December 8, 2021. "More quit jobs than ever," was the New York Times on January 4, 2022.
These headlines tell a different story. Despite a low unemployment rate, businesses are struggling to find and retain job applicants. To understand this discrepancy, it's vital to know how the government defines "unemployment."
The Bureau of Labor Statistics classifies those eligible for the workforce into three categories:
People with jobs are employed.
People who are looking for jobs but are available for employment are unemployed.
People who are neither employed nor unemployed are not in the labor force (this also includes individuals who'd like employment but haven't been actively seeking employment within the past four weeks).
There's a historic rise of those not in the labor force right now. The pandemic has exacerbated this steadily building trend. The individuals who aren't in the labor force aren't working but aren't actively looking for a job either. They aren't employed, but they aren't unemployed.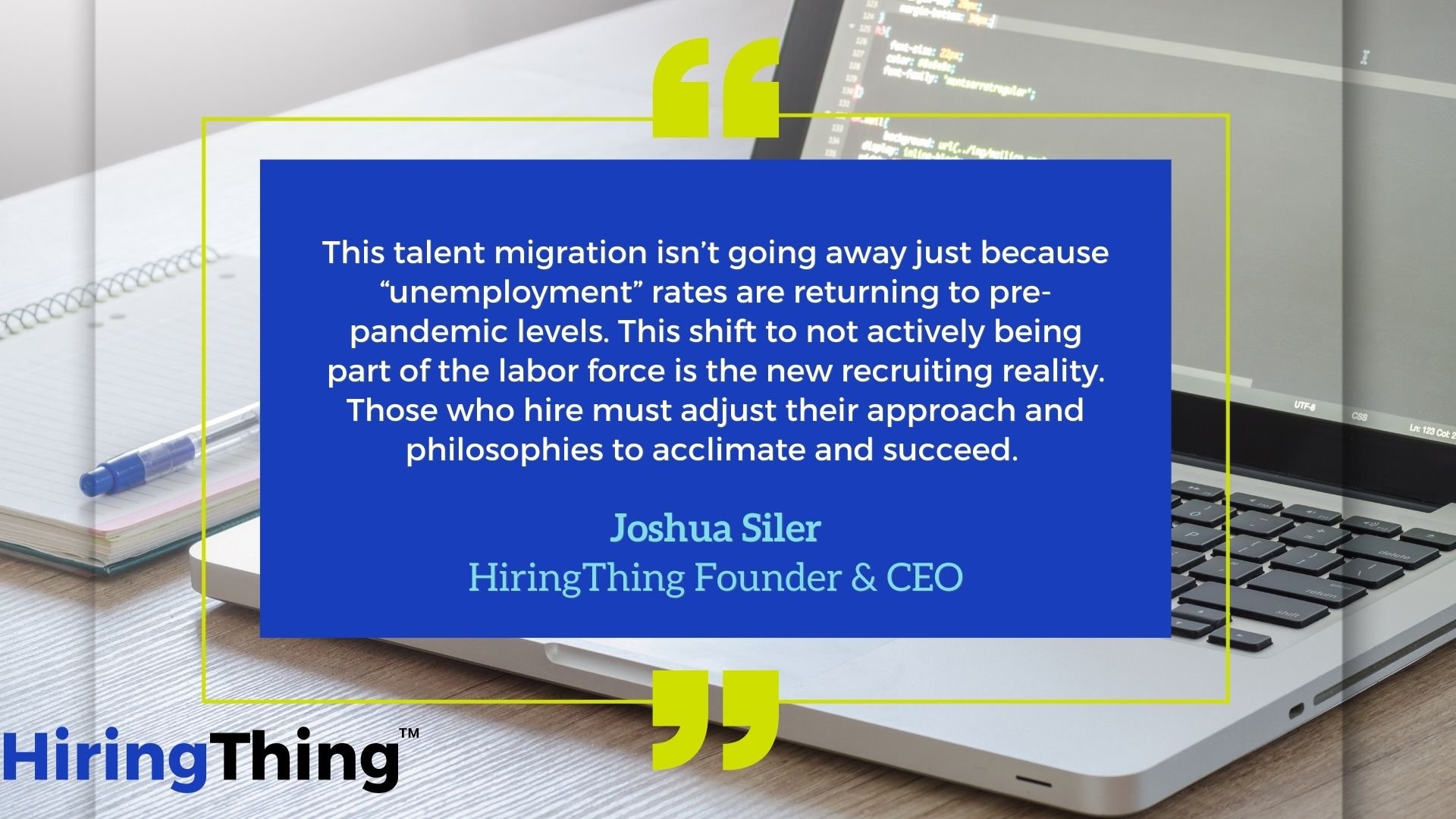 This talent migration isn't going away just because "unemployment" rates are returning to pre-pandemic levels. This shift to not actively being part of the labor force is the new recruiting reality. Those who hire must adjust their approach and philosophies to acclimate and succeed.
"Labor supply remains an important constraint and an issue that may very well not get resolved in a short time horizon." - Ellen Zentner, Chief U.S. Economist at Morgan Stanley
To understand and accommodate the new realities of recruiting, it's vital to understand:
How we got here.
What "The Great Resignation" means for the world of work.
The reasons people are choosing not to participate in the labor force.
The importance of adaptability.
Recruiting and hiring changes that will keep organizations successful and competitive.
Change can be frustrating, but it's our one real constant, and many of the changes happening now are empowering to employees. If harnessed correctly, they're changes that can usher us into an era of unprecedented creativity, productivity, and satisfaction on the work front. It's an exciting time to be working!
How We Got Here
Data collected by the Federal Reserve Economic Data (FRED) shows how we've been building to this current labor shortage. Viewing these charts helps us visualize our new recruiting reality's creation.
As demonstrated in the chart above, the number of U.S. job openings fell in conjunction with spring 2020 COVID-19 pandemic job closures and losses. It's been steadily increasing since April 2020 and has recently surpassed pre-pandemic numbers. This past August, job openings reached 10 million, a record high.
This next chart demonstrates how the number of employed individuals dropped alongside the number of job openings in March 2020. While the number of job openings has surpassed pre-pandemic levels, as demonstrated in the previous chart, the number of employed individuals has yet to reach what it was when 2020 began.
This chart provides historical context for these shifts in employment. Job openings have been growing steadily over the past decade. Again, there was a sharp decline during the pandemic's onset, but job openings rose drastically after things leveled out in the summer of 2020.
The number of employed individuals saw the same steady growth as job openings over the past decade. However, instead of spiking drastically, the number of employed individuals hasn't recouped to pre-pandemic levels.
This next chart helps us visualize the journey of individuals who want to work but are currently unemployed. After a sharp spike in unemployment in the spring of 2020, it's steadily been declining, bringing current unemployment down to just about the pre-pandemic level. It's important here to note once more that it's not unemployed individuals causing this massive talent migration. It's historic numbers of individuals choosing not to seek employment.
It's not unemployed individuals causing this massive talent migration. It's historic numbers of individuals choosing not to seek employment.
Unemployment has been declining since 2011. Just before the pandemic, unemployment was at its lowest since 1969.
Labor force participation rates have been trending downward since 2011, and it seems the pandemic was the catalyst to send this decrease into overdrive.
The Great Resignation Explained
"Quitting gets a bad rap in life, as it's associated with pessimism, laziness, and lack of confidence. In labor economics, however, quits signify the opposite: an optimism among workers about the future; an eagerness to do something new; and a confidence that if they jump ship, they won't drown but rather just land on a better, richer boat," wrote Derek Thompson in his June 2021 Atlantic article, "What Quitters Understand About the Job Market."
The Federal Reserve Economic Data (FRED) chart above shows how the number of individuals quitting their jobs has steadily risen from 2012 to 2020. This dropped during the spring of 2020 when people were generally uncertain and holding onto roles while we collectively waited to see what our new normal would become.
In 2021, the rates of individuals quitting their jobs spiked to the unprecedented levels responsible for Texas A&M professor Anthony Klotz naming this phenomenon "The Great Resignation."
Employers once had the upper hand. Wages were often stagnant, long hours required, and office perks surface-level distractions. While forward-thinking organizations began giving their workers more autonomy, flexibility, and a better work-life balance, these changes were more minority than majority. They do, however, represent what will inevitably become the status quo.
UC Berkeley economist Ulrike Malmendier suggests that the pandemic, coupled with the rise of flexible, remote work, has caused a reexamination of the values and priorities that guide employee decisions.
53% of employees who were happy with how their employers handled and supported them during the pandemic are still actively looking to jump ship for better opportunities. Due to a combination of reasons, it seems as if individuals have finally put their wants and needs before their employers.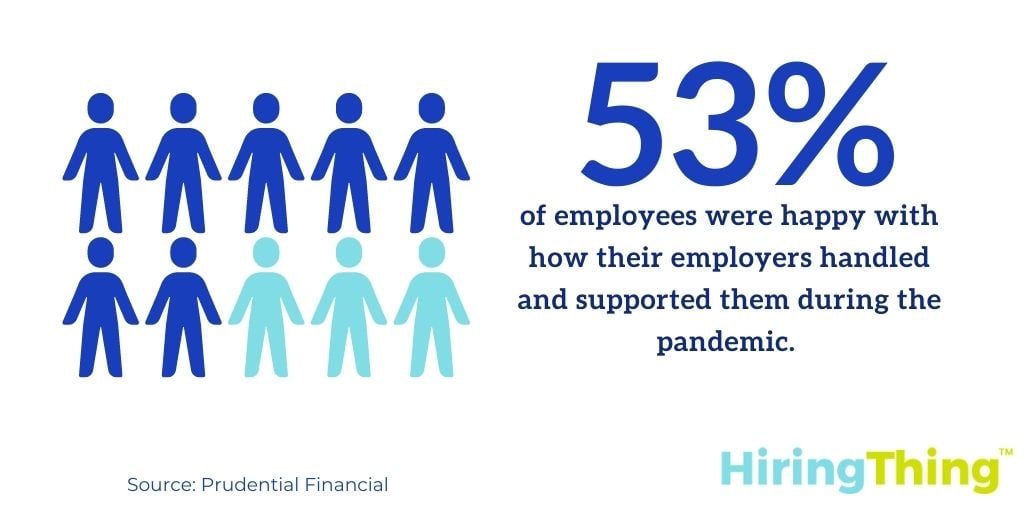 Organizations will have to figure out the best ways to address this trend. As writer Bryan Lufkin says in a BBC piece titled "What We're Getting Wrong About The Great Resignation,
"It's tempting to trumpet the Great Resignation as a sweeping event that will uniformly change labour conditions. But because the factors driving resignations are so different, if changes do come, they'll likely look different depending on the sector and the types of jobs.
Some companies might cater more towards white-collar workers' demands for continued pandemic-era flexibility, like remote work; other companies in service sectors might respond with long-overdue improvements to conditions or higher wages."
Since workers are leaving in unprecedented numbers, organizations should pinpoint and reevaluate what in their industry, organization, or office is causing employees to leave and begin to strategize changes to make them stay.
Workers leaving jobs without having another position already lined up should tell organizations that this isn't a fluke. "The Great Resignation" isn't letting up anytime soon.
Why Aren't People Working?
Loosely speaking, half of the people who lost jobs during COVID are still actively looking for work, while the other half are not." - Jesse Edgerton, Economist at J.P. Morgan
Data collected by Indeed shows only 10% of American job seekers are actively and urgently looking for work right now. Closed schools coupled with the reopening of businesses, fear of the COVID-19 virus, migrations from large metropolitan areas to smaller cities and rural areas, safety concerns for family members and dependants, and government assistance all contribute to the decline of individuals not seeking employment.
Fear of Covid
The pandemic isn't over yet. The highly transmissible delta and omicron variants are still wreaking havoc across the country. COVID-19 is still a significant source of fear and doubt among Americans. Recent survey data from YouGov reports more than 50% of American adults are still "very" or "somewhat" scared of contracting COVID-19.
Employed Partner/Financial Cushion
The pandemic has caused many households to adapt their household budgets and resources to one working partner. These households may have decided this new reality works for them.
Individuals already working higher-paying jobs could have increased the financial cushions they already had due to an increase of stimulus checks, decreased social spending, and government assistance and can afford to be picky about their return to the workforce.
Care Dependency
While some families adapted to having one income by choice, many individuals have stepped out of the workforce to care for children or other dependents. Childcare is more expensive and less available than ever. So are home health services, which may have prompted more individuals to take on a caretaker role.
Unemployment Payments
Some businesses have blamed unemployment payments and government aid for the labor shortage. While these programs have kept many families afloat, they weren't equal to a steady income for most individuals. While unemployment payments are not the main reason people choose to stay away from work, they are also not insignificant.
Better Options
The pandemic caused many people to slow down, spend time at home, and reevaluate whether or not their current pace is a good fit.
As writer Joanne Lipman says in a June 2021 piece titled "The Pandemic Revealed How Much We Hate Our Jobs. Now We Have a Chance to Reinvent Work,"
"The deep unhappiness with jobs points to a larger problem in how workplaces are structured. The line between work and home has been blurring for decades—and with the pandemic, obliterated completely for many of us, as we have been literally living at work."
Many individual Americans realized that returning to the way they've been working wasn't conducive to their well-being and pursued better options.
Bureau of Labor Statistics data

reports that there were 3.6 million more people out of the labor force this past September than two years ago. Individuals aged 55 and older account for 89% of that increase, hinting that many individuals at or near retirement age took retirements earlier than planned.
Pandemic closures and reflection have invigorated entrepreneurs. The sixteen-month period from

March 2020 to June 2021

marked a record high for business startups. According to

Census Bureau data,

more than 4.4 million businesses were created in the US during 2020, a 24.4% increase from 2019. Additionally, many workers with multiple jobs (2 or more) have dropped the additional jobs to pursue entrepreneurial endeavors, so there is a decrease in those with multiple jobs and an increase in those with self-employment earnings.
More young people are pursuing advanced education than ever before, and there's a rise in young entrepreneurs. This is a trend that's been rising since before the pandemic. Between 2000 and 2018, the workforce participation rate for ages 16 to 19 fell from one-half of the population to one-third.
The gig economy grew by 33% in 2020.

Statista estimates

that by 2027, half the U.S. population will engage in "gig work, " appealing for its flexibility and autonomy.
Change is Necessary
The Talent Migration Impacts All Industries
One-third of small business owners in every industry report having open positions they couldn't fill for at least three months. While some industries, like hospitality and public education, are struggling more than others, all industries feel the results of the current hiring crisis.
Recruiting Must Adapt
Since the labor shortage is felt among all industries, all industries must adapt to the new recruiting realities. In 2011, Harvard Business Review published an article titled "Adaptability: The New Competitive Advantage." If organizations didn't listen then, they must now.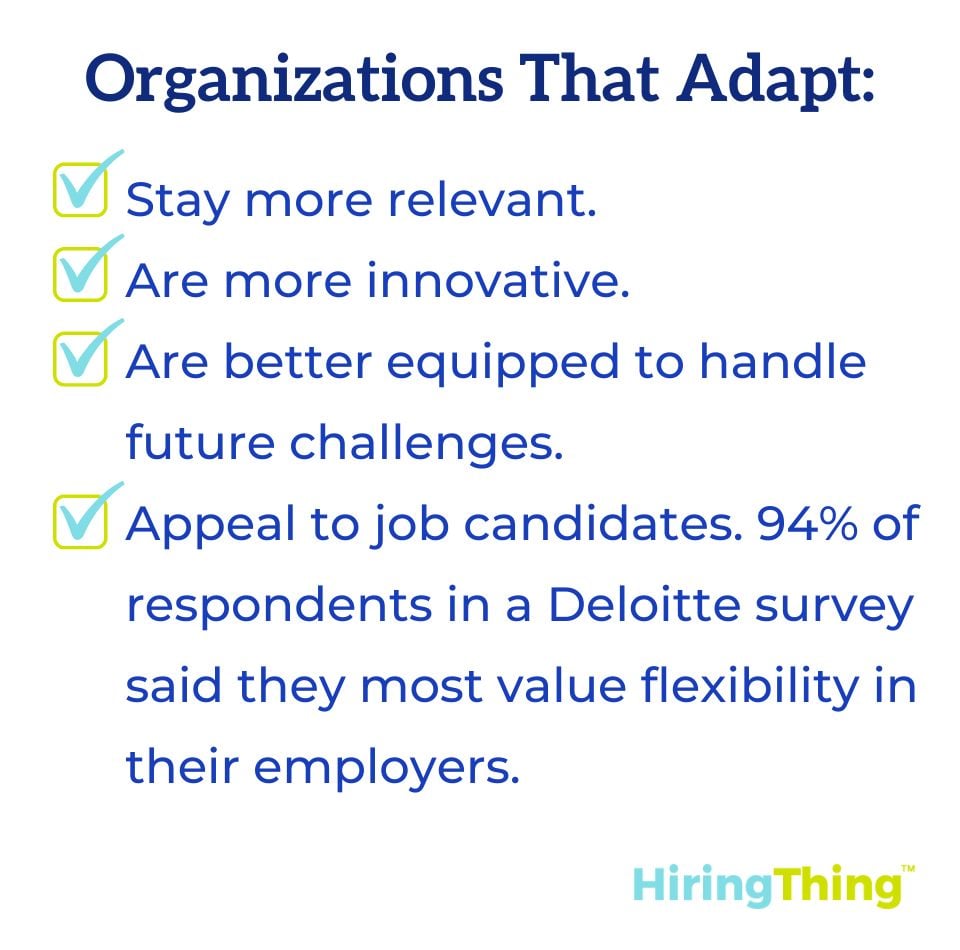 Recruiting Changes You Can Make Now
It's evident changes need to happen for businesses to succeed during our new era of recruiting. Our suggestions for changes that can be enacted almost immediately include:
Provide Schedule Flexibility
"Just-in-time" scheduling limits the availability of employees who have dependents, school, second jobs, or other personal considerations. The Brookings Institute defines "just-in-time" scheduling as one where:
Workers typically receive their schedules on short notice and may have their shifts changed or canceled at the last minute. Employers may put workers on call with no promise that there will be work available for them or send workers home without pay if demand has slowed by the time they arrive for their shift.
This model:
Destabilizes earnings.

Disrupts access to childcare, continuing education, or supplementary income.

Affects an individual's quality of life.
To destabilize this model and attract more candidates, employers should:
Pay those with less desirable schedules more.

Provide more fixed shifts and worker-controlled scheduling options. Walmart did this

in 2018

and found it reduced absenteeism across the workforce.

Give employees a choice. Employers who give employees a say in their scheduling see greater

employee retention

.
Remote Work
A recent survey found 74% of employees want to work remotely in some capacity moving forward. While remote work doesn't work with every business model, offering current and prospective employees a remote/hybrid option will help retain existing employees and attract new talent.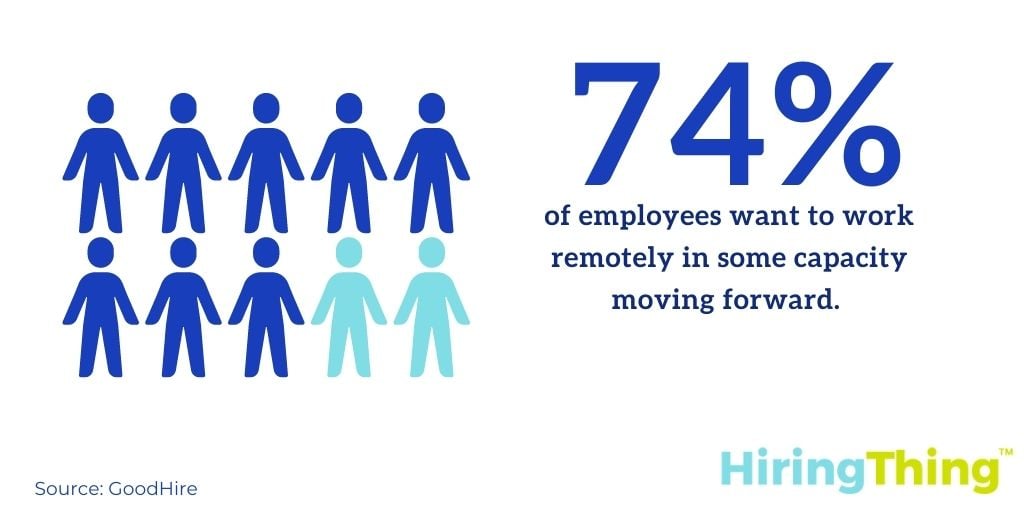 Transitioning to remote work is easier than you think. This guide to transitioning to remote work from remote-work pioneers, FlexJobs, is a great resource to get you started.
HiringThing has been fully remote since our inception in 2012. We have an entire Remote Work Hub with resources dedicated to empowering those interested in creating a remote workforce.
Allocate Recruiting Resources
The new recruiting reality means it's not enough to post a job and hope for the best. Investing in job advertising and recruiting gives you a significant professional advantage.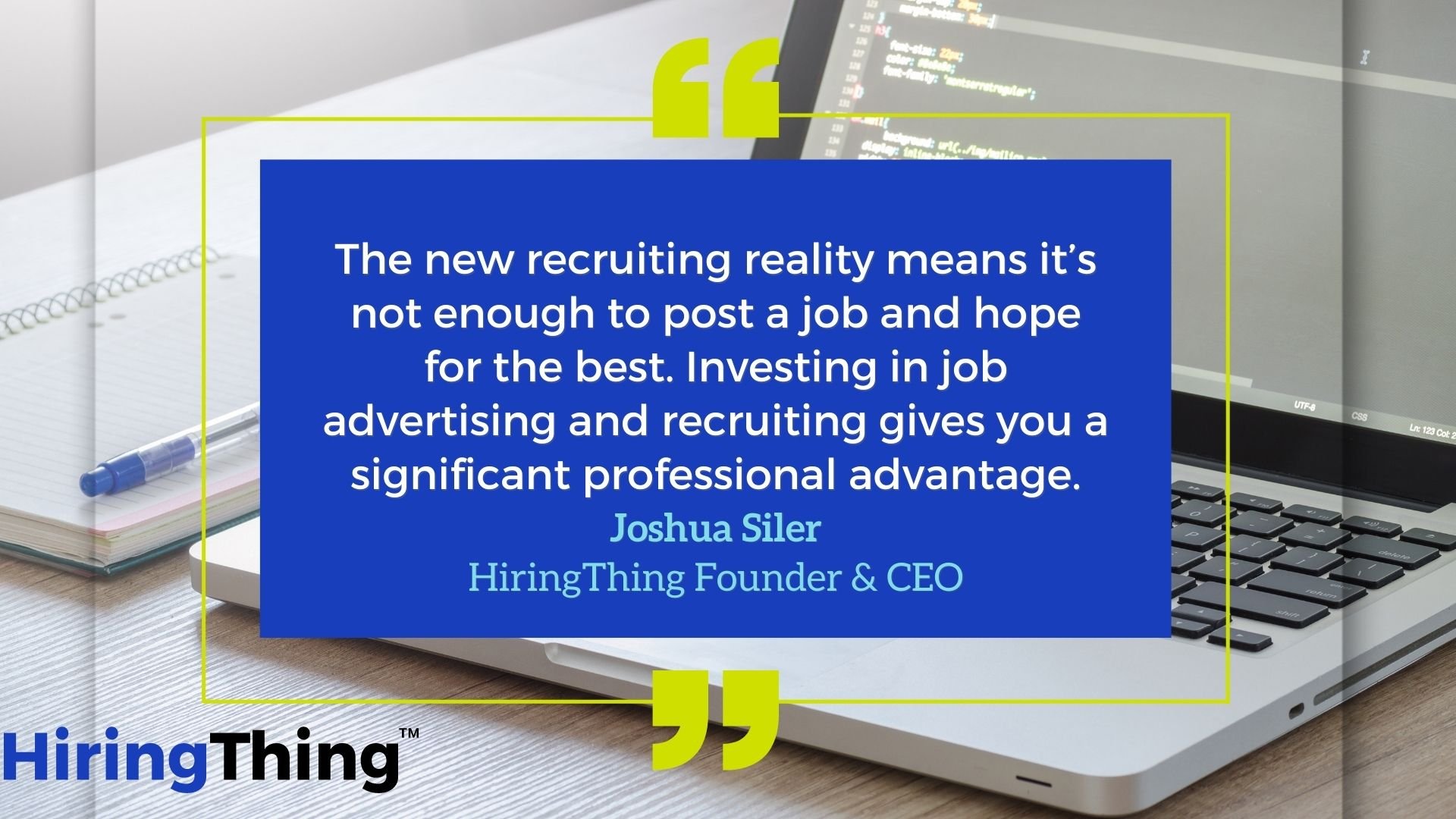 Glassdoor reports that it costs the average U.S. employer $4,000 and 24 days to find and hire a new employee (and that's not taking into account onboarding time and costs). Hiring is also time-consuming. Small business owners, for example, spend up to 40% of their working hours on tasks that don't generate income, which can include communicating with job candidates, sorting through resumes, and scouting the best job boards. Technology that automates and streamlines the recruiting process has saved businesses time and money.
68% of recruiting professionals say the best way to improve recruiting is to invest in up-to-date recruiting technology.
Nurture Employees
Employers need to adjust the way we think. Our employees aren't lucky to work for us. We're fortunate to have them. I make sure to tell my employees that I'm happy they're working at HiringThing, and I want them to continue being happy working here.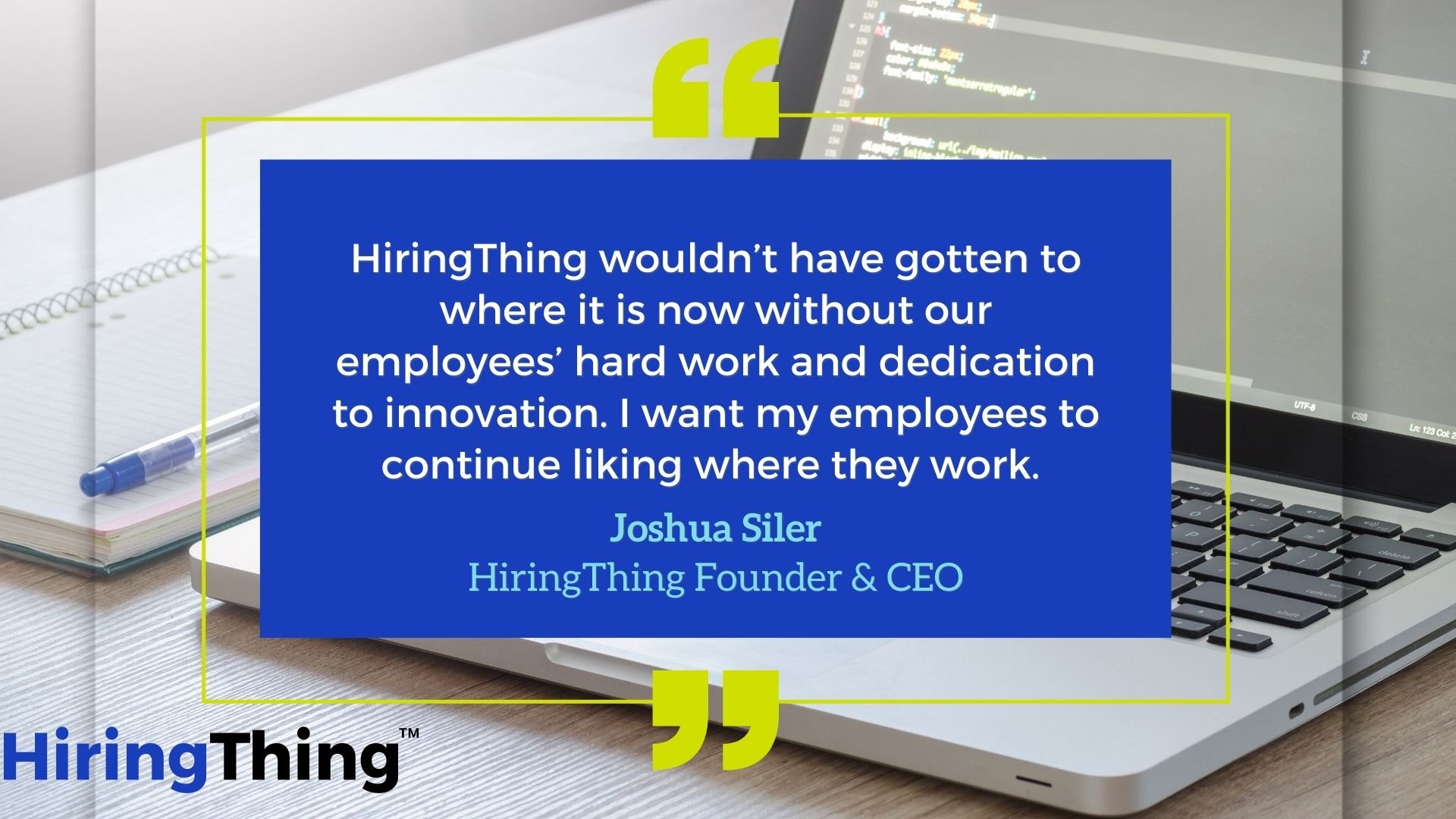 We built our recruiting strategy to ensure we're hiring individuals we're confident will make significant contributions to the company. HiringThing wouldn't have gotten to where it is now without our employees' hard work and dedication to innovation. I want my employees to continue liking where they work. Retaining top talent is a strategic business move, saving money on retention, onboarding, and training costs.
Our employees aren't lucky to work for us. We're fortunate to have employees. HiringThing wouldn't have gotten to where it is now without our employees' hard work and dedication to innovation.
Promote from Within
LinkedIn reports that internal mobility has been up 20% since the onset of the COVID-19 pandemic. It makes sense. Your employees are already familiar with your mission, product, culture, and in many cases, already experts.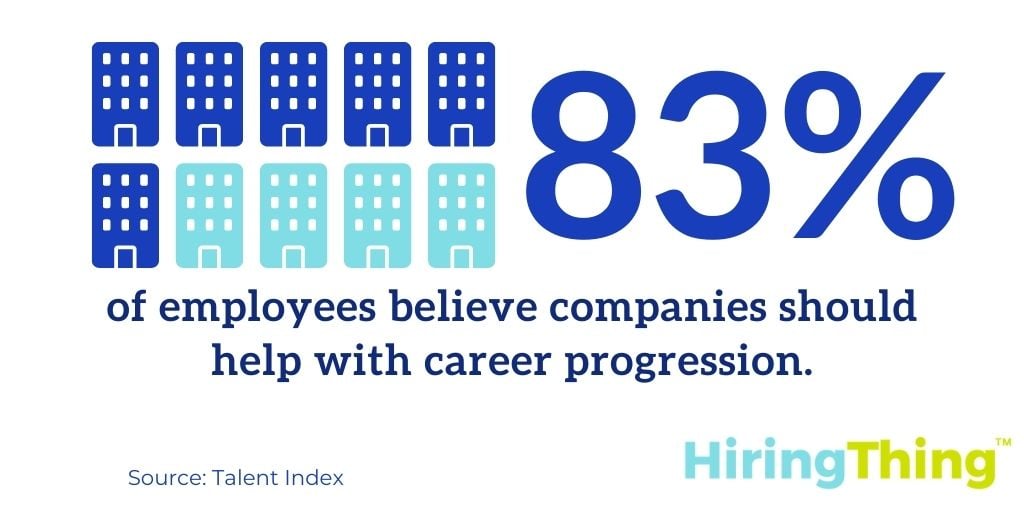 Professional development and mobility are also what today's employees want. According to the Talent Index, 83% of employees think companies should help with career progression. Still, 44% say their employers don't have talent acceleration programs. If companies don't give their employees tools to grow and opportunities for advancement, they can't expect talent to stay.
Move Fast on New Hires
Assume top-tier candidates are fielding multiple offers. If you want to remain competitive, you need to move fast or risk losing them to competing offers. This doesn't mean rushing through the hiring process, but instead being thoughtful and efficient. The longer you deliberate, the higher the chance of missing out and starting from square one.
Applicant tracking systems have been shown to help businesses hire better candidates quicker.
Reevaluate Candidate Experience
Recruiting is becoming more and more like marketing: organizations need to actively sell their appeal to job candidates.
We must prioritize the candidate experience. Here at HiringThing, we've been saying that recruiters and hiring professionals need to reimagine job candidates as customers.
More than half of job seekers say employers

never kept them up to date

about their application status.

61% of job seekers

say they've had recruiters

"ghost"

them, even after having an initial phone screening.
60% of job seekers quit in the middle of an application due to length or complexity.
Those statistics don't reflect positively on organizations, and today's job seekers won't tolerate it.
63% of job seekers will reject a job offer due to a bad candidate experience.
72% of job seekers told their network about their lousy candidate experience.
64% of job seekers said a bad candidate experience would stop them from utilizing a company as a customer.
Forward-thinking organizations can do the following to improve their candidate experience.
Reevaluate your hiring process: What barriers are in play? What could leave a bad taste in a candidate's mouth? What makes you want to quit?
Communicate better: 30% of job seekers rated responsiveness as most important to their candidate experience, yet 75% report never hearing back one way or another from a job application. All job candidates deserve thoughtful, timely communication on their status.
Prioritize inclusivity: Does your ideal candidate need a college degree? Relevant experience? The need to lift a 25-pound box and stand for long periods? Your job postings may be deterring your next great employees.
Highlight your values: Millennials and Gen Z are incredibly

purpose-driven

, so companies would be wise to highlight their mission and

company values

.
The HiringThing Guide to Increasing Your Applicant Traffic is an excellent resource for auditing and reevaluating your current recruiting strategy.
How an Applicant Tracking System (ATS) Can Help
Dealing with the new recruiting realities means having the right tools at your disposal. Data shows that adopting an applicant tracking system (ATS) will strengthen your recruiting:
94% of recruiters and hiring professionals

say using recruiting software has positively affected their hiring process.
86.1% of ATS users said it increased the speed at which they hire.
78.3% of ATS users said it improved the quality of candidates they hire.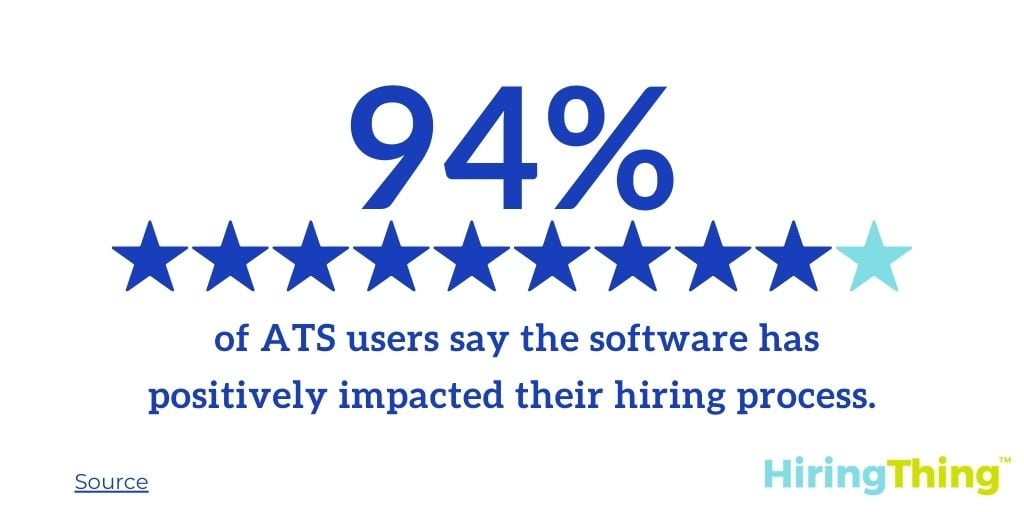 An ATS can speed up the hiring process, automate tasks, designate workflows, and take the stress of organizing and communicating to job applicants off your plate. An ATS will give candidates the four-star hiring experience to positively reflect your organization, encourage them to recommend the process, and delight your job candidates.
Private Labeling Your Applicant Tracking System Takes Recruiting to the Next Level
Private-label software is purchased by a company from a SaaS provider and customized with user-friendly solutions like tailored workflows and single-sign-on capabilities. A private label ATS has the partnering company's logos and branding so that end-users believe they're using proprietary software.
Franchises, Vertical SaaS platforms, ASO & PEOs, HR Solutions, Staffing Firms, and others will private label an ATS when they need a solution they don't want to build from scratch and/or wish to add value to the brand they've worked so hard to cultivate. Private labeling:
Saves time: An in-house solution may seem like the right move, but they frequently derail internal business priorities and go over budget.
Expands your team: Private label solutions typically come with development, product, customer service, sales, and marketing teams that can stretch an organization's bandwidth and expand its expertise.
Saves money: Private label SaaS users will expect to pay an implementation fee which typically starts around $5,000 (in addition to monthly usage fees), while development costs for a complex application like an ATS average in the

hundreds of thousands of dollars

.
Integrates data: An integrated ATS removes double data entry, reduces procurement contracts, and creates a secure transfer between an ATS and other HR platforms.
Partnering with a private label ATS means choosing which features work for your solution and allows organizations to customize the solution to align best with your and your customers' goals.
Private label applicant tracking system integration has incredible benefits for HR solutions, franchises, vertical SaaS platforms, staffing agencies, and any organization looking to add value to their HR tech stack. Check out What is a Private Label Applicant Tracking System to learn more about how a private label partnership can grow your organization.
About HiringThing
HiringThing is a modern recruiting platform as a service that creates seamless hiring experiences. Our private label applicant tracking system and open API enables technology and service providers to add hiring capabilities to their solution. Approachable and adaptable, their platform empowers anyone, anywhere, to hire their dream team. Schedule a demo today to talk to an expert about our private label hiring solutions.