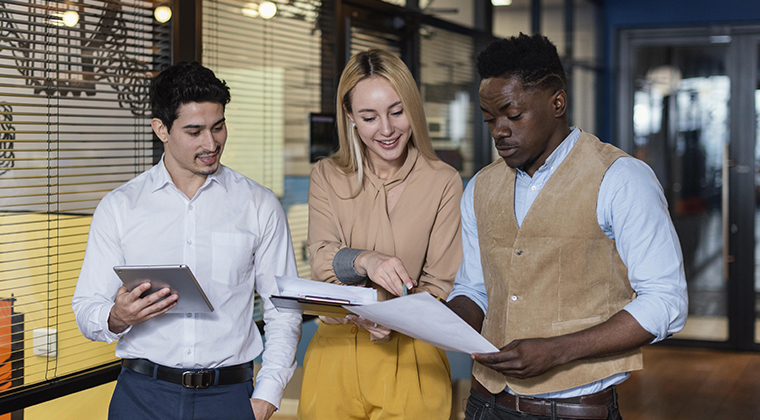 Though the job market is rebounding, businesses are still struggling to recruit and retain qualified talent. An April report found that 87% of HR professionals share that having "few or no qualified applicants" is still a significant challenge.
HR professionals are turning to applicant tracking systems (ATS): hiring software built to streamline, automate, and strengthen the recruiting process. It makes sense since 94% of ATS users say its usage positively impacted their hiring, 78% said it made recruiting easier, and 78% said it improved the quality of their hires. Modern-day recruiting is technology-driven. HR tech spending grew 57% from 2020 to 2021, and 74% of organizations plan to increase their HR tech spending.
While ATS adoption can help strengthen your recruiting and retention efforts, it requires working in tandem with modern recruiting strategies. The world of work has changed significantly and swiftly in the past few years. To see real changes in recruiting and retention, forward-thinking companies will re-evaluate what might be outdated recruiting strategies and reimagine what modern recruiting is.
What Does Modern Recruiting Entail?
Modern Recruiting is Inclusive
78% of employees say a workplace where individuals are treated equally regardless of gender, sexual orientation, age, race, religion, or ability is important. Old-school attitudes towards recruiting often accepted and even championed exclusionary hiring practices. One example would be how employers created arbitrary qualifications (requiring a college degree for a position that doesn't need one) designed to create a homogenous workforce. Another is how culture-fit interviews saw how individuals could mold themselves to fit a company culture versus exploring how they can help an organization grow.
Not only are today's job seekers looking for an inclusive company, but inclusive hiring practices open up the pool of qualified candidates and talent at a company's fingertips.
It's Strength-Based
Old school mentalities meant that recruiting felt like an interrogation rather than a conversation. Modern interviewing should be a two-way street. Employers are interviewing job candidates to see what they can add, while employees are seeing whether employers align with their values and goals while discerning whether the organization is somewhere they can do their best work.
To foster this two-way conversation, modern recruiting should be strength-based, focusing not on ways candidates aren't up to par but on the strengths and skills they could bring to a role, however unorthodox they might seem.
It's Candidate-Centric
Job candidates have never had more choices when it comes to future employers. Employers have to market themselves to the workforces they want, cater to the wants of today's job seekers, and ensure each candidate has a positive experience whether or not they get the role. Gone are the days of ghosting job candidates, stringing candidates along, and cumbersome, lengthy recruiting processes.
It's Flexible
88% of workers say they're looking for roles that offer some form of scheduling or location flexibility and 76% of workers report prioritizing family and lifestyle over work. This will translate to what they expect out of recruiting. Savvy employers will provide candidates with flexibility in scheduling, time, and interview modality. We used to expect job candidates to drop what they were doing and reschedule their lives around a job they may or not get, which wasn't fair. That's not going to fly in the recruitment environment of today.
It's Highly Integrated
We've already established how important technology is to today's recruiting but need to ensure that technology can easily be integrated with all the other applications organizations use. In the SHRM blog, Roy Maurer writes, "One of the most important factors of the recruiter experience is facilitating efficient workflows so recruiters can focus on building relationships with candidates instead of being bogged down with administrative tasks or doing work that artificial intelligence tools can perform much more quickly."
The average organization currently uses 254 SaaS programs. These applications shouldn't exist on an island. To be competitive today, recruiting technology must integrate with the other applications recruiters use to create a seamless, user-friendly experience.
Prism HR LIVE Presentation Recap
Our founder and CEO, Joshua Siler, addressed what modern recruiting entails next at the 2022 PrismHR LIVE event in a presentation titled "Reassessing Recruiting: Reinvent How HR Service Providers Can Help Clients Hire and Retain Talent"
Siler reevaluated outdated recruiting strategies, reimagined modern recruiting, and shared how HR Service Providers can help clients leverage technology to solve their staffing challenges. He was joined in this presentation by Anu Mannathikuzhiyil of G&A Partners.
We're always excited to team up with PrismHR to share these insights. PrismHR Hiring, their ATS powered by HiringThing, is one of our longest and most fruitful partnerships and is available to all PrismHR customers.
PrismHR Hiring is an unparalleled recruiting platform with seamless integration into the PrismHR system. We offer full end-user support, PEO- branding, and self-serve integrations with third-party background checks and assessment vendors. HR Service Providers that offer PrismHR Hiring to their clients can add a revenue stream, increase customer retention, and remain competitive by providing their clients with a complete recruiting solution.
Connect With Our Prism HR Live Attendees!
Were you unable to attend PrismHR LIVEor unable to participate in the HiringThing presentation? We'd still love to connect with you. Our founder and CEO, Joshua Siler, COO Jess Tejani, Director of Partner Success Noël Phillips, and Director of Business Development, Jess Ader-Ferretti, all attended and are open to answer questions, offer insights, and have discussions.
About HiringThing
HiringThing is a modern recruiting platform as a service that creates seamless hiring experiences. Our private label applicant tracking system and open API enable technology and service providers to embed hiring capabilities from sourcing to onboarding. Approachable and adaptable, the platform empowers anyone, anywhere, to hire their dream team.