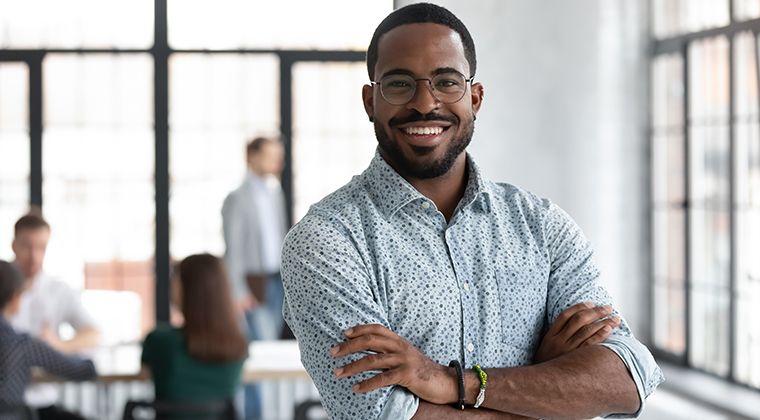 The Only Thing Certain is Uncertainty
The Greek philosopher Heraclitus taught that "the only constant thing in life is change," a prescient lesson all business leaders should remember.
Those of us in the hiring space recently got a healthy dose of uncertainty when The Federal Reserve announced they would be raising interest rates for the fifth time since last March to bring down the highest inflation in 40 years.
There is a good chance the Fed's interest rate hike could eventually raise unemployment and result in fewer job opportunities, a challenge that, not unlike the last couple of years, we needed to take time to creatively think through to get a game plan in place.
I recently met with my team to discuss the implications of this on our business. After a group debrief, we broke into smaller groups to brainstorm how to use any potential hiring slowdowns to our advantage. The team's suggestions collectively ranged from focusing on educational opportunities for our current customers to honing in on helping our partners help their employers net higher-quality candidates.
I was proud of how the team embraced this looming uncertainty with a positive, can-do attitude. Frankly, to operate otherwise is to leave yourself susceptible to panic or agita, which does no one in the business world any good.
Embracing change, turning perceived moments of panic into positives, and using uncertainty to evaluate and pivot has helped our team achieve business success:
I'll be the first to admit I don't know everything. Still, I have learned a thing or two during my tenure steering the HiringThing ship. I feel the ambiguity we're currently facing—and embracing—is as good a time as any to share what I've learned about navigating uncertainty as a business leader.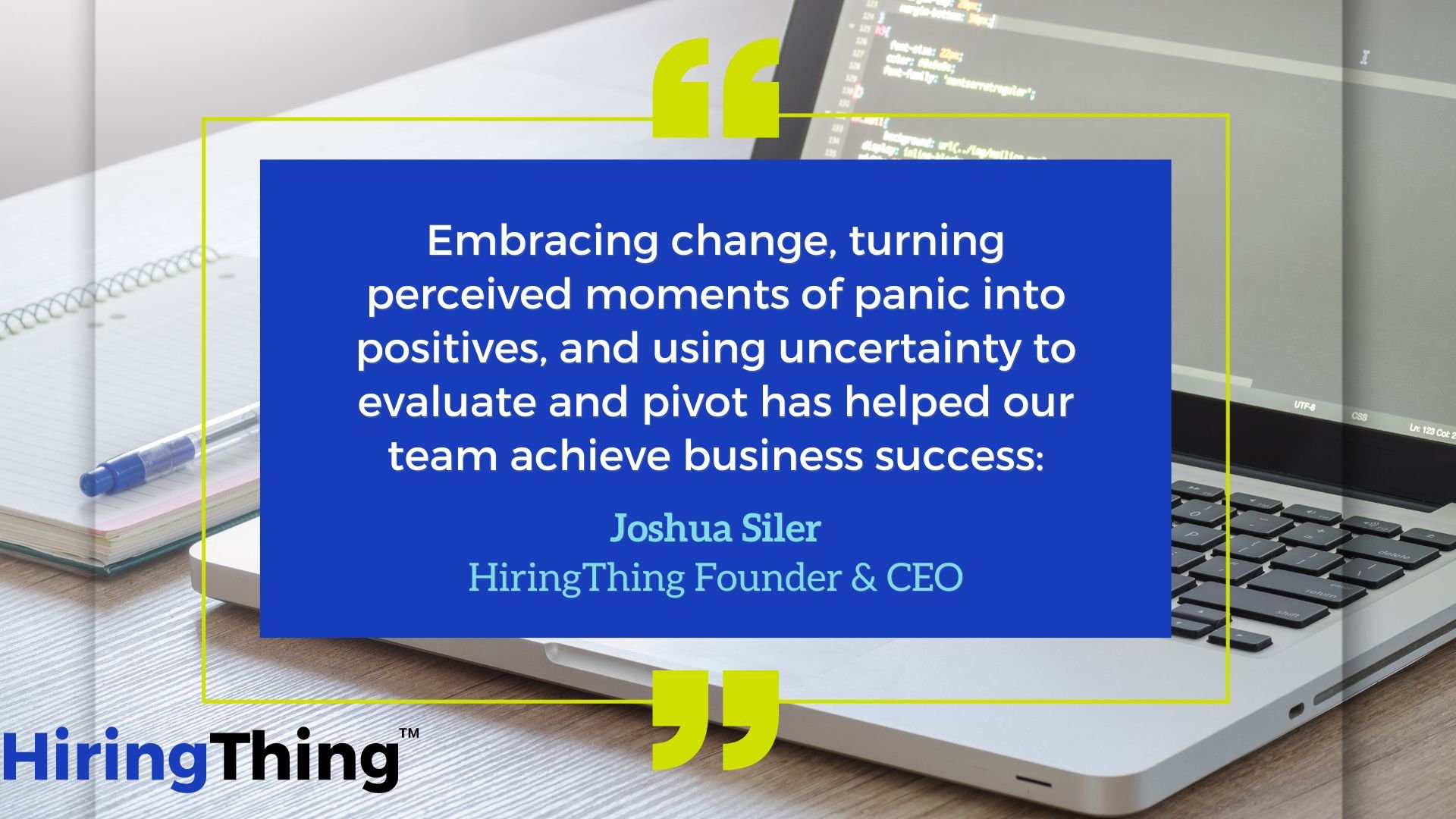 Tips for Successfully Navigating Business Uncertainty
Don't Let Best Practices Limit You
In times of uncertainty, many business leaders turn to "best practices" for guidance, which is smart but shouldn't limit you. I'm not suggesting indiscriminately eschewing your industry's best practices—they are best practices for a reason, and as a data-driven organization, we would flounder without their guidance—but I suggest remembering that while best practices are the standard, they are not your only choices.
Best practices are safe. In times of uncertainty, we look for and cling to safety, but is safe always the best approach? Don't be afraid to go against "the way things are done," especially in uncertain times. Don't be afraid to push the envelope or try something new or unexpected.
Best practices also warrant auditing. Many "best practices" are subjective. Many are arbitrary and historically been used to gatekeep and maintain the status quo, which means that without proper analysis, some of these "best practices" might be a "best practice" in name only and not a practice that propels the business forward in the innovative, people-centric ways forward-thinking organizations seek.
In an article for Forbes, I advocated for Rethinking College Degree Requirements—a common hiring best practice—to open up your job candidate pool and diversify the lived experiences of your workforce, a change that's been highly fruitful for HiringThing.
Private Labeling Isn't an ATS Developer Best Practice, But It Has Helped HIringTHing Stand Out in a Crowded Market
In 2011, my then-employer handed me a stack of paper resumes in search of a new engineer. Technology was already being used to streamline and automate other standard workplace processes, and I thought there had to be a better way to recruit and retain quality talent. That's when the seeds of what would become HiringThing were born.
HiringThing is an applicant tracking system (ATS)—hiring software that automates and streamlines recruiting. The ATS market has become well-saturated. HiringThing initially stood out from similar ATS SaaS apps with our outstanding customer service and product-first mindset. Still, I wanted a way to make us even more competitive, and none of the SaaS best practices seemed geared to that.
We ended up pivoting away from offering only SaaS recruiting solutions for end users to private labeling our applicant tracking system for organizations looking to expand their offerings and businesses. Private labeling, which is often mistakenly called white labeling, is HiringThing partnering up with organizations that want to offer proprietary hiring solutions without having to build them from scratch.
We customize our applicant tracking system with our partners' branding and add bespoke workflows and tailored solutions to help them reach their specific business needs. This allows even more businesses to obtain the Hiring Happiness® we're known for and differentiates HiringThing from our competition. This shift took our business to the next level and established HiringThing as a real innovator and disruptor in the HR tech space. It likely wouldn't have happened if we didn't think beyond accepted best practices.
Check out What is a Private Label Applicant Tracking System? to learn more about what we do here at HiringThing and how a private label applicant tracking system could benefit your business.
Be the Most Human Organization You Can
Making an effort to be the most human organization in your space will always reap professional success. This is a two-pronged strategy.
Treat your customers like people.
Value your employees.
Treat Customers Like People
Automation is a good thing we wholeheartedly embrace—applicant tracking systems at their base are designed to automate, thus strengthening, the hiring process—but with so many organizations, especially those in the SaaS and PaaS space, automating almost every aspect of their business, adding chatbots to communicate with customers, and streamlining human interaction out of many workflows, HiringThing has stood apart by positioning ourselves as an overtly human organization. It worked! We're constantly lauded for our people-centric approach to customer success, as well as our trademarked Partner Perfection™ and Support Beyond Compare™. Being a human organization adds value that provides an impeccable customer experience, keeps customers loyal, and turns them into brand advocates.
During one of the earlier-mentioned inflation breakout brainstorming sessions, a member of our customer service team said how regularly our customers are pleasantly surprised when they find they're chatting with a member of the customer service team and not a bot in the help chat—personalized service matters!
Value Your Employees
Being a people-forward leader might be the greatest times-of-uncertainty superpower for cultivating a stellar team. It's more crucial than ever to treat your employees as valued humans during these times. Staff turnover is expensive and a bane in almost every industry. You can proactively combat turnover and boost retention by simply valuing your staff and not treating them as another business transaction. Top-down people-forward behavior will spill over into how your workforce treats customers, partners, and collaborators—respect is the good kind of contagious.
I've always believed a significant competitive advantage is keeping teams small so that you can be more agile and approachable. Being the most human company in your niche or industry allows you to set the standard and deliver a better customer experience.
Long-Term Planning Pays Off
We're firmly ensconced in an attention economy. Everyone wants to go viral. Everyone wants to disrupt. Everyone wants to be the next startup unicorn. However, those phenomena aren't always sustainable (and aren't as manufactured as many internet listicles would make one believe). They look good and are an ego boost, but are you looking for longevity or a flash in the pan?
Here at HiringThing, we're cognizant of not getting caught up in vanity metrics or accomplishments, those that generate clicks, attention, and bragging rights, but are essentially the smoke-and-mirrors so many fallen houses of cards are built upon. Doing things the right way takes time, as does earning customer trust, building a sustainable brand, and consistently offering service that sets you apart. While it may be natural to seek instant gratification, focusing on long-term successes will add real value and inevitably set your organization up for success.
Too many organizations are too preoccupied with tomorrow's flashy outcomes, instead of next month's, year's, or decade's successes. You'll never regret building out and on a solid foundation.
Savvy Business Leaders Admit What They Don't Know
Since I started this piece referencing an obscure Greek philosopher, let's end with one who is a bit more well-known. "I know that I know nothing" is a saying derived from Plato's account of his mentor Socrates. While scholars argue over whether or not Socrates ever said this phrase, it's symbolic of his realization that admitting that he knew nothing meant he was wiser than those who claimed to have everything figured out. It's something I always try to remember.
Embrace uncertainty. Embrace the unknown. Celebrate that both are constants and embrace all opportunities to learn, grow, and successfully push boundaries. As a business leader, I've shared my tips for navigating uncertainty, but like Socrates, I know these suggestions aren't definitive. What has the unknown taught you? What is your biggest takeaway from dealing with turbulent times? What tips on navigating uncertainty have served you? Let me know in the comments.
Related Resources
About HiringThing
HiringThing is a modern recruiting platform as a service that creates seamless hiring experiences. Our private label applicant tracking system and open API enable technology and service providers to embed hiring capabilities from sourcing to onboarding. Approachable and adaptable, the platform empowers anyone, anywhere, to hire their dream team.