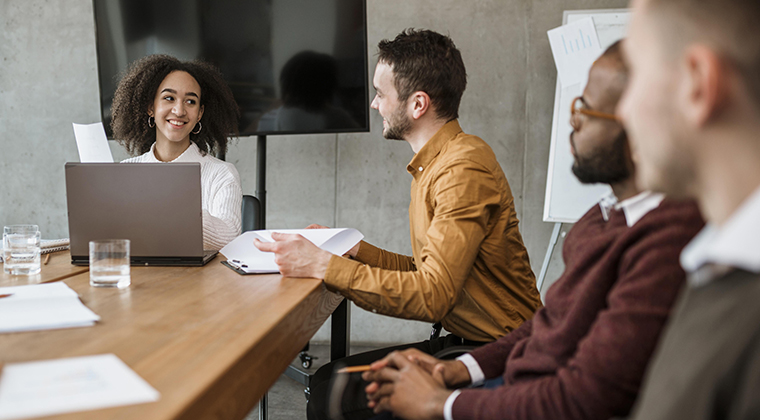 HR software has never been more popular. More than 12.1 million employers in the U.S. spend over $5 trillion on HR tech, including HR Solutions like Human Resource Management Systems (HRMS), Human Resource Information Systems, and Human Capital Management (HCM). 98% of companies looking to invest in HR systems considered going cloud-based.
With so many users looking to utilize HR systems, it's up to those systems to operate the best they can to keep current customers, attract new ones, and remain competitive. We've written this post for the savvy HR Solution professionals and developers who look forward to seeing what potential challenges they may have to overcome. We'll explore several top HR Solutions challenges here and provide suggestions for mitigating those so you can start building strategies to keep yourself agile, adaptable, and proactive.
Table of Contents
Top HR Solution Challenges and How to Overcome Them
Challenge: Staying Competitive
The most common reason for implementing HR tech across businesses of all sizes and industries is gaining greater functionality—companies are looking to streamline and automate time-consuming administrative HR processes so they can focus on being more strategic. The more HR functionalities HR tech has, the more competitive your organization will be.
Solution: Private Label New Solutions
SaaS companies need to find a way to help themselves rise above the competition—Gartner's 2021 CIO Agenda found more than 80% of tech organizations are moving quickly on new development initiatives designed to make them more innovative, resilient, and competitive. Many are turning to private labeling (also called white labeling) additional SaaS solutions to quickly and cost-effectively expand their products or services without neglecting their core competencies.
Private-label software is purchased from a SaaS provider and customized with the branding and bespoke workflows the purchaser requires. Private label purchasers work with private label providers as a mutually beneficial partnership versus the traditional buyer/client relationship. Since end-users aren't aware of this partnership, it strengthens the brand and scope of the private label purchaser's product offerings.
Private labeling is a good tool for companies looking to grow because it allows them to quickly and cost-effectively add new solutions, go to market fast, and expand the bandwidth of an organization's team.
Here at HiringThing, we private label an applicant tracking system, software that streamlines, automates and strengthens recruiting, the top HR challenge of 2022. Below, you can read more about why all HR Solutions can benefit from a Private Label Applicant Tracking System.
Challenge: Combatting Customer Churn
Your customers don't want to churn. The 2022 HRIS Report found, on average, that it takes customers 15 weeks to pick an HR system. That's a lot of time, resources, and thought put into a partnership. Customers are doing the legwork to establish long-lasting professional relationships.
Reducing churn is a high priority for any SaaS solution—a 5% increase in customer retention can increase profits between 25-95%. Staying with a vendor long-term is also beneficial for your customers.
Solution: Prioritize the Customer Experience
84% of customers say their customer-service experience is as crucial as product functionalities and results. 86% of customers are willing to pay more for a great customer experience. You can prioritize the customer experience by:
Asking for feedback often.
Personalizing features and functions based on that feedback.
Ensuring you have a top-tier customer support team and a robust knowledge base that is easy to access. It's also important to educate customers so they know exactly what support resources are available and where they can find them.
Sharing current and upcoming HR trends—customers will continue patronizing your business if you establish yourself as a valuable tech tool and HR resource.
Need additional tips on preventing customer churn? Check out Five Ways for HR Systems to Prevent Customer Churn.
Challenge: Widespread Implementation
According to PwC, 82% of HR tech users struggle with adoption. Just because an organization purchases your solution doesn't mean it will get widespread adoption in the purchasing organization, which could lead to low engagement and retention.
Solution: Help End Users Engage
It's up to you as the HR Solution to work with the purchaser to ensure your solution is being used in meaningful ways. You can do this in a couple of ways:
Offer onboarding: Offer an onboarding program that teaches end-users how to use your product or service, not just when an organization comes on board as a new customer. Remember, your customers are also experiencing employee turnover and individuals moving up or laterally throughout their organization. Offering regular onboarding or training can ensure widespread, meaningful use in the organizations you serve.
Gamify engagement: The PwC survey we mentioned above found that incentive and gamification strategies effectively garner more widespread use. "

We found that initially people will start using a new HR or work technology because of the incentive or gamified approach, but once that use becomes 'muscle memory' or habit, they continue to use the new technology over time, and it becomes second nature,"

PwC told SHRM

. While you may be unable to offer employee perks like time off or points towards rewards to your customers, you can educate them on the benefits of gamification strategies and provide them frameworks to work off. Additionally, HR Solutions can offer prizes or incentives to customers who reach a certain level of engagement.
Challenge: Keeping Up With HR Trends
HR trends mirror global trends and can change quickly. We've just seen this happen during the pandemic. Keeping up with HR trends can seem exhausting, but there's an easy solution that separates proactive and reactive HR systems.
Solution: Think Ahead
It's up to HR Solutions to keep their fingers on the pulse of where HR trends are heading. Trending upward initiatives to watch, research, and brainstorm for include:
Recruitment and retention.
Remote and hybrid work.
Flexible schedules.
DEI initiatives.
Wellness.
Strength-based learning and development.
Upskilling as AI changes the workforce.
Gen Z work expectations.
Balancing the gig economy with traditional jobs.
A greater emphasis on work/life balance.
Focus on soft skills.
Salary transparency.
Challenge: Ensuring Your HR System is Integratable
A report by the HR Research Institute revealed only 16% of talent professionals report having well-integrated systems of HR tech.
It's important today that HR technologies integrate seamlessly to provide the best user experience. For your customers, integrability:
Increases productivity by eliminating repetitively entering data to multiple sources.
Increases efficiency by eliminating room for error and duplication of tasks.
Saves time.
Makes compliance easier.
Solution: Embrace an Open API
An open application programming interface (API) helps applications communicate and interact with one another. In the simplest terms, an open API allows one piece of software to interact with another (for example, recruiting and onboarding software can seamlessly exchange information).
HiringThing's open API allows our customer's tech teams to navigate the platform easily. Our developer program has tools, resources, and a community of experts on hand to make it even easier. Check it out here!
About HiringThing
HiringThing is a modern recruiting platform as a service that creates seamless hiring experiences. Our private label applicant tracking system and open API enable technology and service providers to embed hiring capabilities from sourcing to onboarding. Approachable and adaptable, the platform empowers anyone, anywhere, to hire their dream team.