Ten Reasons Vertical SaaS Platforms Can Benefit From ATS Integration

Pat Brothwell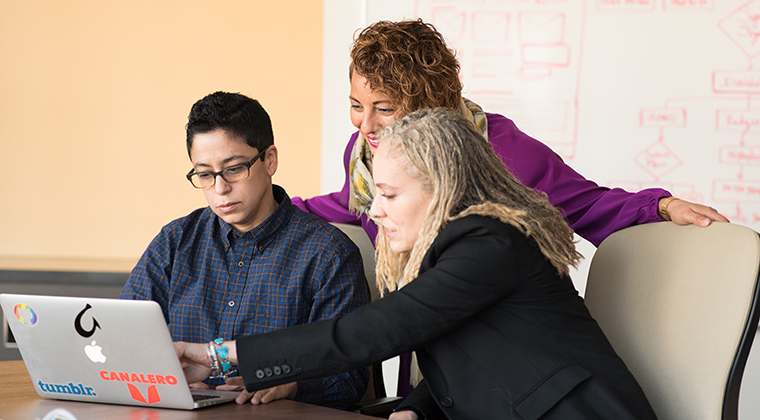 In the past decade, the market size for vertical SaaS companies has tripled, and the number of vertical SaaS companies has grown by 28% since early 2020.
While this is good news for those working in the vertical SaaS space, growth also means increased competition. What additional solutions can vertical SaaS platforms incorporate in a growing market to add value to their customers? How can innovative new vertical SaaS platforms edge into markets dominated by status-quo products? What can vertical SaaS platforms do to set themselves apart from any competition? And, how can vertical SaaS platforms add additional revenue channels if they're already dominating a niche market?
Our suggestion? Vertical SaaS platforms should integrate a private label applicant tracking system (ATS) into their solutions.
What Is a Private Label ATS?
An ATS is human resource software that helps companies organize, automate, and optimize the recruiting process. An ATS provides a centralized repository for job candidate data, including resumes, applications, references, background checks, and whatever else an organization requires to make a hire. An ATS helps businesses create job postings, post jobs, track candidates, guide both sides through the hiring process, and help companies transform their hiring.
A private label ATS is purchased by a company from a SaaS provider and customized with tailored workflows and employer branding.
You may have also heard private labeling called "white labeling." Though many use private labeling and white labeling interchangeably, customization is the crucial difference between a private label and white label applicant tracking system.
White label applicant tracking systems are produced by a developer and rebranded for other companies to sell. In contrast, organizations that partner with a private label SaaS provider work with said provider to ensure their specific recruiting needs are met.
The strength of private labeling (and white labeling) is that consumers who buy or use the end product are not aware it was initially produced by the private-label provider, strengthening the brand of the private-label purchaser.
Vertical SaaS companies private label an ATS to give their customers new solutions fast, expand market share, and add additional revenue streams. If that sounds convincing, schedule a demo with one of our ATS experts now. However, feel free to read on for ten reasons forward-thinking vertical SaaS companies private label applicant tracking systems.
Ten Reasons Vertical SaaS Platforms Benefit From Private Label ATS Integration
1. Hiring Is a Universal Business Need
No matter what industry you serve, every business is concerned with recruiting, hiring, and retaining great job candidates. If you're looking to add a valuable, universal solution all your customers need, why not start with recruiting? Recruiting is always a top employer concern.
Tailor Your Recruiting Solution for The Industry You Serve
While hiring is a universal need, you've ostensibly been able to thrive as a vertical SaaS platform by providing industry-specific solutions to the individuals and organizations in your field. Why not increase the value of your platform by also including industry-specific recruiting and hiring solutions to your customers?
The beauty of a private label ATS is that they don't take a one-size-fits-all approach to recruiting solutions. Customizable workflows allow you to create the strategies and processes that work best for your industry.
Tailoring your solutions to the industry you serve is just one of many Vertical SaaS Challenges. Check out Four Common Vertical SaaS Challenges and How to Overcome Them for additional suggestions!
2. Grow Revenue
Vertical SaaS providers target smaller markets than horizontal SaaS, so they rely on adding additional value to current customers to grow revenue. Every new solution a vertical SaaS provider adds increases the value of their solution to both existing and potential customers. An ATS branded as the vertical SaaS provider's proprietary software is absolutely a value-add that means they can charge their customers more per month.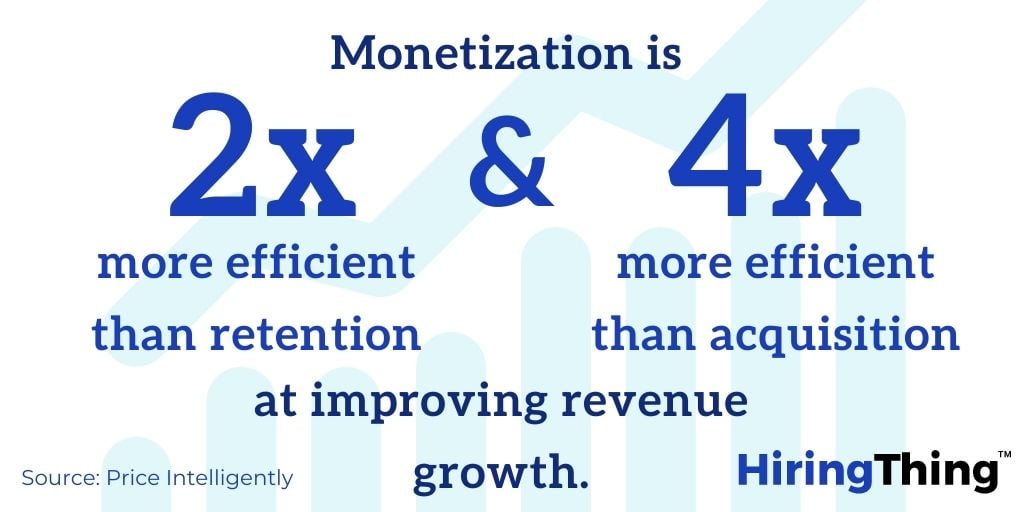 A recent study found monetization was 4x more efficient than acquisition and 2x more efficient than retention at improving revenue growth. Monetization can mean finding ways to increase your value and raising prices to reflect that new value.
HiringThing created a report detailing the robust economic benefits of vertical SaaS ATS integration.
3. Improve Customer Experience
According to Salesforce, 84% of customers say the experience a company provides is just as important as its products and solutions. Customer experience is integral to SaaS companies growing their revenue and business—86% of customers are willing to pay more for a great customer experience!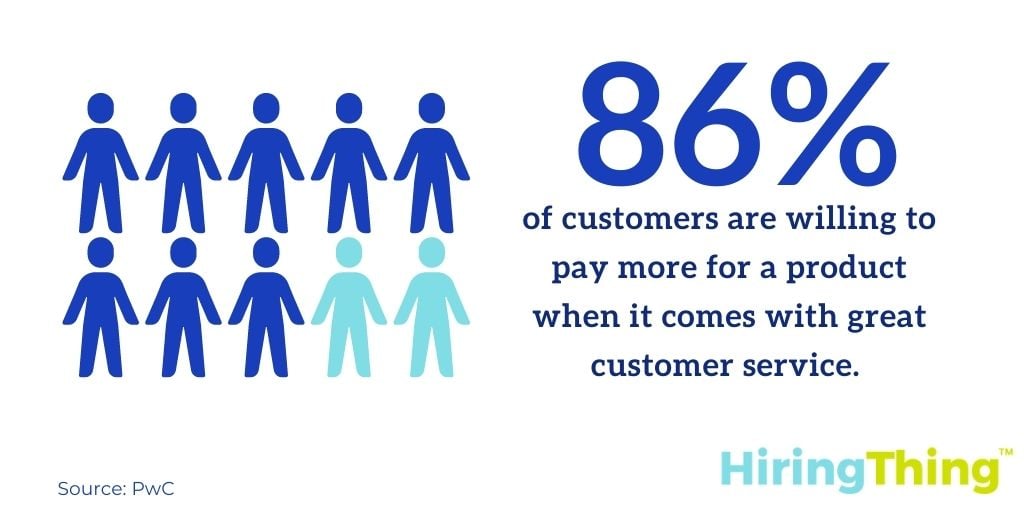 Today's consumers have never had more freedom of choice regarding service providers, even in the niche markets vertical SaaS providers serve. If you're helping your customers with one of their top professional challenges—hiring—in a user-friendly, efficient way that doesn't involve them having to jump platforms, you're making their lives easier.
Back to Top
4. Differentiate Yourself From the Competition
Since your business model offers niche, industry-specific solutions to your customers, your market is more competitive than horizontal SaaS markets—any competition is stiff competition. If you're a newer platform, penetrating the vertical market can require disrupting the competitors that have become the industry standard in significant ways.
The most successful vertical SaaS platforms offer their customers a full breadth of business solutions specifically tailored to their niche industries: payment processing, CRM, marketing and sales, employee experience, etc. However, many of the customers' vertical SaaS providers serve still rely on off-the-shelf applicant tracking systems for their recruiting and hiring. You can differentiate yourself from your competitors and disrupt the status quo with your private label ATS—empower the platforms your vertical SaaS serves to fully own every business need their customers have, starting with recruiting.
Back to Top
5. Grow Your Business
In December 2020, Forbes published an article titled "Three Key Components to Vertical SaaS Growth." The three components discussed are:
A commitment to continuous innovation

A relentless focus on the customers

A balance of industry insights and technical experience
Do you know what can help growing vertical SaaS platforms achieve all three of these? You guessed it: a private label ATS. An ATS that addresses specific industry needs shows you're innovating to keep up with customer demands, addressing the number one problem of the clients your customers serve shows you're focusing on what will help them grow their business, and industry-specific hiring solutions show how insightful your organization is to your customers' needs.
A Private Label ATS is Built to Scale
Additionally, providing your customers with hiring solutions helps them grow their business. If loyal customers' businesses grow, you'll undoubtedly be scaling with them.
Market Expansion
If your platform is the leading solution in its industry, you may want to look into expanding into similar markets (for example, spa SaaS may want to expand into encompassing salon solutions) or partnering with other SaaS companies that operate in complementary ways. Your private label ATS is the perfect way to get these conversations started since recruiting is one business challenge all industries have in common.
Check out how a private label ATS can further support SaaS growth with our post Drive Vertical SaaS Growth With an ATS.
6. Remain Stickier and Prevent Customer Churn
Offering customers a more complete solution means your SaaS solution is stickier and decreases the likelihood of customer churn. Adding more relevant solutions to your SaaS stack can improve customer retention.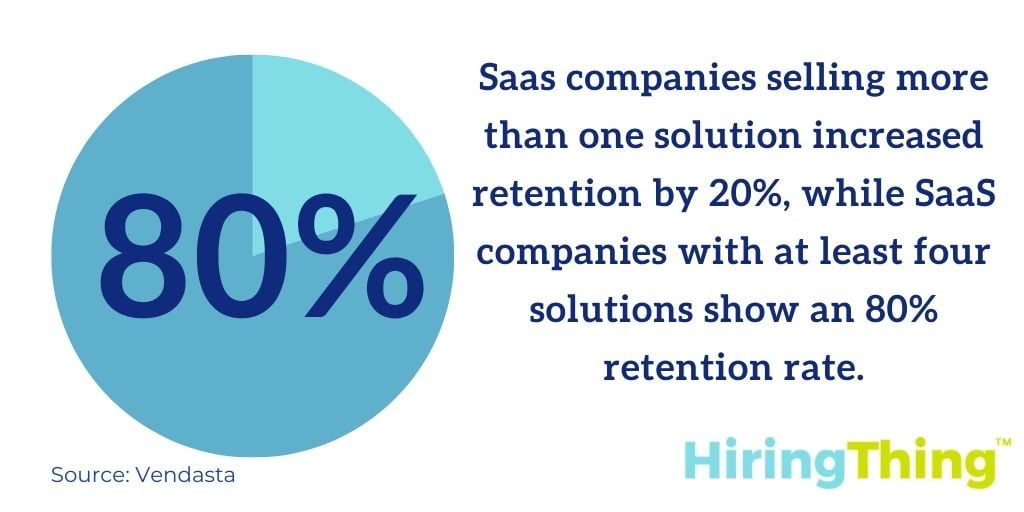 Studies show that SaaS companies selling more than one solution increased retention by nearly 20%, while SaaS providers with at least four solutions show an 80% retention rate.
The HR Research Institute published a report entitled "The State of Pre-Hire Tools and Systems" that found only 16% of talent professionals surveyed said their hiring tech integrated seamlessly into their tech stack. HiringThing was founded by developers, so it doesn't have that problem—our open API allows you to connect with SSO, pass candidate data back to your core system, or build something custom for your team.
7. Expand Your Team
An added benefit of partnering with a private label solution is getting the professional support of their team, which allows you to focus on your core functionality. This support can be everything from customer service to marketing to engineering. It provides a superior customer experience for your clients and can help drive additional revenue.
Sales and marketing support can help you market to new customers and get existing customers onboarded to your ATS through email nurture campaigns, webinars, and content creation.

An expert product team means your ATS will always get updated features and stay on the cutting edge.

Customer success and support mean your customers are getting help and resources from the team that created and knows the ATS.

The private label team can also train and enable your employees to educate current and potential customers about the long-term benefits of ATS use.
Two big reasons for customer churn are ineffective (or lack of) onboarding and poor (or lack of) customer service. While all good companies try to put the customer experience first, rapid growth or lack of resources and expertise can stretch you thin. Private label partnerships are built-in insurance that your customers get the support they need to be successful.
8. Benefit End Users
The ISG Survey on Industry Trends in HR Technology and Service Delivery found that 64% of companies utilizing HR tech achieve measurable business value from their HR SaaS investments. The goal of any B2B SaaS platform is to help their customers help the clients they serve. What can utilizing your private label ATS do for your customer's clients?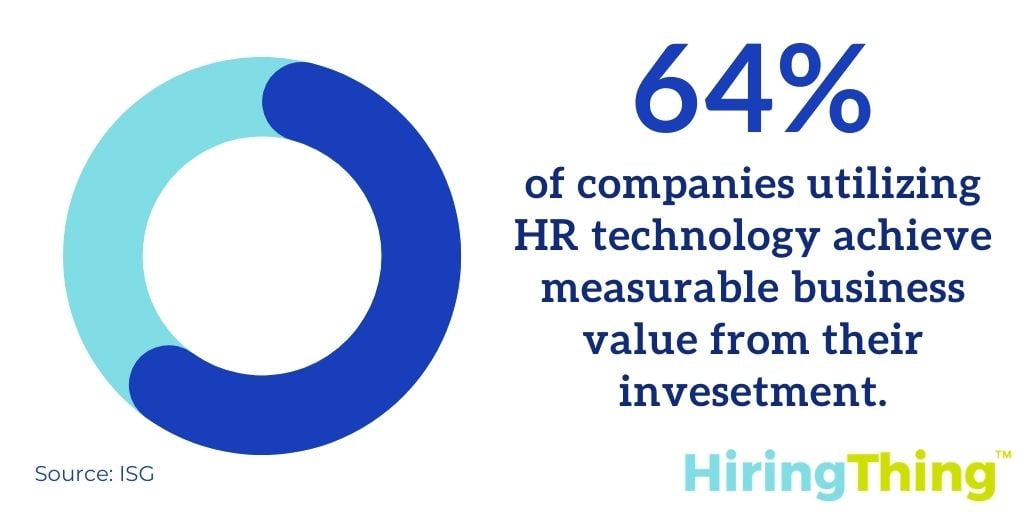 If you're helping your customers improve hiring by 94%, you're giving them a great customer experience!
Check out our post What a Private Label Applicant Tracking System Does for End Users for a more in-depth dive into how your customers can benefit from your private label ATS partnership!
9. Expand Market Share
HR Tech spending grew 57% from 2020, and even pre-pandemic, 74% of companies planned to increase their spending on HR tech, Recruiting and retention are the top challenges driving HR tech acquisition—the ATS market is growing fast, too, expecting to reach $2.22 billion by 2027. Recruiting technology is an expanding market with plenty to capitalize on.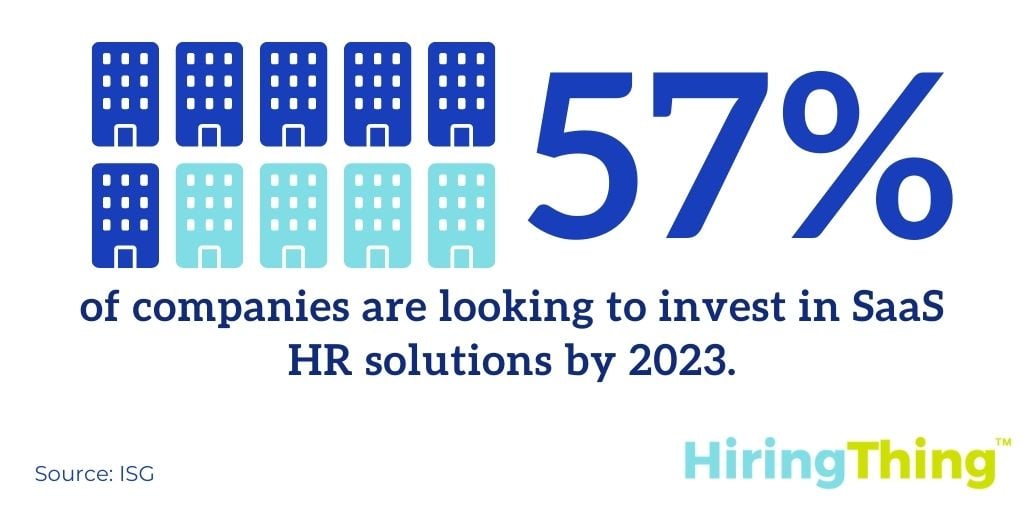 57% of companies

are looking to invest in a SaaS HR product by 2023.

According to a 2020 SMB Applicant Tracking System Buyers' Report, nearly 50% of ATS users are dissatisfied with their product and open to new recruiting solutions (like yours!).

Only

35% of SMBs

use applicant tracking systems, meaning more than 60% don't realize what an ATS can do for their growth.
10. Low-Risk, High-Reward Investment
A private label investment is low risk since organizations can terminate their subscriptions if a product becomes unprofitable. Additionally, private labeling (vs. building a product from scratch) means you don't have to waste valuable time and money on development costs—DevSquad reports that building a minimum viable product (MVP) usually takes 2 to 10 months but can take much longer.
About HiringThing
HiringThing is a modern recruiting platform as a service that creates seamless hiring experiences. Their private label applicant tracking system and open API enables technology and service providers to add hiring capabilities to their solution. Approachable and adaptable, their platform empowers anyone, anywhere, to hire their dream team.