What A Private Label Applicant Tracking System Does for End Users

Pat Brothwell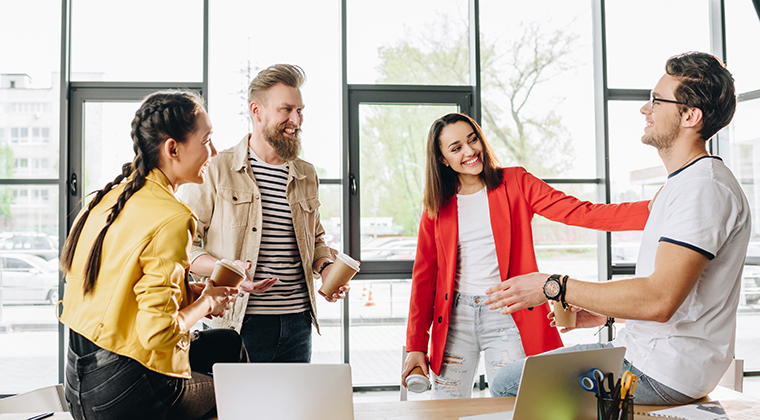 Businesses Use Private Label Applicant Tracking Systems to Grow
Businesses ranging from HR Solutions (including ASOs and PEOs) to Staffing Agencies, Associations, Franchises, and Vertical SaaS Vendors use private label applicant tracking systems (ATS) to remain competitive, reduce customer churn, expand their market share, and grow revenue (amongst several other benefits). We explore the benefits private labeling an ATS has at length in our post, What is a Private Label ATS?
To fully understand the value of a private label ATS, it's important to note how much recruiting problems hurt your clients' brand, employees, and bottom line. The value an ATS provides underscores why it's a worthwhile investment in your product. It's also vital to know how an ATS can add value to your clients when it's time to market your newly integrated ATS to gain market share, add value for current customers, and monetize your ATS to generate new revenue streams.
The information in this post is also beneficial if you're trying to convince stakeholders at your organization of the value of an ATS for your customers.
How Private Label Applicant Tracking Systems Benefit ATS End Users
An ATS Saves Time and Money
Recruiting costs small and medium-sized businesses (SMBs) valuable time and money. Glassdoor reports that it costs the average U.S. employer $4,000 and 24 days to find and hire a new employee (and that's not taking into account onboarding time and costs).
Hiring is time-consuming. Businesses, especially SMBs, dedicate a lot of time to recruiting, interviewing, and hiring candidates. In fact, small business owners spend up to 40% of their working hours on tasks that don't generate income, including recruiting and hiring. Companies risk top candidates losing interest, taking other jobs, or losing faith in the organization if the hiring process goes too long.
New hires are company investments that don't mature right away. Research shows it takes up to eight months before an employee reaches full productivity and generates revenue for a company. Turnover amongst employees happens, but a strong hiring process helps support retention and saves money.
The cost of replacing an individual employee can range from one-half to two times that employee's annual salary. The 2021 Bureau of Labor Statistic report says that the annual turnover rate for 2020 was 57.3%⎼turnover costs US businesses trillions of dollars every year.
Without proper recruiting strategies and technology, bad hires will happen. According to the World Economic Forum, a company benefits $5,303 for hiring a superstar performer but benefits $12,489 by avoiding a toxic hire.
An ATS can:
Help businesses automate their hiring processes, saving valuable time.
Offer a better candidate experience which can help reduce turnover and keep employees at companies longer.
Make it easier for businesses to find the right candidates and strengthen their interview process to avoid those costly, toxic hires.
Free up employees to focus on more pertinent, revenue-generating tasks.
Think of an ATS as the recruitment equivalent to a Customer Relationship Management (CRM) system, which today's successful companies consider necessary. So is an ATS.
Companies that successfully utilize an ATS save up to 20% of their time on the hiring process. Software recommendation platform GetApp surveyed their users who use an ATS and found that 86.1% reported that using an ATS has increased the speed at which they hire.
An ATS Increases Applicant Traffic
In the spring of 2021, more than 40% of small business owners had job openings they couldn't fill. It's not just SMBs, either. Employers across the country can't recruit quality candidates. It costs businesses approximately 90 dollars a day when an entry-level job remains vacant. Additionally, other employees often pick up the slack when a position is vacant, working overtime to make up the difference (studies show that productivity drops drastically at 50 hours of work a week).
An ATS can help businesses increase applicant traffic by:
Providing a job distribution platform to customers through a robust network of integrated job boards, social posting capabilities, and the tools to build a referral program.
Widening their talent pool and pipeline.
Ensuring vacancies get filled without wasting unnecessary time and money.
Additionally, 78.3% of hiring managers said an ATS improved the quality of candidates they hire.
An ATS Provides a Better Candidate Experience
The HR industry is now employee-focused rather than HR-focused. The candidate experience is more important than ever. Businesses must consider candidates as customers to attract, engage, and delight them.
60% of job seekers quit in the middle of filling out online job applications because of their length or complexity. That's a bad "customer" experience. An ATS can streamline the application process so that they only have to provide the same information once, not be asked redundant questions, and complete the application quickly.
30% of job seekers rated responsiveness as the most important to their candidate experience. Applicant engagement and experience can be significantly improved with features like text to apply, simplified application forms, and an attractive careers page. Those with a positive experience are more likely to accept a job offer, reapply in the future, or refer others to the company.
An ATS provides users their own full career site—a competitive ATS offers custom application forms, QR codes, and workflows so users can tailor the needs of their businesses and the preferences of their ideal job candidate. For candidates, a competitive ATS is easy to use and mobile-friendly for the end-user, leaving them just as delighted with interacting with your company as their favorite e-commerce business.
An ATS Builds an Employer's Brand
The inbound marketing experts at HubSpot define employer branding as "your reputation among the workforce as well as your employees' perception of you as an employer." A good employer brand can reduce turnover by 28%, while 75% of active job seekers are likely to apply for a job with a strong employer brand.
Building a strong brand starts with the recruiting process If candidates have a bad recruiting experience, overwrought applications, miscommunication, or communication lags, they develop negative connotations with the brand. This could be especially damaging as 72% of job seekers report sharing their negative application experiences online, and 55% report they avoid filling out applications with companies with negative online reviews.
A great candidate experience gives job seekers positive brand connotations and, at its best, turns them into brand evangelists.
An ATS Reduces Employee Turnover
When candidates apply for jobs, they must get a good sense of the company and feel optimistic about the application process. Yet, according to Talent Board's Candidate Experience (CandE) Global Research Report, only 25% of all candidates rated their hiring experience as great. An ATS can help your clients quickly find better matches for roles by making a stellar first impression.
The relationship between your clients and their future employees starts as soon as they click on their job listings. An ATS can support these goals with easy-to-understand job listings, engaging application forms, self-schedule interview tools, and communication from the hiring team. A competitive applicant tracking system will have the tools to support both the hiring team and the candidate experience. Employees who have a good experience from the beginning of the recruiting process and are a good match for their role are likelier to stay with a company for longer.
The HiringThing Advantage
HiringThing is a modern recruiting platform as a service that creates seamless hiring experiences. Our private label applicant tracking system and open API enable technology and service providers to embed hiring capabilities from sourcing to onboarding. Approachable and adaptable, the platform empowers anyone, anywhere, to hire their dream team.