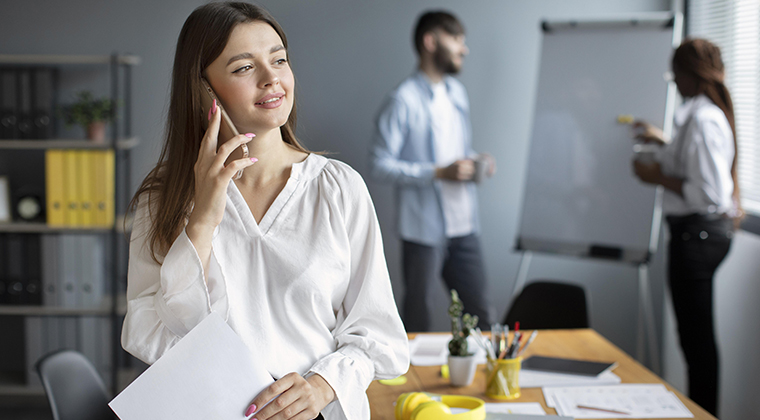 Hiring is Hard
An applicant tracking system (ATS) can drastically reduce the time it takes to fill positions by connecting you to qualified candidates more quickly. In today's tight labor market, hiring is no easy task. Three out of four employers struggle to find qualified candidates, and the average time required to fill a position is 40–50 days. Many businesses experience the same key pain points when it comes to recruiting.
High turnover: Many companies experience high employee turnover, especially in a tight labor market. This can result from a variety of factors, including unqualified applicants, overworked employees, lack of opportunity for employee growth, or lack of a good culture fit.
An inefficient overall hiring process: Organizations without a well-defined hiring process are at risk of incurring greater costs per hire due to inefficiencies and the likelihood of applicants falling through the cracks. They are also faced with an increased employment liability risk by not having standardized practices in place.
Shortage of time: Companies may not have time to put effort into hiring the best candidates. Posting/advertising jobs on third-party accounts, along with the tasks of reviewing applicants and normal applicant communication, can take a great deal of time.
Customized Recruiting Software Can Help
Below are HiringThing's private label applicant tracking solutions that help make recruitment seamless and efficient:
Customized pre-screening questions can both automate the initial applicant review process, saving valuable time, and also give your clients info beyond a resume and cover letter that is crucial to making the right hiring decision. Applicants' cognitive abilities, knowledge, and work skills can also be screened and assessed in order to provide your clients with employees that have higher productivity, increased retention, and lower turnover costs.
Branded career page options familiarize applicants with your clients' brands and have a more professional look and feel. Color schemes, logo options, and other branded career page options will ensure brand continuity and facilitate best practices.
Customized template options such as Form Builder™, offer letters, interview requests, email or SMS messages, and job descriptions save time, allowing clients to quickly communicate with applicants and standardize communications across their organization.
Customized recruiting workflows allow clients to create their own processes for hiring, including the ability to set custom job roles, job requisition approvals, and offer letter approvals. Approval workflows enable seamless collaboration and align all members of the hiring team to make sure the right candidates proceed through the process quickly and accurately.
Custom API and careers page widgets enable clients to easily embed our popular Jobs Widgets into their web properties, letting applicants apply directly from the organization's website. Our REST API offers full customization options and supports integrations with other systems clients need in their hiring workflow.
What Makes HiringThing Special?
Our integrated feature options provide companies with comprehensive, inclusive options that simplify and streamline the hiring process. Hiring managers don't have to waste time coordinating interviews, sharing applicant information, or requesting references. Instead, your clients can hire the right candidates quickly with integrated time-saving options!
Job Boards
Are client job openings reaching the right candidates? Posting to multiple popular job boards ensures that positions are visible to the right people. HiringThing integrates with many popular job boards, including LinkedIn, ZipRecruiter, and Glassdoor. Post a single job to multiple job boards with one click, ensuring maximum visibility.
Pre-Employment Assessments
Make sure the best candidates are proceeding through the hiring process by using qualifying assessments. Easily assess a variety of applicants and examine their results in a ranking order to fully understand individual qualifications. These assessments cover the skills and personality areas that predict job performance so your clients can be confident in their chosen candidates.
Background Checks
Most employers use some sort of background check when hiring new employees. These checks are vital for revealing unbiased information — such as MVR records, employment and education verification, and criminal convictions — about candidates that might affect performance and workplace safety. A 2017 survey found that 85 percent of respondents uncovered a misrepresentation on a candidate's resume thanks to a background check. HiringThing's background check integrations let managers quickly check applicants while keeping in compliance with federal laws like the Equal Employment Opportunity Commission.
Automated Reference Checks
Gain valuable insight into an applicant's skills and knowledge by requesting reference data. Using SkillSurvey's automated reference check solution, managers can effortlessly request applicant insight with a wide selection of built-in or custom surveys. Once received, this information can be used to confirm candidate abilities and benchmark against other candidates.
Integrated Tools
Our selection of integrated tools options such as Slack, Wufoo, PayScale, and more ensure that every step of the hiring process is simple.
Private Label Capabilities
HiringThing is an easy-to-use, fully integrated hiring solution that saves time and precious resources. HiringThing's customizable applicant tracking system lets you sell branded hiring software to your clients as part of your professional employer organization (PEO) services or HR technology suite. With all candidate data stored in a central location, it's easy to sort and manage applicants while collaborating with other team members. HiringThing provides tools that will save your clients time (and money!) in the recruitment process by allowing them to customize their recruiting workflow. It can also grow your business!
Need a more in-depth primer on what a private label ATS entails? We've got you covered.
About HiringThing
HiringThing is a modern recruiting platform as a service that creates seamless hiring experiences. Our private label recruiting technology enables organizations to add hiring capabilities to complete their solution. With our open API and developer-friendly documentation, we enable customized workflows and seamless connectivity for HR Solutions, PEOs and ASOs, Franchises, Staffing Agencies, and more.