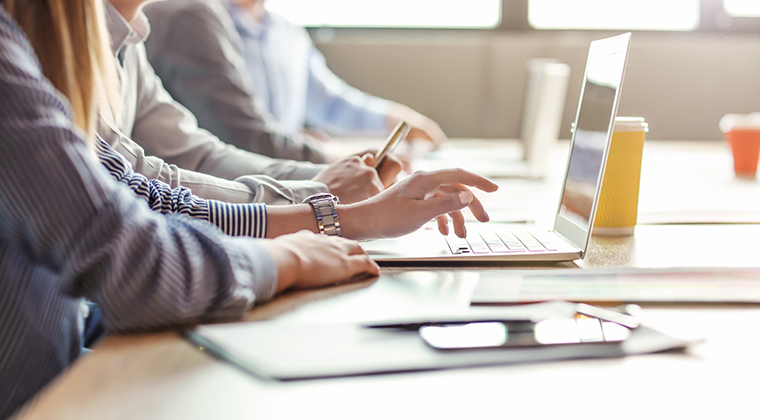 487 PEOs represent 15.3% of all employers with 10 to 99 employees in the United States. That's impressive, but with 84.7% of small and medium businesses (SMB) unaccounted for, there's an enormous growth opportunity, and 90% of PEOs surveyed by NAPEO anticipate some kind of positive growth moving into 2023.
As a PEO, it's essential to stay competitive to attract and retain clients in an increasingly crowded market.
Ten Ways for PEOs to Stay Competitive in 2023
Offer a Wide Range of Services
As the world of work becomes more people-centric, companies are looking for solutions that support the entire HR cycle, not just payroll here and benefits there. PEOs can stay competitive by offering a wide range of services, including human resources management, payroll, employee benefits, and recruiting and retention solutions.
Here at HiringThing, we're the creators of a private label applicant tracking system that allows PEOs to add proprietary hiring software to their suite of solutions. Check out our blog to learn more about how a private label applicant tracking system benefits PEOs.
Keep Up-to-Date With Industry Trends
PEOs should stay up-to-date with industry trends and emerging technologies to provide the best possible service to clients. This can help PEOs identify new opportunities and stay ahead of the competition—having clients rely on your expertise to help guide their HR decisions and strategize for the next steps automatically ups your value compared to competitors.
In 2023, HR trends to know include:
Reshaping recruiting strategies.

Prioritizing employee well-being.

Understanding Gen Z talent.

Upskilling and training workplace leaders.

Consolidating your HR tech.
For a more in-depth look, check out Five HR Trends to Know for 2023.
Provide High-Quality Customer Service
84% of customers say their customer-service experience is as essential as product functionalities and results. Therefore, PEOs should focus on providing high-quality customer service to retain clients and attract new ones. High-quality customer service can involve:
Prioritizing proactive customer service.

Asking for feedback often.

Personalizing features and functions.

Responding to all communication quickly and meaningfully.

Updating and enhancing your services constantly.
High-quality customer service prevents customer churn (which also keeps your PEO competitive). Check out Five Way to Prevent Customer Churn for more customer-retention strategies.
Offer Competitive Pricing
PEOs should offer competitive pricing for their services in a competitive market. This may involve conducting market research to determine the going rates for PEO services, offering competitive pricing packages to clients, and ensuring your customers always feel they're getting a high value for their money.
Invest in Employee Training and Professional Development
PEOs should invest in employee training and development to provide clients with the highest level of service. This may involve providing ongoing training and support for employees and opportunities for professional growth and advancement.
Despite their prominence, many individuals aren't aware of what a PEO does. Strong training and development also ensure your staff can quickly and efficiently communicate your PEOs value to current and potential customers.
Leverage Technology
PEOs can stay competitive by leveraging technology to streamline operations and provide better client service. This may involve using software to automate HR processes, using data analytics to gain insights into workforce trends, or implementing other technologies that help PEOs better serve their clients.
HR tech trends PEOs should be familiar with in 2023 include:
The use of private labeling to add additional HR tech solutions.

Using technology to drive DEI initiatives.

Ensuring tech complements the employee experience.

Meaningful automation.
Check out 2023 HR Tech Trends You Need to Know to explore more.
Foster Strong Relationships With Clients
PEOs should work to foster strong, long-term relationships with their clients. This may involve regular communication, providing tailored solutions to meet clients' unique needs, and being responsive to their concerns and requests.
Communicating often with customers helps establish trust and proactively reminds them of the value you bring.
Develop a Robust Online Presence
In today's digital age, PEOs need to have a robust online presence. This may involve maintaining a professional website, using social media to engage with clients and potential clients, and being active in online forums and industry groups.
Some more specific recommendations, straight from the marketing teams of several of our PEO clients, include:
A YouTube channel discussing thought-leadership topics like the state of hiring, increasing DEI, HR trends, and how to be more people-centric—YouTube

is

the world's second biggest search engine after Google.

Having company leaders pen LinkedIn articles geared towards SMB leaders.

Coming up with a personalized PEO hashtag where you dispense up-to-the-minute HR advice and hot takes.

Creating TikTok or Instagram reels on workplace best practices.
Understand the Specific Needs of Clients
66% of customers expect service providers to understand their needs. Customers will spend more for a good experience (10% more in almost every industry), and customer-centric companies are 60% more profitable than companies that aren't.
PEOs should take the time to understand the particular needs of their clients to provide tailored solutions that meet those needs. This may involve conducting regular surveys and assessments to gather feedback from clients and using that feedback to improve their services.
Stay Compliant With Laws and Regulations
Stay compliant with laws and regulations: PEOs must stay compliant with employment laws and regulations to avoid any legal problems for their clients. This may involve staying up-to-date with laws and regulations changes and implementing policies and procedures to ensure compliance.
NAPEO is the go-to source for everything PEO-related and the best place to stay abreast of changing laws and regulations.
A Solid Strategy Makes it Simple for PEOs to Stay Competitive
Overall, there are many ways that PEOs can stay competitive in 2023. By offering a wide range of services, keeping up-to-date with industry trends, providing high-quality customer service, and leveraging technology, PEOs can stay ahead of the competition and continue to provide value to their clients.
About HiringThing
HiringThing is a modern recruiting platform as a service that creates seamless hiring experiences. Our private label applicant tracking system and open API enable technology and service providers to embed hiring capabilities from sourcing to onboarding. Approachable and adaptable, the platform empowers anyone, anywhere, to hire their dream team.