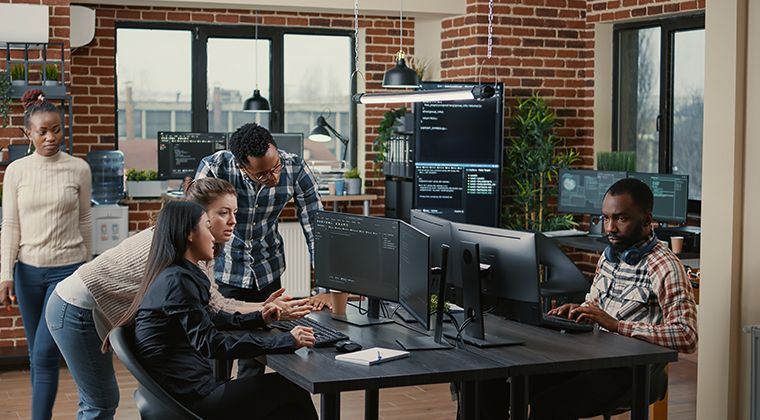 HR tech has never been more relevant…or profitable. In the past year, 12.1 million employers in the U.S spent over $5 trillion on HR tech. Learning and development tech is a $240 billion marketplace while recruiting and interviewing tech clocks in at $250 billion. Additionally,
HR tech is a big industry for those on the development side and a big investment on the part of end users—the increasing ubiquity of HR tech is one of the drivers that's helped transform HR from a department every organization was obliged to have, to a key driver of company strategy.
As leaders in the HR tech space, we've scoured the internet, spoken to partners and customers, consulted HR tech thought leaders and read all the relevant reports, studies, and data to understand and report to you what trends will be driving HR tech in 2023. Our findings are presented below:
2023's Biggest HR Tech Trends
Customers Are Looking for a Full Lifespan Solution
As HR transitions to being a more strategic player at organizations, it's becoming more critical to not just plan for recruiting, retention, analytics, or engagement but to find the tools that work well with each other to support the entire HR cycle with seamless transitions between stages. More organizations will gravitate towards tech solutions with more than one HR functionality, covering various aspects of the HR cycle or integrating well with one another.
Private Labeling Can Help HR Tech Offer Additional HR Solutions
The average mid-sized company replaces 39% of their SaaS applications with ones with better functionality—today's consumers want their SaaS apps to address several of their top challenges and expect features that increasingly meet more of their needs to appear regularly.
Private labeling is a great way to quickly and cost-efficiently add additional HR solutions to HR tech core competencies, which makes them more competitive and adds additional revenue streams.
Many tech startups partner with white label or private label developers to present new functionalities as proprietary solutions to end users. While white label and private label modalities are similar and often mistakenly used interchangeably, there's a reason we're highlighting private label: customizations.
White label applications are produced by their developer and then outfitted with the purchaser's branding so they can sell their new solution to their customers. Conversely, a private label partnership goes further than a white label's branding by customizing the new solution to meet the unique business needs of a business through bespoke workflows, add-ons, and single-sign-on capabilities.
Here at HiringThing, we produce the preeminent private label ATS on the market. We understand that a private label partnership isn't something to take lightly, so we created The Ultimate Guide to Establishing a SaaS Private Label Partnership to help you get started.
Tech Will Help Drive DEI Initiatives
DEI is becoming an increasingly important initiative for organizations—76% of job seekers want to work somewhere that values diversity, equity, and inclusion (DEI), and 32% of employees actively won't apply to work at companies lacking diversity. DEI efforts take work, and organizations are turning to HR tech to help them approach their initiatives in meaningful, data-driven ways. Estimates show that by 2030, 90% of professional organizations will use HR tech to improve DEI outcomes.
One of our partners, Titan ATS, has built a more unbiased hiring process on top of our recruiting PaaS. We've also created The HiringThing Guide to DEI Recruiting for those who want to use your recruiting software to create more meaningful DEI.
HR Tech Must Complement the Employee Experience
HR tech was ostensibly created for the same reason any technology has been developed, to make peoples' lives easier. However, as we've become more reliant on SaaS applications in the workplace, the tech market—including the HR tech market—boomed. Employers have never had more choices regarding tech solutions that streamline and strengthen their HR functionalities, which we consider a good thing. However, the ubiquity of tech solutions has created a unique conundrum: tech application burnout.
Gartner found that the average worker uses 6 to 8 apps to perform a single business process. The Harvard Business Review found workers are toggling between apps and websites nearly 1,200 times a day, paying what they call a "toggling tax" that amounts to 9% of their annual work time.
This isn't a good experience for users and is counterintuitive to what HR tech should accomplish. Additionally, PwC found that 82% of HR tech users struggle to use the technology, which isn't a good user experience. Keeping these revelations in mind—especially the "toggling tax"—HR tech organizations will be working this year to strengthen the customer experience, and HR tech consumers will be more discerning about using too many apps, the ease of onboarding, and prioritizing HR tech with excellent customer service— 84% of customers say their customer-service experience is as important as product functionalities and results.
We created How to Delight SaaS Users to help tech organizations strengthen the customer experience.
Automation Planning
Hyperbolic headlines have been alleging that automation is coming for "our jobs" for years, which we've always disagreed with. Automation is helpful and allows us all to work better.
Almost

60% of workers

feel they could save six or more hours a week (nearly an entire workday) if the repetitive aspects of their jobs were automated.

81% of workers

believe automation will lead to more meaningful work.

81% of workers

also believe they don't spend most of their day on meaningful tasks.
Automation helps us work more efficiently and is a net positive for the world of work. Still, fear-mongering aside, automation will take over some jobs (have you been to a fast-food restaurant recently? Much of the front-of-house ordering has already been automated). However, experts have differing views on how prevalent it will be. Research by Statista estimates 47% of jobs will be fully automated by 2030, while PwC estimates it will hover around 38%.
Again, this isn't necessarily a bad thing—the automation of some jobs will create new roles. As more workplace tasks are automated, a higher premium will be placed on quality customer service roles. Savvy HR tech companies and consumers are beginning to plan for this increase in automation and strategize for both new roles and how to help upskill the employees who will be working around this new automation.
In the future, it will be crucial for HR tech to help find, engage, retain, and train quality employees with the emotional intelligence required to navigate automation changes and challenges. It's also crucial that humans use automation correctly. Even the best technology is just technology; if it's not being used correctly, you won't get the best results. We wrote Applicant Tracking Systems Aren't Excluding Job Applicants—People Are about this phenomenon.
A Hiring Revamp
While a full-cycle solution will undoubtedly be an HR tech trend of 2023, there will be a considerable emphasis on recruiting technology. Hiring has been a major challenge to businesses across all industries. HR Tech guru Josh Bersin found that 74% of organizations felt their recruiting strategies were underperforming in 2022. If companies have to pick one part of the HR cycle to invest in via HR tech, it will be recruiting.
Private Labeling an ATS Can Help HR Tech Solutions Add Hiring to Their Repertoire
We touched upon private labeling above. Private labeling is when an HR tech company partners with a developer to offer their solution as a proprietary functionality. At HiringThing, we private label an applicant tracking system—recruiting software that streamlines, strengthens, and automates hiring—so that HR tech providers can quickly and efficiently add recruiting solutions. Learn more about the benefits of a private label applicant tracking system in our post What is a Private Label Applicant Tracking System?
Related Resources
About HiringThing
HiringThing is a modern recruiting platform as a service that creates seamless hiring experiences. Their private label applicant tracking system and open API enables technology and service providers to add hiring capabilities to their solution. Approachable and adaptable, their platform empowers anyone, anywhere, to hire their dream team.