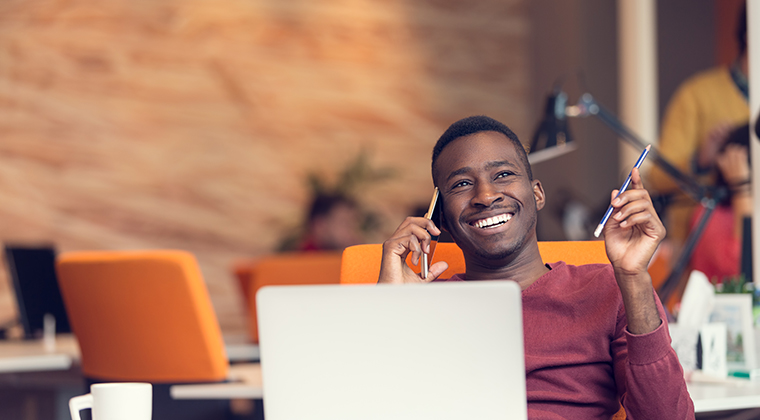 The world of HR is constantly evolving. To strategize most efficiently, savvy organizations will regularly audit what they've been doing, examine how employment and hiring trends affect their business, and shift strategies accordingly.
While we're leaders in the recruiting and HR tech space here at HiringThing, it also behooves us to know exactly what trends are driving the entire HR cycle. We regularly consult data, survey our partners, consume industry reports, and interrogate trends to ensure that our HR tech and the recruiting strategies we share with clients and partners are up-to-date.
In this post, we'll share five HR trends that all businesses should be aware of for 2023 HR strategizing.
If you're looking to get even more granular, we recently shared 2023 Recruiting Trends You Should Know.
Five HR Trends That Will Impact You in 2023
Reshaping Recruiting

Prioritizing Employee Well-Being

Understanding a New Generation of Workers to Engage, Recruit, and Retain Your Workforce

Upskilling and Training Workplace Leaders

Consolidating HR Tech
Reshaping Recruiting
Gartner's "What Will HR Focus on in 2023?" report found that most professionals they surveyed still expect the competition for talent to increase significantly in the next six months. They also found that completely revamping recruiting strategies is the top business priority for 46% of HR leaders, with 36% saying their recruiting strategies are wholly insufficient for finding the required skills.
Forward-thinking organizations should evaluate their recruiting strategy and ensure they align with current business needs and this competitive recruiting climate. The current shortage of job candidates means it's wise to focus on quality versus quantity and try and think of ways to continually innovate with an often smaller staff.
One trend continually rearing its head is strategizing for recruiting and retention together—making a great hire is moot if that hire only lasts a couple of months! For more actionable steps to revamp your recruiting, check out our piece on 2023 recruiting trends
The HiringThing Guide to Increasing Your Applicant Traffic and The HiringThing Guide to DEI Recruiting are additional, excellent resources for organizations looking to audit and revamp recruiting.
Prioritizing Employee Well-Being
It should be no surprise that workers are stressed—3 in 5 employees reported negative stress-induced impacts in the wake of the pandemic, and 70% of workers are worried their salaries won't keep up with inflation.
We've seen an increase in wellness initiatives—those extending past health, dental, and vision insurance, like emphasizing a healthy work/life balance, mental-health initiatives, flexible scheduling, and stress reduction—recently, as employers realize that not only is focusing on employee well-being the right thing to do, but also the best move for employee retention, productivity, creativity, and collaboration.
Work-Life Integration Takes the Center Stage
While work/life balance has always been a big priority for those companies that value employee wellness, the way that's being approached is also shifting. With more flexible schedules and individuals working remotely, more individuals are foregoing the traditional 9-5 model in favor of a more fluid schedule. This, combined with more individuals working where they live, can make it harder for individuals to tune out job demands and end up blurring the lines between work and life more than when they were in the traditional brick-and-mortar office.
Employers with remote workforces should prioritize ensuring their teams know how to balance this new work frontier. Work with employees to integrate work into their schedules in a way that's both productive and conducive to their mental well-being—a burned-out workforce doesn't benefit anyone!
Forbes has a great article titled How HR Tech Can Help Employee Mental Health if you want to dive into how tech can help drive wellness. Prioritizing employee well-being also starts at the top, which is why HiringThing founder and CEO Joshua Siler penned Workplace Leaders Can Benefit From Being People Forward.
Understanding New Generations of Workers to Engage, Recruit, and Retain Your Workforce
Resignation rates for Millennials increased by 20% between 2020 and 2021, which is both a byproduct of pandemic workplace shifts and congruent with millennial behavior. While baby boomers would work the same job for years, the average millennial spends 2 years and 9 months with an employer. Millennials and Gen Z are now the dominant generations in our workforce, and they approach work differently than older generations.
Employers are working to understand what Millennials and Gen Z want out of work. This understanding can help with recruiting, engagement, retention, and productivity. For Millennial and Gen Z employees:
Engagement is Key
Millennials and Gen Z want regular communication and feedback from their managers—44% of millennials say they are more likely to be engaged when their manager holds regular meetings with them. Still, only 21 percent of millennials meet with their manager weekly (this is a super easy fix…).
Work-Life Balance is Non-Negotiable
Millennials and Gen Z'ers are beginning to rank work-life balance and flexibility as more important than compensation—they view work as something to do, not necessarily a place. 90% of millennials favor a four-day workweek, and 68% are happier working remotely—56% of Gen Z said they would leave their job if it interfered with their personal lives.
"Work-life balance is extremely important to me," HiringThing Engineer II Deven Larick, who's a Millennial, told us. "I have a lot going on outside of working hours that I always need time for and that I just don't get when asked to work more than is necessary for no real gain."
Professional Development is Necessary
A lack of career development and growth opportunities is a leading reason why today's employees leave their jobs. Millennials and Gen Z'ers crave learning opportunities:
Nearly

60% of millennials

would choose a job with a strong potential for professional development over regular pay increases. 60% of millennials also expect employers to provide upskilling and training opportunities.

75% of Millennials and Gen Z'ers

say they'd quit a job over lack of professional development.

64% of Gen Z

cited "opportunity for career growth" as a top career priority.
Additionally, companies that excel at professional development and internal mobility retain employees at nearly twice the rate of those that don't.
Mental Health Should Be Prioritized
Nearly half of Gen Z'ers said they often feel stressed or anxious. 50% of Millennial and 75% of Gen Z workers left a job due to mental health reasons, compared with 10% of Baby Boomers. Both generations value employers who prioritize mental health initiatives (which was covered in the previous section).
Purpose Drives Millennials and Gen Z'ers
Millennials and Gen Z'ers seek jobs with purpose with employers who share their values.
86% of millennials

would take a pay cut to work at a company with similar values to them, compared to 9% of Baby Boomers.

42% of Gen Z'ers

would instead work in a role that gives them a sense of purpose than one that pays more. They're also the generation most likely to want to work for organizations that

address social justice issues

.

Almost half

of Millennials and Gen Z'ers wouldn't accept a job at a company that didn't align with their social values.
"I look for work that is interesting and challenging and where I can make a difference," Millennial HiringThing Solutions Architect Hovis Biddle told us. "I cannot thrive where my job is just a 9 to 5, and I do what I'm told. It is imperative that company values match my values. If values aren't aligned, I'm going to be phoning it in while job hunting so that I can hop to something better."
Upskilling and Training Workplace Leaders
Many companies have begun prioritizing internal mobility and professional development for their workforces. Still, the development, training, and upskilling often leave out a key part of the workforce: managers and workplace leaders. This is starting to be remedied, as Gartner found a top priority for HR in 2023 will be leader and management effectiveness.
During the "Great Resignation," many high-performing employees were promoted to higher-paid managerial roles to retain them often, without the necessary managerial training. This is another case of post-pandemic work shifts uncovering some big systemic issues in the world of work—it's been an accepted practice for far too long to promote employees to management roles without providing them professional development on how to lead.
Management training and leadership upskilling are even more crucial since the way work is approached have changed drastically. Today's managers and leaders must be people-first: authentic, empathetic, adaptive, and transparent. Toxic managers and leaders will drive quality talent much quicker than in years past.
55% of CEOs report that developing the next generation of workplace leaders is a top challenge. It's a worthwhile challenge to solve, though, because organizations with high-quality leadership development are 1.5x likely to have high engagement and retention rates and twice as likely to be voted as "great places to work." In light of all the workplace changes workplace leaders must now navigate, our CEO Joshua Siler wrote Shared Tips for Navigating Uncertainty as a Business Leader.
Consolidating HR Tech
Josh Bersin, today's preeminent HR-tech thought leader reports that 12.1 million employers spent over $5 trillion on HR applications in 2021. Numbers for 2022 haven't been calculated yet, but it's guaranteed to be higher.
There have never been more HR tech options than there are now, which on the one hand, is excellent—more options are better for consumers—but on the other, Bersin estimates that the average HR department is toggling between eleven different apps, problematic when you consider the average employee toggles between different apps ten times an hour. That's equivalent to 32 days of lost productivity every year!
Businesses invest in HR tech to gain more functionality, yet jumping between apps is counterproductive. In 2023, we predict seeing more organizations consolidate their HR tech so that the complete HR cycle is a more seamless experience for users.
HiringThing CEO Joshua Siler recently penned a piece for Forbes on why organizations should Consolidate Their HR Tech.
What are Your HR Focuses?
We'll focus on these HR trends as we move into 2023, but we are curious. What is your HR department concentrating on? What are you revamping or reconsidering? Is there any trend we didn't mention that you think warrants discussion? Let us know in the comments!
Related Resources
About HiringThing
HiringThing is a modern recruiting platform as a service that creates seamless hiring experiences. Their private label applicant tracking system and open API enables technology and service providers to add hiring capabilities to their solution. Approachable and adaptable, their platform empowers anyone, anywhere, to hire their dream team.