The Difference Between a Private Label and White Label ATS

Pat Brothwell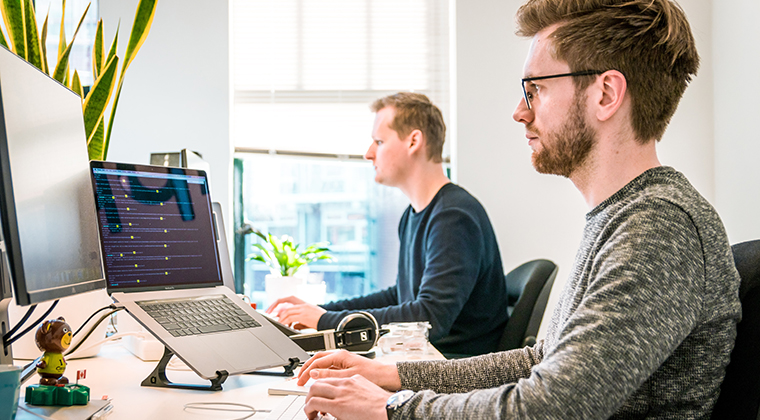 Private Label and White Label Are Used Interchangeably in the World of SaaS
59% of businesses outsource to cut costs, especially when it comes to SaaS/PaaS solutions that are costly and timely to develop from scratch. Software outsourcing is projected to be on a 10-year growth spurt through 2025 due to how pivotal and widespread SaaS functionalities are—99% of businesses use at least one SaaS solution, and 80% of companies rely solely on SaaS applications to run their businesses.
Private labeling is one way organizations outsource new technology solutions. HiringThing is a PaaS organization known for our private label applicant tracking system (ATS). A private label applicant tracking system is an applicant tracking system—recruiting software organizations use to streamline, automate, and strengthen hiring—developed by a third-party company (we're the third-party developers in this example) for partner organizations to purchase and present as their proprietary software.
You may have also heard private labeling called "white labeling." People often use the terms interchangeably (white labeling being a bit more prominent). However, there are subtle but significant differences between these two modalities.
Organizations invest in white and private label solutions to increase the scope of their offerings, which increases their value. Both models allow organizations to add their new offerings quickly, expediting their responsiveness to customer challenges with immediate solutions. Companies that partner with private and white label PaaS/SaaS providers don't have to spend time and money developing a solution for which they may not have background expertise. Instead of building new apps from scratch, they can direct their resources towards growing their business and delighting their customers.
If you want a more robust exploration of private label applicant tracking system benefits, check out our What is a Private Label Applicant Tracking System? post.
Customization is the Key Differentiator
Customizations are the most important differentiator between private label and white label.
White labeled platforms are produced by a SaaS or PaaS company, outfitted with the white label customer's branding, and sold to their clients as a proprietary solution.
Private labeling takes it a step further. Private labeling allows companies to brand a SaaS product as their own or work with the private label developer to customize the platform to fit their organization's specific needs. In the case of an ATS, bespoke workflows, add-ons, and functionalities can be customized to fit the needs of any organization that partners with the private label provider.
How can customizations benefit your customers? Check out What a Private Label Applicant Tracking System Does for End Users for all the answers you need.
Private label purchasers work with private label providers as a mutually beneficial partnership versus the traditional buyer/client relationship. Since end-users aren't aware of this partnership, it strengthens the brand and scope of the private label purchaser's product offerings.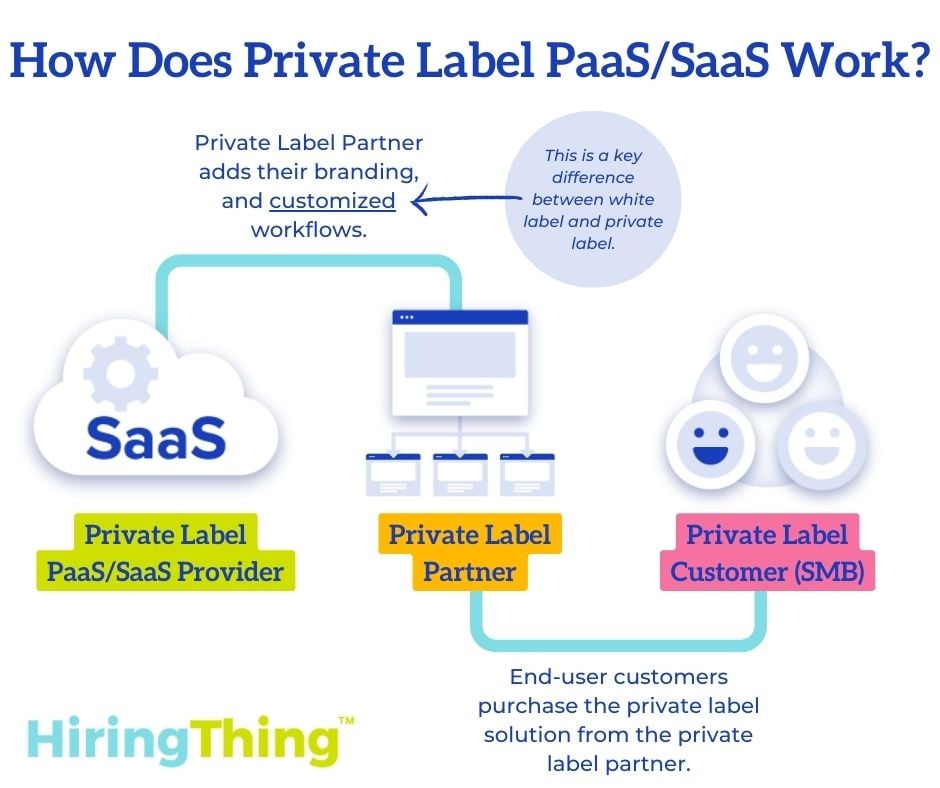 The HiringThing Private Label Experience
When we first pivoted from largely direct recruiting to our current business model, we initially marketed ourselves as a white label applicant tracking system. However, we realized that our specific HiringThing business model allows our clients to transcend what a traditional white label ATS does—we needed terminology that properly encapsulates the capabilities of a HiringThing partnership.
While traditionally, private label has been used to describe a manufacture-reseller model that offers customizations beyond a logo swap, it's gaining traction in the SaaS space to similarly describe developer-reseller models that take things a step further than traditional white label approaches.
A True Partnership
When organizations use a white label SaaS solution, it's typically a traditional vendor-customer relationship.
A private label experience is a true partnership, allowing customers to capitalize on a trusted vendor's pre-existing PaaS/SaaS solutions and knowledge so that they can focus on their core product or solution.
Private label developers are deeply invested in their customer's success, and a partnership extends your team's bandwidth. We work with their clients to ensure their product has the workflows and capabilities they need, act as support during the initial launch, and provide continued support through the tenure of the partnership. This support comes from marketing, sales, engineering, customer support, customer success, and product development.
All Private Label PaaS/SaaS is White Label, but Not All White Label is Private Label
We've created this post to educate you on the differences between private label applicant tracking systems and white label applicant tracking systems—the model you choose depends on your organization's business goals.
We created a business model here at HiringThing that's built around flexibility and room for evolution and want to ensure it's understood that just because our technology and support make it possible for our partners to take things a step further than white labeling, that doesn't mean our partnerships are necessarily more complex. They're as layered or uncomplicated as your business needs dictate.
We have plenty of private label partners who need to go to market fast and initially utilize our technology with their branding, and that's it. That's great! They're using our technology in a white label capacity because that's what their business needs. We still consider these private label partnerships since these customers have the ability to build on our open API, utilize our integration partners, and work with us on customizations down the road if their business needs change. We're invested in the success of our partners, and it's in our DNA to ensure they have all the tools necessary to optimize their ATS should they find that necessary.
It's helpful to understand that all private label PaaS/SaaS partnerships (in our case, the applicant tracking systems) are also white label PaaS/SaaS partnerships, but not all white label PaaS/SaaS partnerships are private label partnerships. See the chart below for a visual breakdown of this concept.

Are you ready to see what makes a private label ATS partnership unique? Schedule a discovery call with a product expert.
About HiringThing
HiringThing is a modern recruiting platform as a service that creates seamless hiring experiences. Our private label applicant tracking system and open API enable technology and service providers to embed hiring capabilities from sourcing to onboarding. Approachable and adaptable, the platform empowers anyone, anywhere, to hire their dream team.