Private Label Applicant Tracking System: What is It?

Pat Brothwell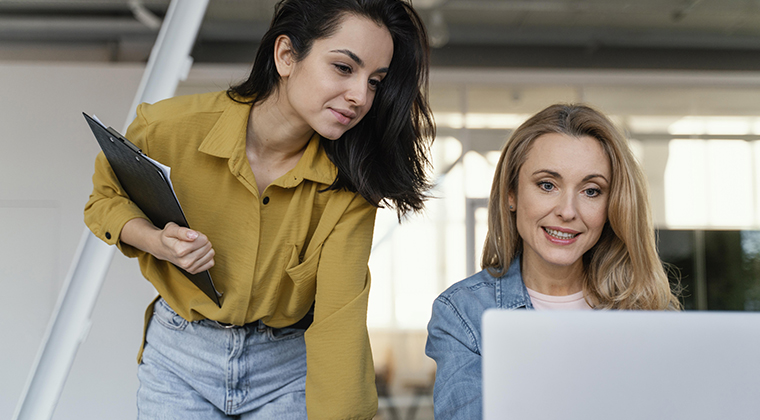 A private label applicant tracking system is an applicant tracking system purchased by a company from a private label ATS developer and customized with robust, user-friendly solutions.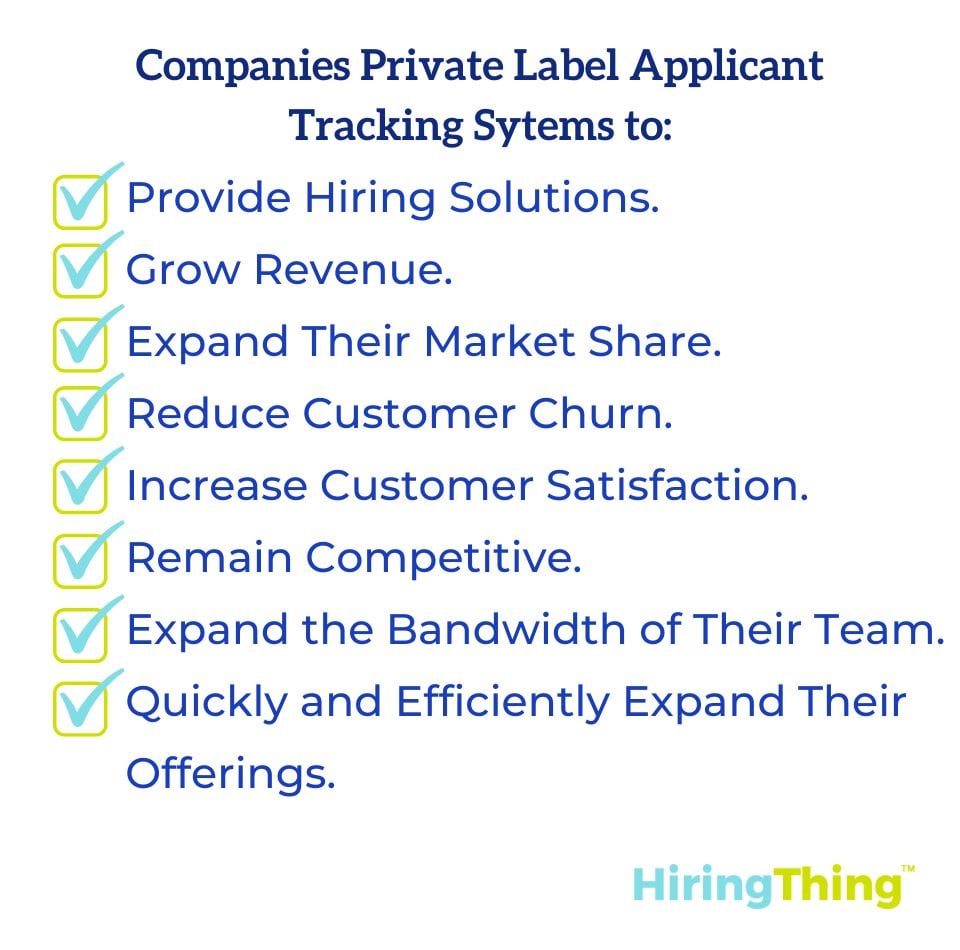 A private label applicant tracking system (ATS) can help solve businesses' hiring challenges. This guide will discuss the myriad benefits integrating a private label applicant tracking system provides, break down how your customers can benefit from ATS use, explore why private labeling is a great way to efficiently grow your solution offerings, and identify what organizations most benefit from a private label applicant tracking system.
Already sold? Sign up for a private label applicant tracking system demo to see how it can help you grow your business. If you're not ready yet, please read on to find out what a private label applicant tracking system is and how it benefits organizations.
Table of Contents
What Is An Applicant Tracking System?
An ATS is human resource software that helps companies organize, automate, and optimize the recruiting process. An ATS provides a centralized repository for job candidate data, including resumes, applications, references, background checks, and whatever else an organization requires to make a hire. An ATS helps businesses create job postings, post jobs, track candidates, and guide both sides through the hiring process.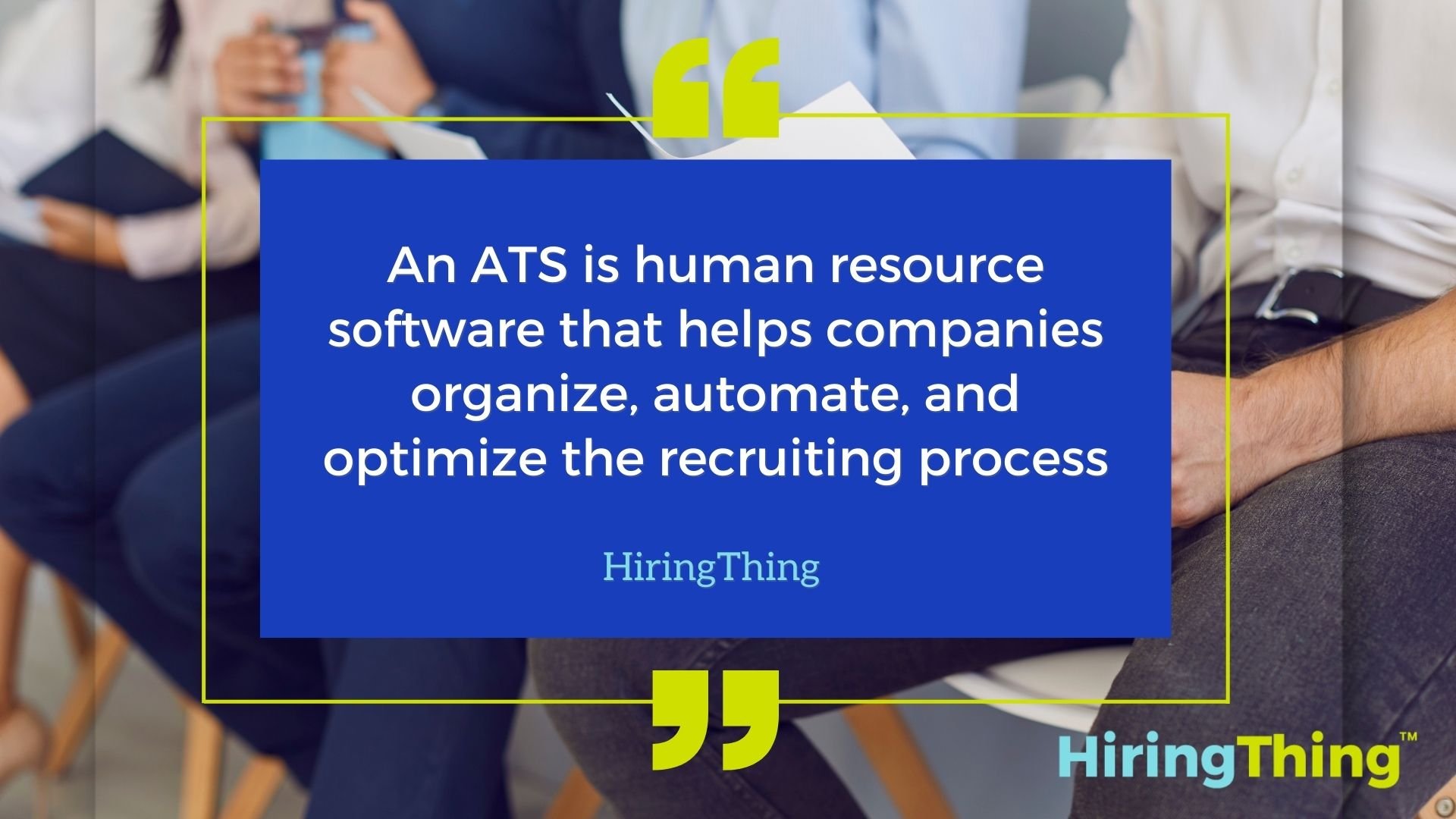 A good ATS has the power to transform a recruiting strategy to become more productive, profitable, and efficient—98.9% of Fortune 500 companies use an ATS to streamline and strengthen their hiring, and 94% of recruiting systems say adopting an ATS has positively impacted their hiring process.
Source: How Has Software Impacted Your Hiring Process? (Capterra)
Additional ATS Resources
ATS Statistics
We could go on and on about how great applicant tracking systems are, but we're an ATS developer—we're admittedly biased! Do you know what's not biased? Data. Below you'll find relevant statistics extolling why applicant tracking systems are crucial for today's charged hiring climate.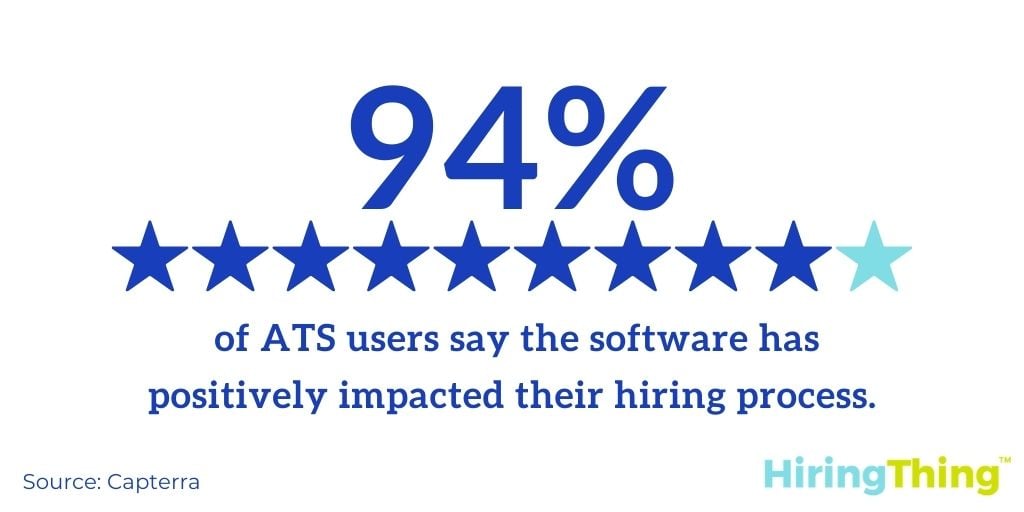 78% of companies

using an ATS say it makes their recruiting easier.

86% of ATS users

say ATS use has helped them hire faster.
78% of ATS users say ATS use has improved the quality of their hires.

An ATS can bolster social media recruiting, which

SHRM

reported

decreased time-to-fill for 71% of non-salaried management positions, 67% of management, 59% of executive/upper management roles, and 53% of non-management, hourly employees.

Applicant tracking systems are integral to recruiting marketing—

Aptitude Research

found companies who invest in recruiting marketing are 3x more likely to improve the

candidate experience

, 2x more likely to improve job candidate conversion rates, and 2x more likely to improve overall recruiting decision-making.

75% of professional recruiters

use applicant tracking systems to organize their pipelines.

75% of large companies

rely on applicant tracking systems.

70% of recruiting professionals

believe investing in technology is the best way to solve recruiting challenges.

86% of recruiters

believe modern hiring is more like marketing than ever—to be successful, modern hiring strategies must consider the wants and needs of the job seeker.

54% of Gen Z candidates

won't apply if they feel your organization's methods are outdated, and

50% of Gen Z and Millennial job seekers

consider how much technology is used in the application process and won't complete an application they think takes too long.
If you'd like to read more about the benefits of applicant tracking systems, check out Ten Reasons All Businesses Can Benefit from Applicant Tracking Systems.
What is Private Labeling?
Private-label software is purchased by a company from a SaaS provider and customized with robust, user-friendly solutions. In the case of applicant tracking systems, this could include tailored workflows and single-sign-on capabilities.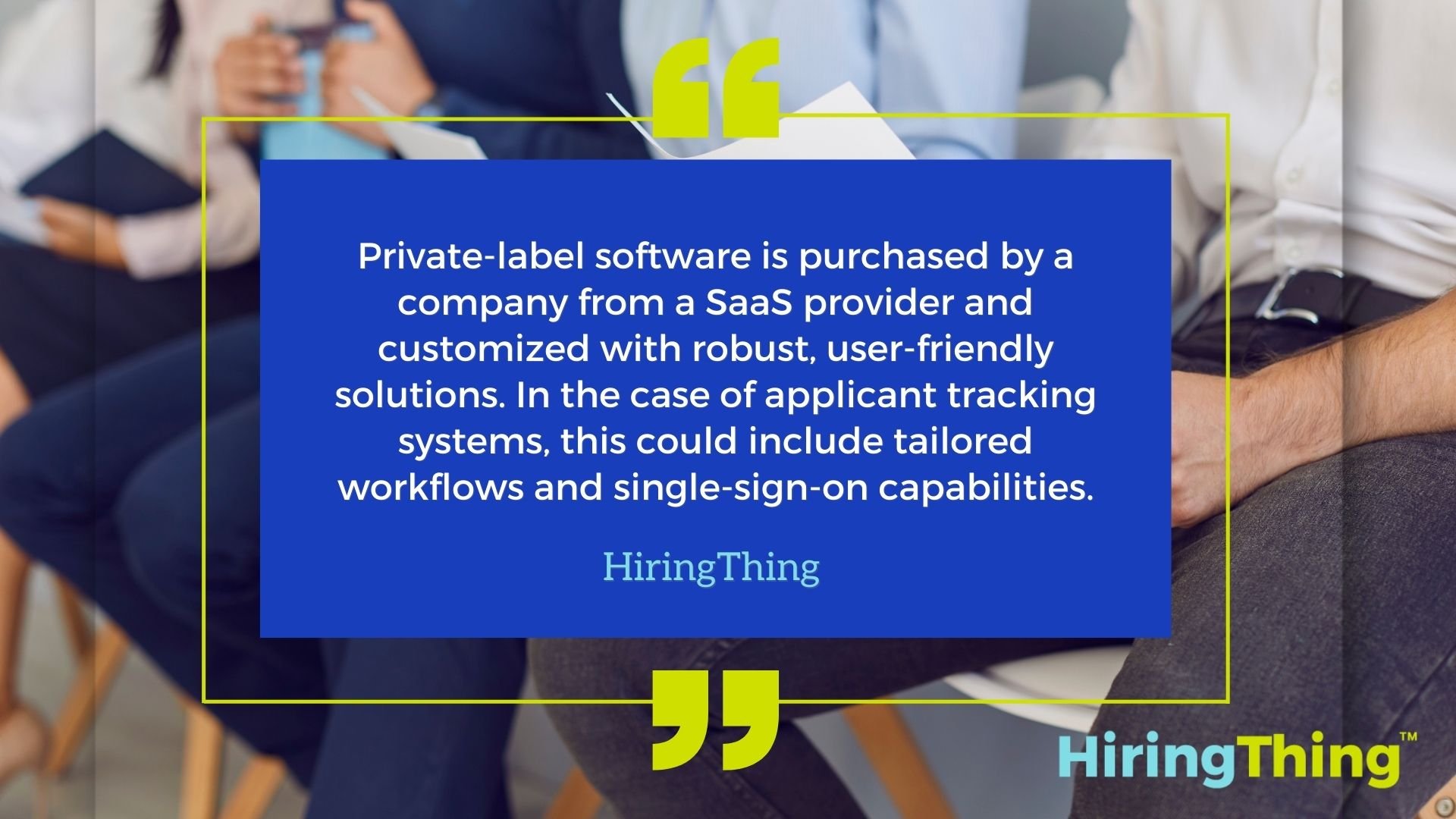 Organizations that partner with a private label SaaS provider work with their provider to ensure the product meets their specific recruiting needs. The strength of private labeling is that consumers who buy or use the end product are not aware it was initially produced by the private-label provider, strengthening the brand of the private label purchaser.
Private Label vs. White Label Applicant Tracking System
You may have also heard private labeling called "white labeling." Many people use private labeling and white labeling interchangeably (white labeling is a bit more prominent). However, subtle differences exist between these two models, namely customizations.
White-labeled platforms are produced by a SaaS company, outfitted with the white label customer's branding, and sold to their clients as a proprietary solution.
Private labeling takes white labeling a step further. Private labeling allows companies to brand a SaaS product as their own or work with the private label developer to customize the platform to fit their organization's specific needs. In the case of an ATS, bespoke workflows, add-ons, and functionalities can be customized to fit the needs of any organization that partners with the private-label provider.
Think of it this way—all private label solutions can be considered white label solutions, but not all white label solutions can be regarded as a private label. The customization options are the key differentiator—while a private label customer can choose to only brand their new solution, they always have the flexibility to evolve customizations past that should they ever need.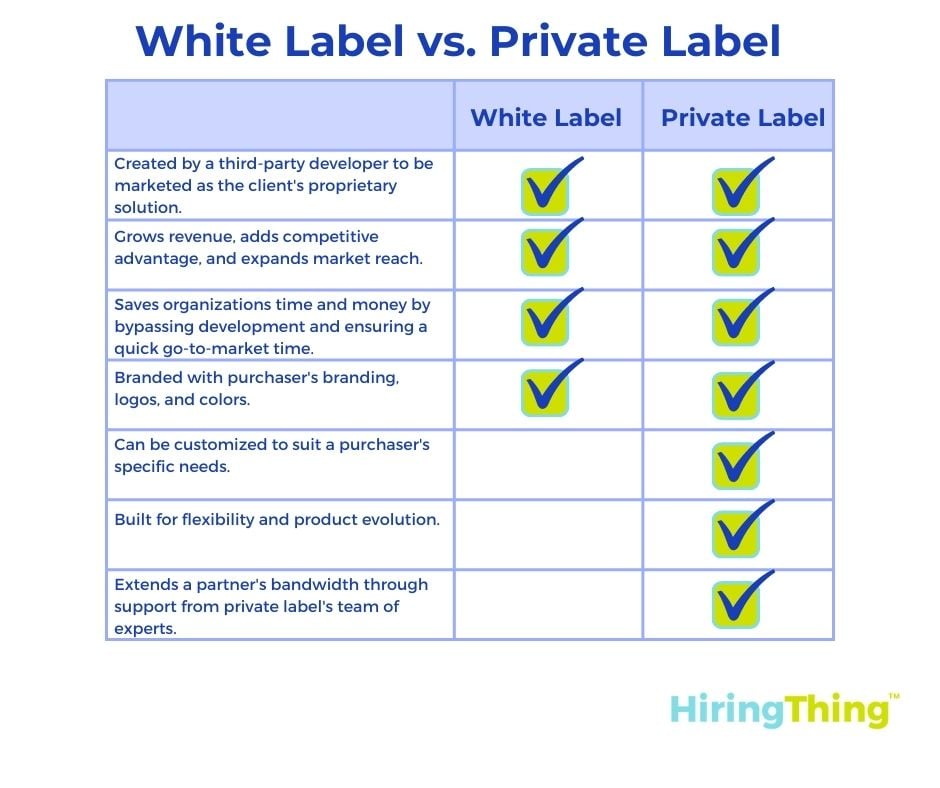 By investing in white and private labeling solutions, organizations can increase the scope of their offerings and thus increase their value.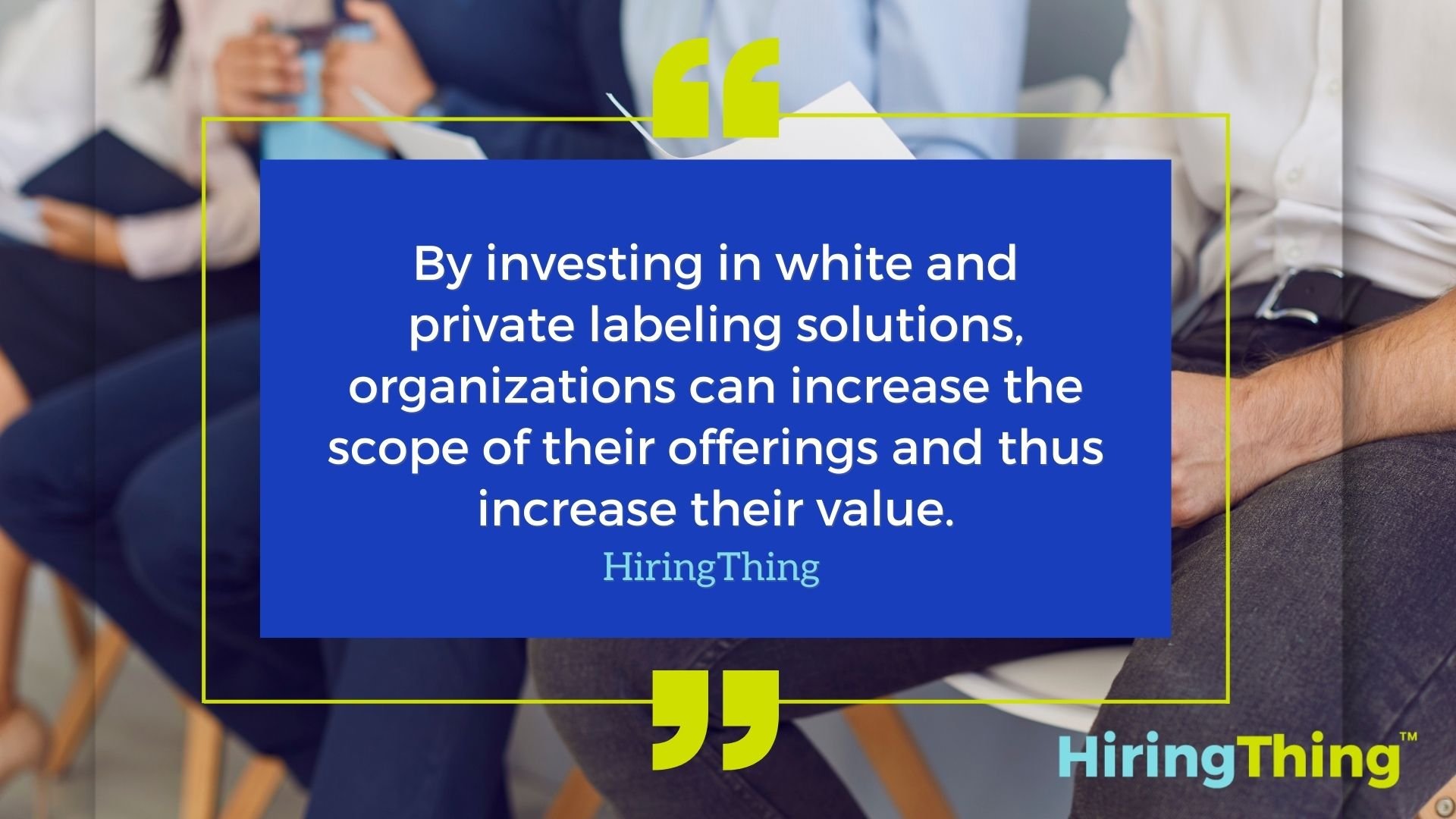 Private labeling allows organizations to rapidly add new offerings, quickening their responsiveness to customer challenges. Companies that partner with a private label SaaS provider don't have to spend time and money developing a solution they may not have background expertise on and can instead direct their resources towards growing their business and delighting their customers.
A True Partnership
When organizations use a white label SaaS solution, they're often just applying their branding to another company's product and then monetizing that solution as their own—it's a traditional vendor-customer relationship.
Conversely, a private label partnership is a true partnership, allowing customers to capitalize on a trusted vendor's pre-existing SaaS solutions and knowledge so that they can focus on their core product or solution—a good private label partnership allows vendors and developers to grow their trust and rapport.
Private labeling isn't a situation where purchasers get a branded solution and are then on their own. Private label developers are deeply invested in their customer's success. They work with their clients to ensure their product has the workflows and capabilities they need, act as support during the initial launch, and provide continued support through the tenure of the partnership in terms of marketing, sales, engineering, customer support, customer success, and product development. Marketing collateral? Great content? A robust knowledge base? Dynamic webinars? New customer solutions? These can all be part of a working private label partnership.
Here at HiringThing, our client's success is our success. That's why we've trademarked Support Beyond Compare™. Check out an example how we've worked with our clients to achieve their goals.
Why Private Label?
Companies will private label a SaaS platform when they need a solution they don't want to build from scratch. Reasons include saving time and money or not having the expertise required to create a viably marketable product. Companies also private label to add value to the solution they've worked hard to cultivate.
Organizations private label because it:
Grows Revenue
A common practice in SaaS companies is to focus on customer acquisition and retention to increase profits. So while an integrated ATS can undoubtedly help with those goals, savvy companies will focus on monetizing their newly integrated ATS to generate revenue.
Saves Time
An in-house solution may seem like the right move, but they frequently derail internal business priorities and go over budget. Building an app from the ground costs time and money. It also involves putting a significant amount of money into getting it off the ground. According to DevSquad, building a minimum viable product (MVP) takes an average of 2 to 10 months (but can take much longer). Applicant tracking is a saturated market, and creating a competitive SaaS in this field requires a more sophisticated product and functionality—when you private label, you're putting the hypothetical time and money in the hands of the ATS experts.
Saves Money
While private label SaaS users can expect to pay an implementation fee which typically starts around $5,000 (in addition to monthly usage fees), development costs for a complex application (like an ATS) average in the hundreds of thousands of dollars. Private label is an excellent solution for any organization looking to expand their solutions without investing large sums of money.
Expands Your Team
Private label solutions typically come with development, product, customer service, sales, and marketing teams that can stretch an organization's bandwidth, expand your expertise, and allow your team to focus on critical, revenue-generating tasks. Private labeling gives you access to a team of new supporters, collaborators, innovators, and thinkers.
Low-Risk Investment
One advantage of private labeling is that it doesn't require organizations to invest heavily initially. A private label investment is low-risk since organizations can terminate their subscriptions if a product becomes unprofitable (this can make it especially appealing to startups and small businesses).
Enhances the Customer Experience
Private label applications have been thoroughly tested to ensure a great user experience. Providing a positive user experience strengthens customer loyalty, reduces customer churn, and improves word of mouth about your solution—86% of SaaS customers are willing to pay more for a great customer experience.
Now that we've established why customers are (and should be) private labeling SaaS solutions let's discuss the specific advantages of a private label applicant tracking system.
The Benefits of Using a Private Label Applicant Tracking System
Organizations invest in private label applicant tracking systems for a variety of reasons.
Hiring is a Universal Business Need
Every business needs to hire. Hiring was the top business challenge for 2021, and the great resignation we're currently in the midst of ensures this challenge will extend into 2022. Applicant tracking systems ensure recruiting and hiring are strategic, streamlined, and efficient.
Seamless API Integration
Data integration is a valuable benefit of a private label ATS—it removes double data entry, reduces procurement contracts, and creates a secure transfer between an ATS and other HR platforms. Partnering with a private-label ATS means you choose which features work for your solution and allows you to customize the solution to align best with your and your customers' goals.
Increased Customer Acquisition
Increasing the scope of your offerings will make you more attractive to customers. A private label applicant tracking system allows you to expand with ease and speed, in turn increasing your user base.
Customize Your ATS to Match Your Brand
Customizing your ATS with your branding means that your customers will be even further delighted by the solutions you offer and become the brand ambassadors critical to growing your business.
Expand Market Share
The ATS market is expected to reach $2.22 billion by 2027, and the market's compound annual growth rate (CAGR) is expected to increase by over 5% by 2024.
The Demand for Hiring Technology Solutions is Growing
HR tech spending grew 57% from 2020 to 2021. Even pre-pandemic, 74% of organizations planned to increase spending on HR tech. Recruiting (and retention) is the top challenge driving HR technology acquisition.
Remain Competitive
While almost all large organizations and Fortune 500 companies are using applicant tracking systems, only 35% of SMB have adopted ATS use, which means that 65% of that market is still up for grabs. Additionally, 57% of recruiters at large organizations aren't satisfied with their applicant tracking systems, which means there's even more opportunity for expansion.
Frequent Product Enhancements
Hiring needs change frequently. To retain existing ATS customers and attract new ones, you'll want a platform that is consistently improving and offering features that strengthen the recruiting process even more—when you private label an applicant tracking system, you don't have to worry about product enhancements because there's already an expert product team on the case.
An Established Job-Distribution Network
Competitive job boards have built relationships with major and niche job boards. Even if you can quickly build your ATS, it would still take significantly more effort to build a network.
Established Third-Party Relationships
In addition to a vast network of job boards, competitive private label applicant tracking system developers have established relationships with third-party vendor integrations—everything from background checks to video interview applications and skills testing.
Private Label ATS Resources
How Private Label Applicant Tracking Systems Grow Revenue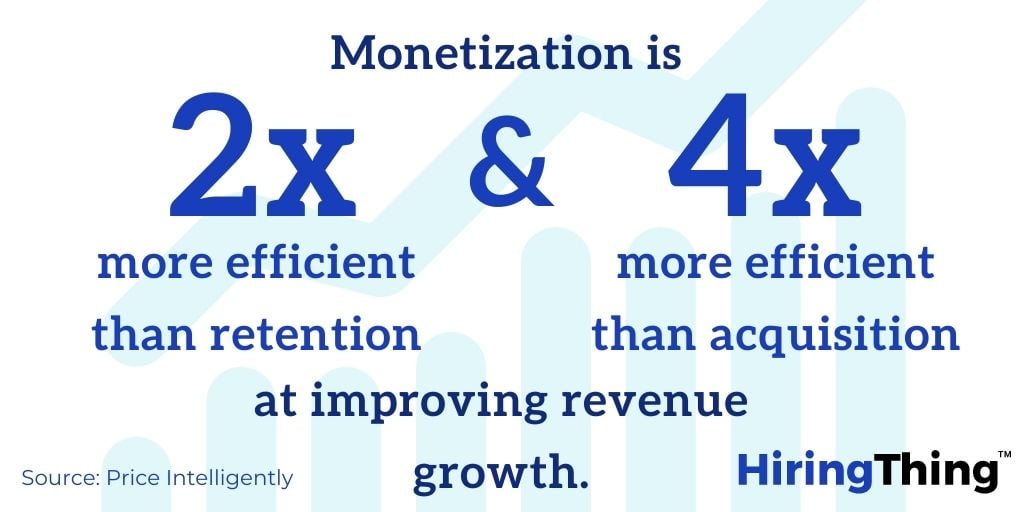 A study of 512 SaaS companies showed monetization was 4x more efficient than acquisition and 2x more efficient than retention in improving growth. Monetization can mean finding ways to increase your value (by acquiring a solution to solve your customer's number one challenge) and raising prices to reflect that new value. It can also entail monetizing the ATS value-add as a feature you know customers will happily pay additional fees to integrate into their suite of offerings. Organizations that readily use third-party branding can find themselves needing to defend markups, but private labeling eliminates those discussions since your ATS presents as a proprietary solution.
HiringThing created an in-depth report detailing the economic benefits of an integrated applicant tracking system.
A private label applicant tracking system can drive revenue by:
Creating a new topline revenue source with monthly subscription and usage fees.
Reducing the losses associated with client churn.
Creating a competitive advantage that drives growth in market share.
Organizations typically make money from an applicant tracking system utilizing one of the following revenue models:
Usage-Based Pricing
Pricing based on usage allows you the flexibility to set your margins, bundle with other services, or create packages that work for your product.
Subscription-Based Pricing
Utilizing a subscription-based pricing model allows you to go to market with a familiar structure to your end-users (Netflix, gym membership, etc.). This approach is painless for all parties and sets clear expectations around monthly packages. Your clients can flex their subscription packages up and down as their needs change while you enjoy a revenue share each month.
Location-Based Pricing
Ideal for multi-location or franchise businesses, location-based pricing can be a game-changer. This style program offers fixed operating costs at each location, so there are no surprises. Pricing scales for larger operations and hiring needs so companies can choose to bundle into more significant tech stack dues, allowing for a new revenue stream on top of added value to a franchise model.
PEPM Pricing
Designed to support PEOs, ASOs, HROs, and payroll providers specifically, a per-employee-per-month (PEPM) model allows your recruiting solution to fall into place with existing services seamlessly. At a low cost to your organization, a PEPM billing model can drive revenue and provide competitive services your clients are seeking. This pricing structure often allows small businesses to have a feature-rich tool to recruit at a cost lower than they can purchase independently. PEPM billing allows your ATS offering to fit into the overall puzzle and complete the total HR picture.
Flex Pricing
If you're on the Flex Pricing model, your customers already have access to your ATS—it's just a matter of them deciding to turn it on. This subscription-based plan is designed so that your clients can quickly scale up or down to meet their recruiting needs and that you only pay for what's being used.
Who Benefits from Using a Private Label ATS?
Here at HiringThing, we serve a wide variety of clients who have specific business needs a private label ATS can deliver. Next, we'll break down how a private label ATS can strengthen the business of several of our customer types in specific ways.
The Benefits of Using a Private Label ATS for HR Solutions
HR Solutions like Human Resource Information Systems (HRIS), Human Capital Management (HCM), and Human Resources Management Systems (HRMS) can benefit from an integrated ATS. A private label ATS empowers these organizations to:
Reduce client churn.

Provide a competitive advantage.

Extend teams.

Expand market share.

Increase revenue.
Are you an HR system professional looking to give yourself a competitive edge? Check out how partnering with a private label ATS can strengthen your HR-tech offerings.
Additional HR Solution Resources
The Benefits of Using a Private Label ATS for PEOs and ASOs
Professional Employer Organizations (PEO) and Administrative Services Organizations (ASO) can benefit from an integrated ATS. A private label ATS can solve the hiring challenges PEO & ASO clients face by adding HR technology to your services. A private label ATS:
Adds value and helps you retain your competitive edge.

Is built to scale, growing with your clients.

Is an additional source of revenue.

Helps expand market share and retain clients.
Does your PEO or ASO need a new, in-demand, revenue-generating solution? Check out how partnering with a private label applicant tracking system can help give you a competitive edge.
Additional PEO and ASO Resources
The Benefits of Using a Private Label ATS for Vertical SaaS Platforms
In the past decade, the market size for vertical SaaS companies has tripled, and the number of vertical SaaS companies that went public has grown by 28% since early 2020. The market's becoming much more competitive, and vertical SaaS providers can integrate a private label ATS to:
Increase revenue.

Add value and improve their customer experience.

Differentiate themselves from the competition.

Ultimately grow their business.
Are you a Vertical SaaS platform looking to gain a competitive edge and offer recruiting solutions to your clients? Check out how partnering with a private label ATS can set your vertical SaaS platform apart.
Additional Vertical SaaS Resources
The Benefits of Using a Private Label ATS for Staffing
Staffing professionals require recruiting agency software to effectively source, assess, and match top talent to their ideal employers while handling multiple clients with ease. An integrated ATS can help staffing agencies by:
Managing multiple searches or clients in the same account.

Connecting to all the systems already in use.

Personalizing the recruiting process.

Customizing staffing agency workflows and managing recruiter pipelines.
Are you a staffing agency professional wondering what applicant tracking software is best for you? We've got you covered!
Additional Staffing Resources
The Benefits of Using a Private Label ATS for Franchises and Multi-Location Organizations
Franchises and multi-location businesses have the unique challenge of entrusting their business goals and employer brand to those running their many locations. One way to safeguard a brand and business is to offer an ATS as a single recruitment solution. An ATS can help franchises and multi-location businesses:
Unify the hiring process for your entire brand.

Pool applicants and manage multiple locations with one platform.

Ensure legal compliance for your franchises—we recommend ensuring your ATS offers a franchise rollout package that addresses joint employer liability.
Are you a franchise or multi-location organization looking to increase applicant traffic and streamline the hiring process? An ATS can help.
Additional Franchise and Multi-Location Resources
The Benefits of Using a Private Label ATS for Associations
Private label applicant tracking systems benefit associations by::
Adding member benefits.

Helping associations increase their value.

Becoming a regular source of non-dues revenue (NDR).

Seamlessly customizing and branding association applicant portals.
Want to learn more about how an ATS can help associations and their members? Check out some solutions here.
Additional Association Resources
The HiringThing Advantage
HiringThing is a modern recruiting platform as a service that creates seamless hiring experiences. Our private label recruiting technology enables organizations to add hiring capabilities to complete their solution. With our open API and developer-friendly documentation, we enable customized workflows and seamless connectivity for HR Solutions, PEOs and ASOs, Franchises, Staffing Agencies, and more. Approachable and adaptable, our platform empowers everyone, everywhere, to hire their dream team. Set up your demo today.