2022 Hiring and Recruiting Stats to Help You Plan Your Year

Pat Brothwell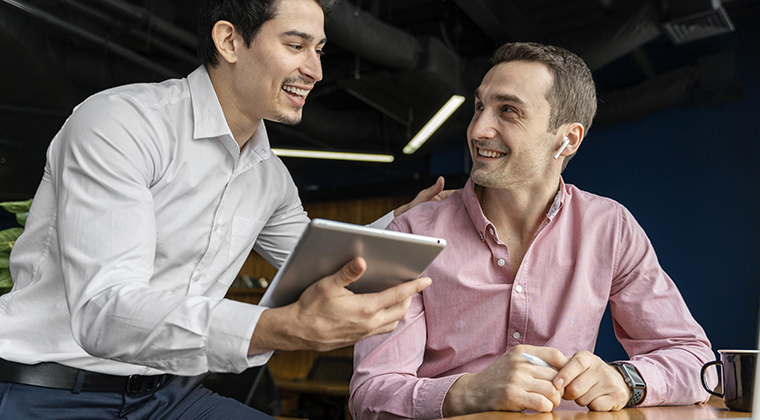 Hiring Data Helps You Plan Your Recruiting Strategy
2021 ended with a record 11 million job openings in the United States. This won't change anytime soon. The world of work is experiencing unprecedented changes expected to impact how organizations hire and recruit for years.
Savvy organizations will begin to audit and reevaluate their hiring and recruiting strategies to plan for the future. What do smart recruiters use to revamp and plan? Data! Facts, statistics, and studies on the recruiting process provide invaluable insights into where job markets are heading, what's worked and not worked in the past, and what today's job candidates want.
Facts, statistics, and studies on the hiring process can give you invaluable insights into where job markets are heading, what's worked and not worked in the past, and what today's job candidates want.
We live in a world with seemingly endless information at our fingertips, which can make parsing the valuable from the click-bait difficult. That's where HiringThing can help! Being on the pulse of hiring and recruiting trends is our thing. We've gathered all the most valuable hiring and recruiting statistics you need in one place, so you can concentrate on being ready for the new realities of recruiting.
In this post, we'll cover:
Hiring in 2022
Hiring is complicated right now, but we wanted to cut through all the noise and provide you with some stats to most encapsulate what hiring looks like today.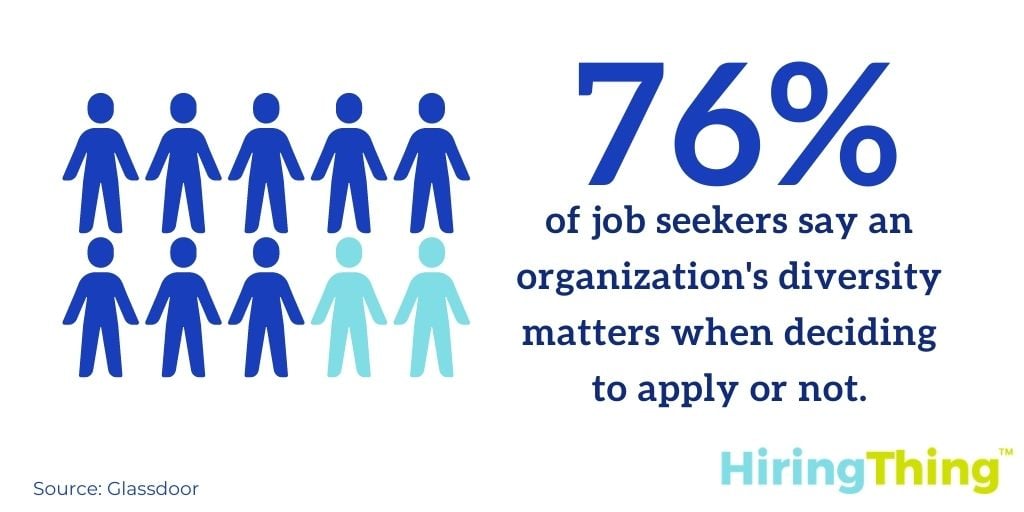 HiringThing Pro Tip: To stand out from the competition, organizations should highlight diversity, professional development, and flexibility—if those aren't things you can highlight just yet, start strategizing on how and when you can.
Back to Top
What Job Seekers Want
A good candidate experience is vital in 2022—competition for workers is stronger than ever. Forward-thinking employers would be wise to approach recruiting like marketing and determine what their job seekers want.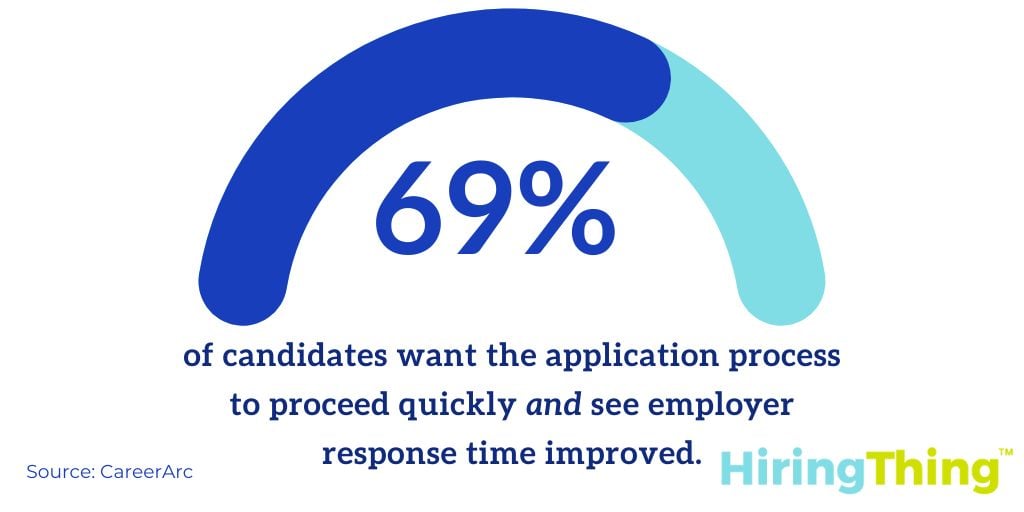 A CareerArc study

on what job candidates look for found 69% of candidates want the application process to proceed quickly

and

see employer response time improved.

While millennials (the workforce's majority generation) were once stereotyped as flighty workers, more and more are looking to put down longer-term workplace roots. Deloitte's Millennial Survey found millennials are now more likely to want to stay at a company for 5+ years than to leave within 1-2.

Aside from diversity,

Gallup's State of the American Workplace Report

found 87% of millennials rated professional career growth as important at their job. Udemy uncovered that 42% of job seekers report that expanding their skill sets is a top priority when choosing a new role or company. LinkedIn found

career advancement

is the number one reason people change jobs.

A

Glassdoor study

found 96% of job seekers say it's important to work for a company that embraces

transparency

.

Today's employees value their paid time off (PTO). Gallup found 53% of employees who get PTO would leave their current role for more vacation days at another company.

Candidates

value interview feedback

and are 4x more likely to consider a company for future opportunities if provided thoughtful feedback.

52% of job hunters

say lack of response from employers is their number one gripe about their job search.

This

Career Builder Report

found 82% of job seekers expect employers to provide a clear hiring timeline and keep them updated throughout that process—86% of applicants want employers to treat them with the same deference they give current employees.

Today's job seekers love video content!

The candidate application rate increases

by 34%

when a job post includes a video.
HiringThing Pro Tip: How long does your application process take? Is communication clear? Do a test run through your hiring process and see whether it's what today's job seekers want in a candidate experience—an applicant tracking system (ATS) can help automate and streamline an application process, which makes meaningful communication easier.
Back to Top
How Job Seekers Find Jobs
LinkedIn data found that 70% of the global workforce is passive talent who aren't actively seeking jobs but are open to opportunities. That's important to consider when setting up your recruiting strategy. It's also important to know where active job seekers are looking for new opportunities.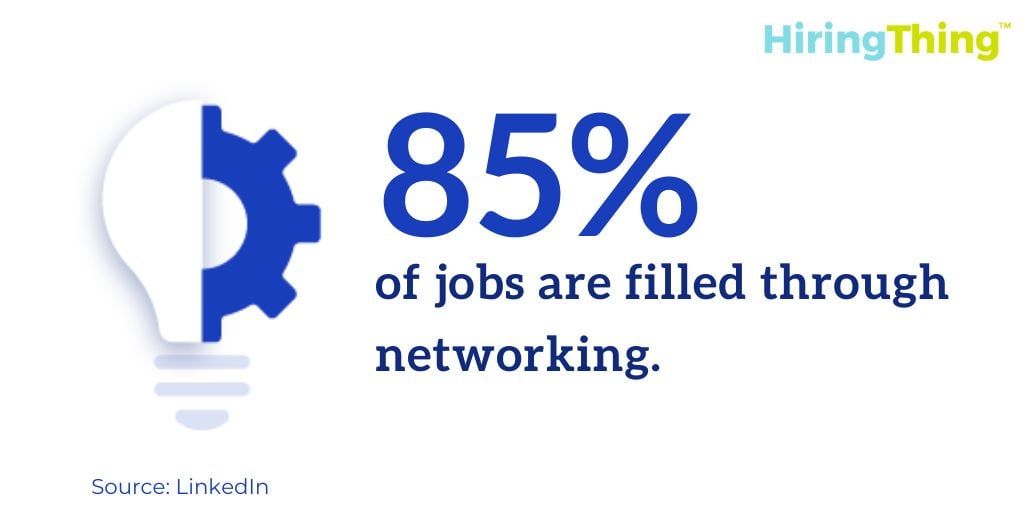 The number one way people discover jobs is

through referrals

—employers fill up to 85% of jobs through networking. Referrals are

5x more effective

than all other hiring sources, and 46% of employees hired through referral programs stay for three years or more, while only 14% of those employed through job boards do the same.

According to LinkedIn, 60% of job seekers use online job boards, 56% use professional networks, and 50% of job seekers find opportunities through word of mouth.

Glassdoor found the average job-seeker will visit 7.6 job boards during their search.

64% of job candidates

say they do online research on the company while deciding whether or not to apply, and 37% won't apply if they can't find sufficient information.

58% of job seekers

job hunt on their phones—promoting a job application as mobile-friendly will increase the number of job applicants by 11.6%. Despite this data, too many applications aren't mobile-friendly—mobile applicants complete 53% fewer applications and take 80% longer to complete applications than those from their computers.
HiringThing Pro Tip: Make sure you're testing out your job application process via a mobile phone. If your mobile applications are slow or unwieldy, you're potentially losing up to 58% of potential job applicants. 60% of job seekers utilize job boards, but which works best? Our Seven Steps to Selecting the Right Job Board can help you make informed job-board decisions.
How Employers Recruit
According to 2018 SHRM findings, 84% of organizations are using social media to advertise their employment opportunities, while a CNBC report states that 58% of recruiters who weren't using social media, have adapted their recruitment process due to COVID-19 changes and now utilizing social networks like Facebook, LinkedIn, and Instagram to advertise jobs. Knowing how others recruit lets you see what they're doing correctly or make choices that can make your recruiting stand out.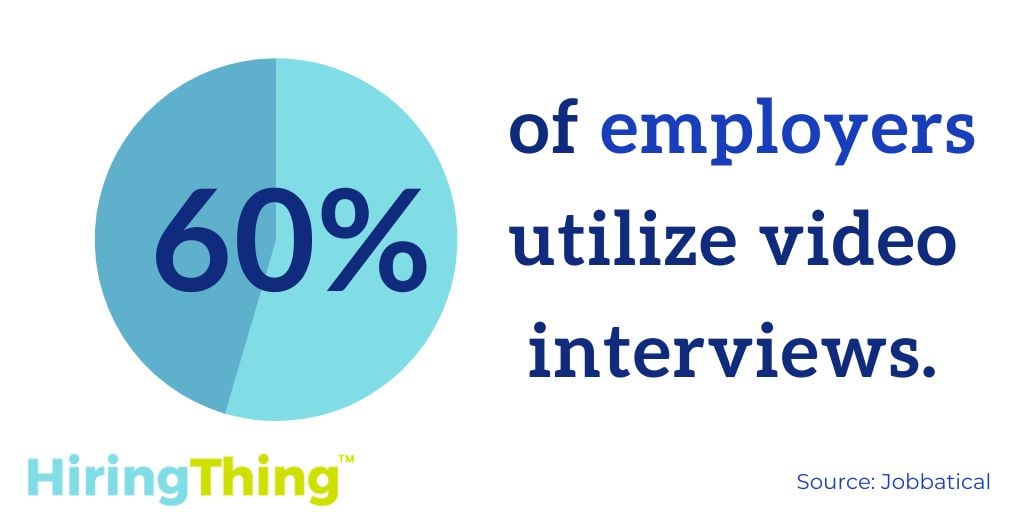 HiringThing Pro Tip: Studies show that it could take only 27 seconds to make a first impression, yet the Jobvite statistic above proves that first impressions can be wrong. First impressions are also often informed by the unconscious biases we all have. Scorecards are an excellent way to reduce bias in your hiring process and stop employers from making first impressions based on "gut instinct" or "feelings."
An Applicant Tracking System Can Be a Recruiting Gamechanger
Hopefully, these statistics can help you audit your hiring strategy and formulate a plan for moving forward. Do you know what else can help? Investing in recruiting technology—68% of recruiting professionals say that the best way to improve recruiting performance over the next five years is by investing in new recruiting technology.
An applicant tracking system (ATS) is designed to help organizations organize, automate, and streamline their recruiting. Organizations utilizing an ATS report quicker hires, better hires, and an improved hiring experience. 94% of hiring professionals say that using recruitment software has positively impacted their hiring process.
About HiringThing
HiringThing is a modern recruiting platform as a service that creates seamless hiring experiences. Our private label applicant tracking system and open API enable technology and service providers to embed hiring capabilities from sourcing to onboarding. Approachable and adaptable, the platform empowers anyone, anywhere, to hire their dream team.