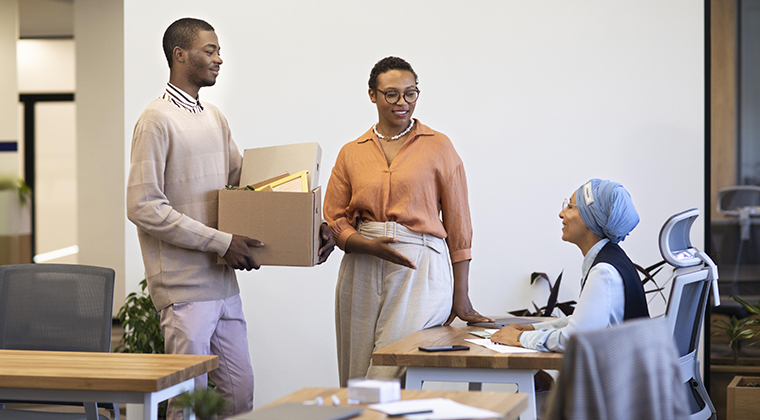 76% of job seekers want to work somewhere that values diversity, equity, and inclusion (DEI).
DEI initiatives aim to create a workforce where everyone has the same opportunities to succeed and thrive, and increase creativity, productivity, and revenue—DEI initiatives are good business.
Despite being good for business, according to Elevating Equity: The Real Story of Diversity and Inclusion:
76% of companies have no DEI goals.

75% of companies don't have DEI integrated into the company's leadership strategy or learning and development initiatives.

40% of companies only view DEI work as a way to mitigate legal, compliance, or reputational risks.
The HiringThing Guide to DEI-Centric Recruiting Table of Contents
How to Use This Guide
Transforming your recruiting to increase DEI can begin to transform your entire organization. HiringThing's Hiring Happiness® experts have designed this guide to help organizations:
Fully understand the value of DEI.

Audit their current recruiting practices.

Start brainstorming actionable ways to increase DEI in your recruiting (and in your organization).

Have the tools and resources you need to begin creating and implementing a meaningful DEI recruiting strategy.
While we've designed this guide to be easily skimmable if there's a quick topic or solution you'd like to learn about, we recommend taking some time to read this guide with a notebook handy or word processor open so you can take notes and document your reflections—throughout the guide, there are Questions to Ask Yourself and Suggested Activities that will help you begin to blueprint meaningful changes you can make to your recruiting strategy.
We'd love to hear about your experience reevaluating your DEI approach to recruiting—we're all learning and trying to do our best here! Please share them with us on Twitter @HiringThing with the hashtag #DEIHiringThing.
How to Enact DEI-Centric Recruiting
Recruitment's Role in Workplace DEI
Recruiting professionals and professionals tasked with creating recruiting strategies are in a unique position to help others hire and retain a diverse group of talented employees. A strong recruitment strategy is the bedrock of any successful DEI initiative. Hiring new employees that complement your team, while bringing new perspectives and ideas to the table, is a win for everyone. Achieving this ideal starts with attracting and welcoming candidates of all types to your applicant pipeline.
While building a more diverse, equitable, and inclusive workforce takes some time and learning, asking some tough questions of both yourself and your organization, and reevaluating the ways things have been done, it's an easy undertaking that can pay dividends when it comes to growing your business and attracting today's top talent.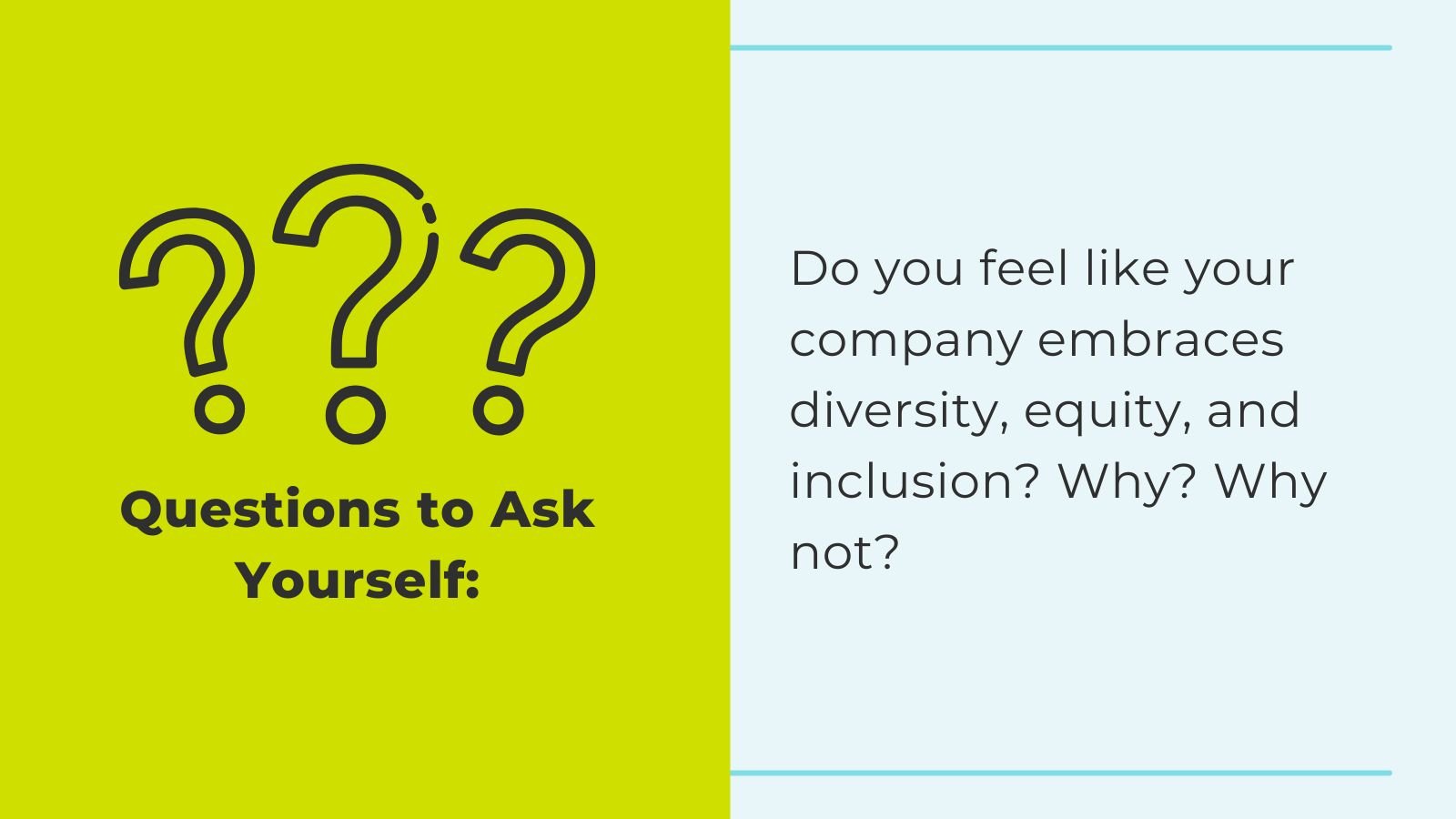 Tough Conversations Are Crucial for Meaningful Change
As part of this process, prepare to have some tough conversations with both yourself and your team. Meaningful DEI is built to disrupt a system that wasn't designed for it, and anytime there's a disruption to a system, there will be some natural pushback. Don't be afraid to have frank conversations, admit to your own blind spots, and be open to experiences that differ from yours. That's how progress is made. It's not always the easiest journey, but the results are worth it. We also advise having patience. DEI is a long-game process. Small changes to start are still good changes if they're meaningful.
Ready to get started?

What is DEI?
You hear a lot about diversity, equity, and inclusion, but do you know what these terms mean?
Diversity
Diversity is the representation of a range of traits and experiences in a company's workforce. These traits include gender, race, physical ability, religion, age, and socioeconomic status, among others—or, as defined by Gallup, "the full spectrum of human demographic differences."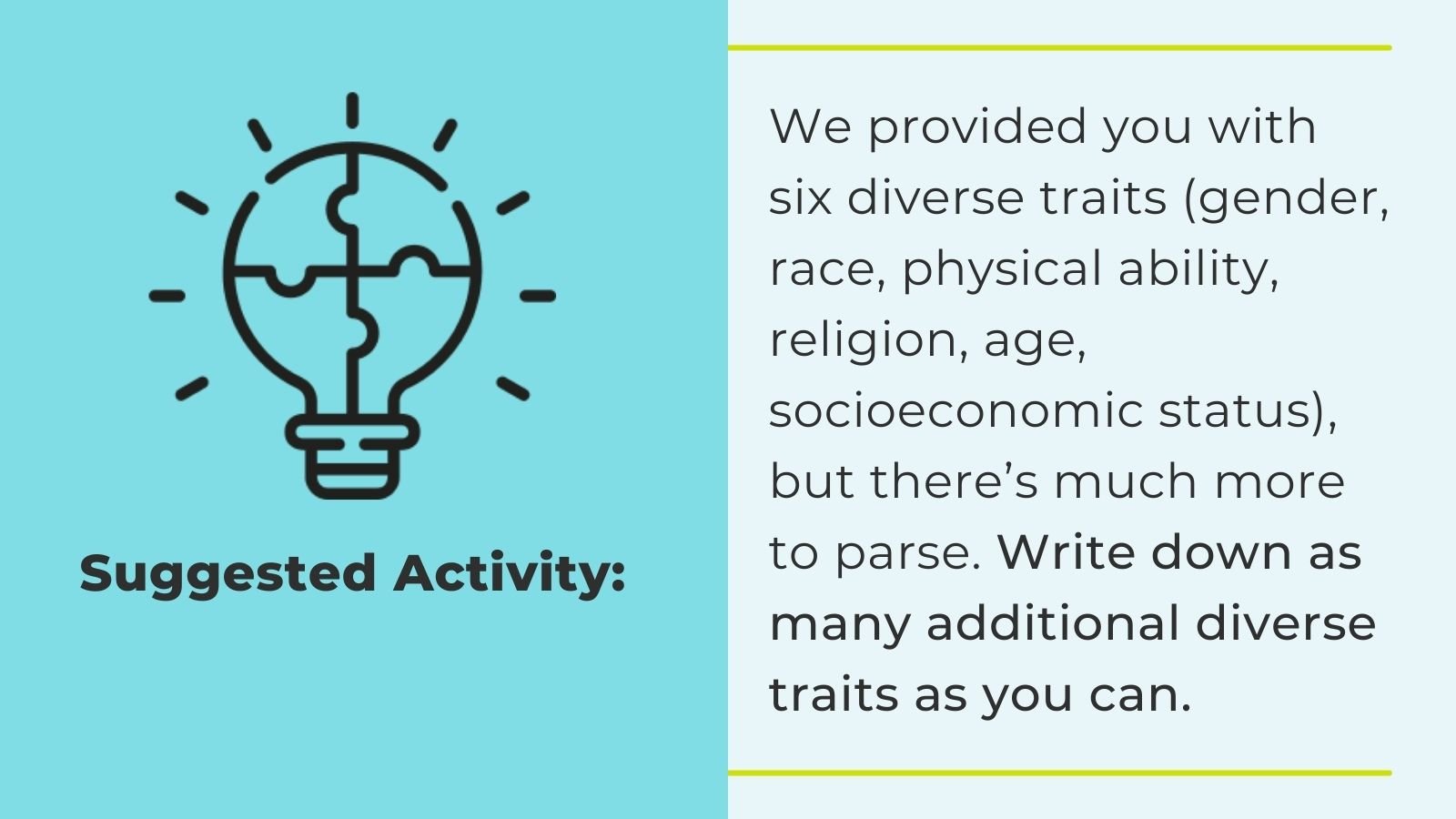 Check out this list of resources curated by SHRM in their Introduction to the Human Resources Discipline of Diversity, Equity and Inclusion to fully understand the wide breadth of what diversity entails.
Equity
Where equality gives everyone access to the same opportunities, equity in the workplace means that there's proportional representation in those same opportunities. Equity levels the playing field. If a workplace is equally made up of individuals from a mix of races, but more of the white workers get to interview for management positions, then that workplace is diverse, but not equitable. Equity work means identifying and working to eliminate barriers to fair treatment for disadvantaged groups, and means systemic changes in organizations and industries.
In top U.S companies, there are more CEOs named John than there are female CEOs. That's an example of an equity failure. Statistically, fewer women and minorities get the opportunity to interview for leadership positions.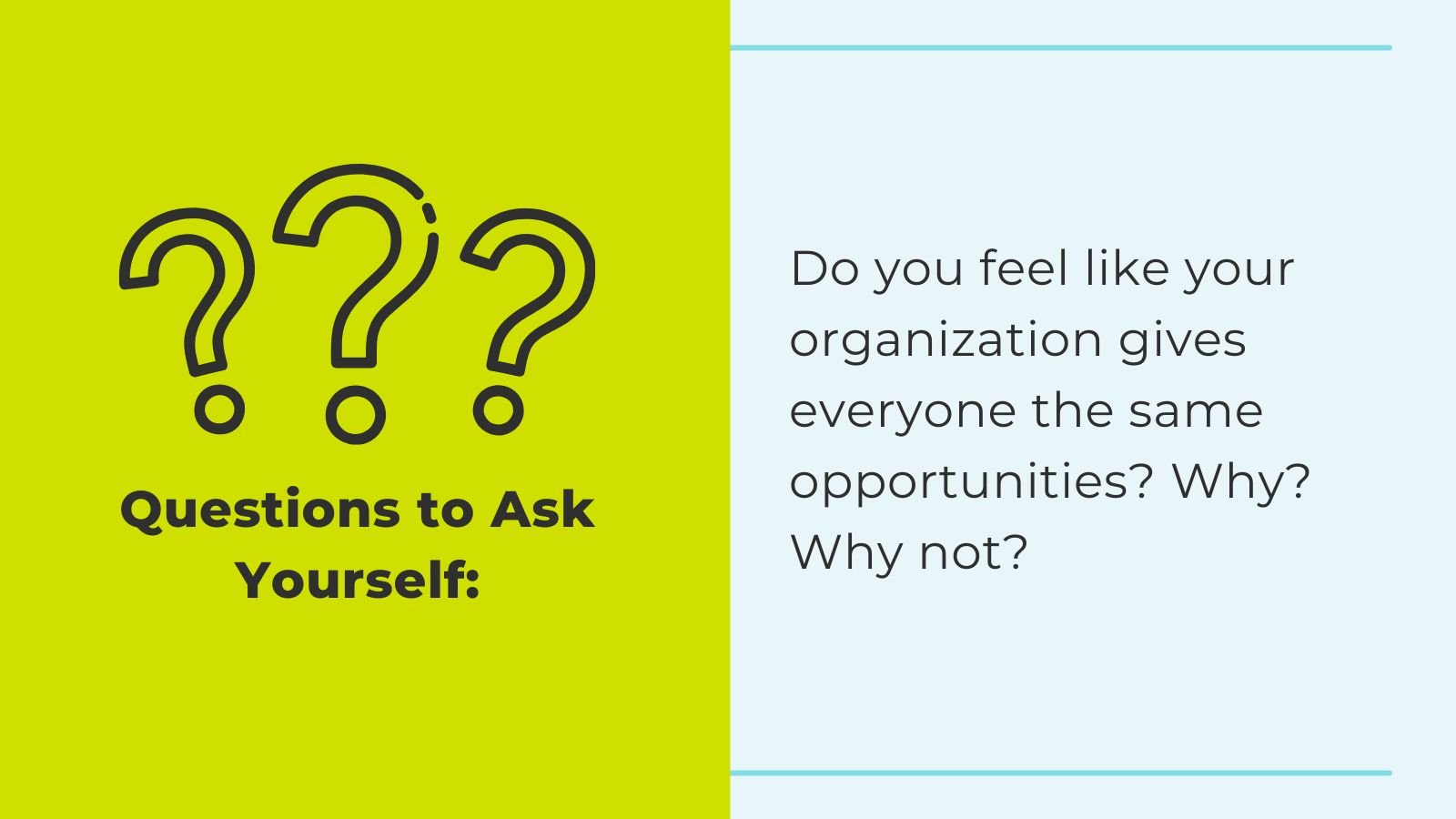 Inclusion
Inclusion is how people feel at work. A company's workforce may be diverse, but if employees do not feel safe, welcomed, and valued, that company isn't inclusive and will not perform to its fullest. Inclusion is the degree to which employees feel "valued, respected, accepted and encouraged to fully participate in the organization."
To honor National Disability Employment Awareness Month, HiringThing created a guide of Ten Tips to Make Your Hiring Practices More Inclusive and Accessible.
The Benefits of a Diverse Workforce
It's important to understand all the benefits of a diverse, equitable, inclusive workforce. This section will:
Help you better understand the why behind all your hard work.

Challenge you to redefine meaningful DEI.

Convince key stakeholders of the importance of DEI initiatives from a business standpoint.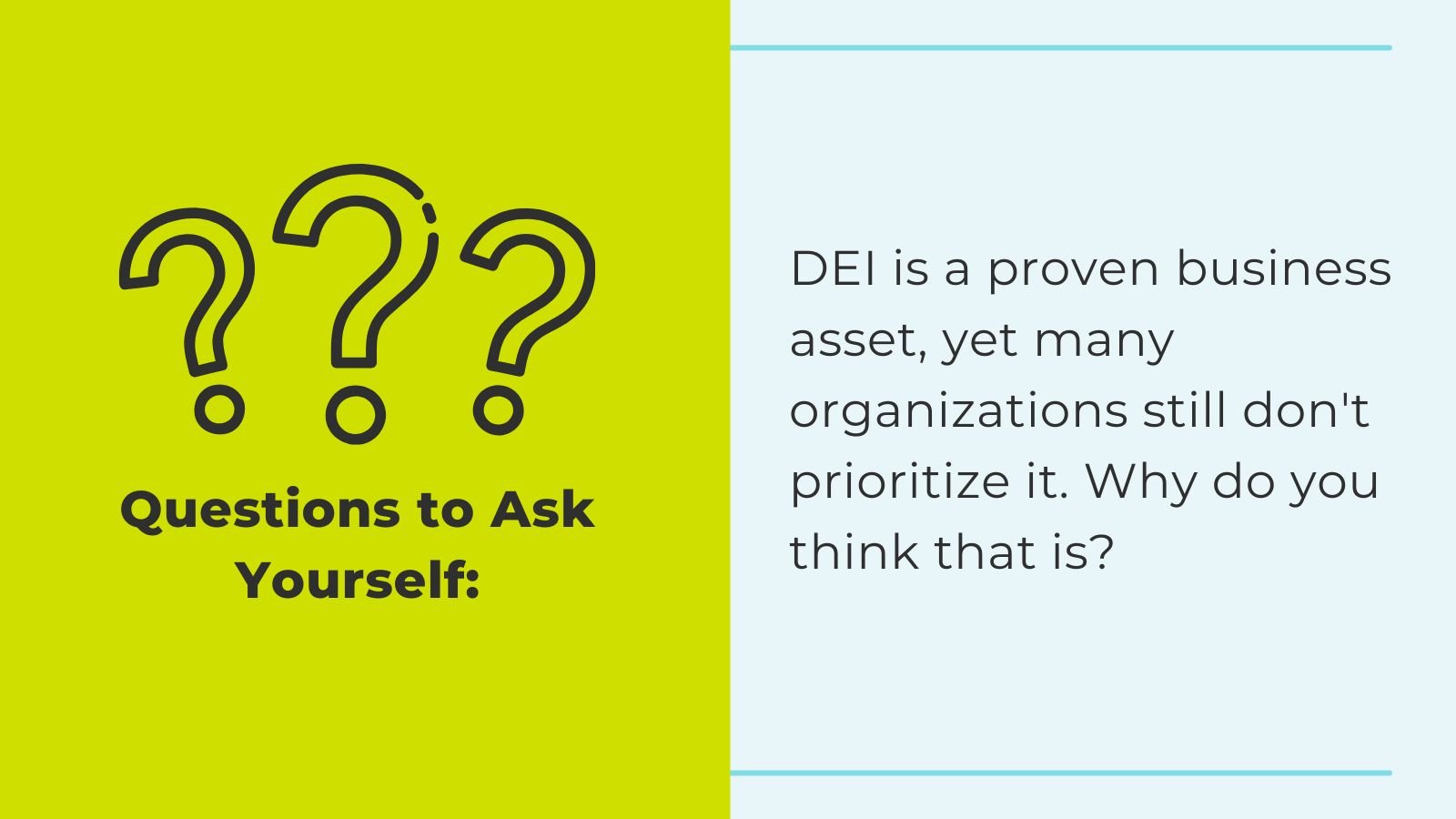 Today's Employees Want to Work for Organizations that Prioritize DEI
We're living through one of the most competitive job markets in history and employers must cater to what job seekers want in order to attract top talent. Whether your organization is prioritizing DEI, today's candidates are evaluating DEI when they research potential employees, and during the hiring process.
According to a Deloitte survey,

80%

of respondents say DEI efforts are an important factor when choosing a company, and 39% of employees (correctly) believe diversity and inclusion gives their company a

competitive advantage

.

A

Glassdoor survey

found 76% of job seekers report a diverse workforce is an important factor when "evaluating companies and job offers."

A diverse workforce is particularly

important to underrepresented groups

. 32% of job seekers wouldn't apply for a job at a company where there is a lack of diversity among the workforce—that goes up to 41% for Black job seekers and 41% for LGBTQ+ job seekers.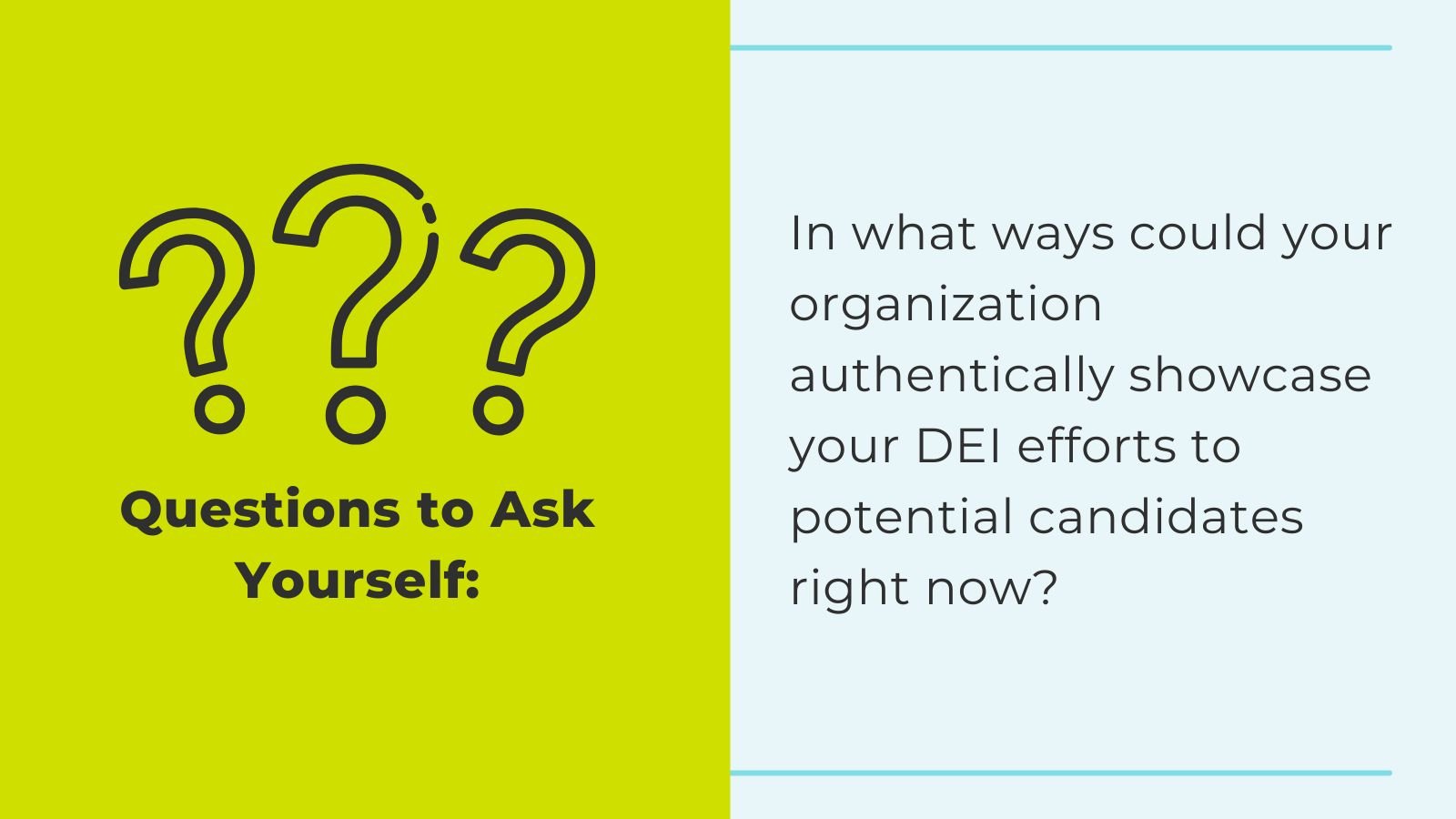 DEI Makes Workforces Stronger
Statistics show that diverse workforces outperform those who don't prioritize DEI in productivity, engagement, and creativity.
Innovation happens when everyone feels their voice matters and organizations can draw from a plethora of experiences, mindsets, and backgrounds. Companies with

above-average

DEI produce more revenue from innovation than companies with lower-than-average DEI.

Diverse teams

solve more problems than non-diverse teams. In software, for example, racially diverse teams outperform non-racially diverse teams

by 35%

.

The Harvard Business Review reports that "people like to fit in, so they are cautious about sticking their necks out. When we have a strong, homogeneous culture, we stifle the natural cognitive diversity in groups through the pressure to conform."

Organizations with above-average gender diversity and levels of employee engagement outperform companies with below-average diversity and engagement by 46% to 58%.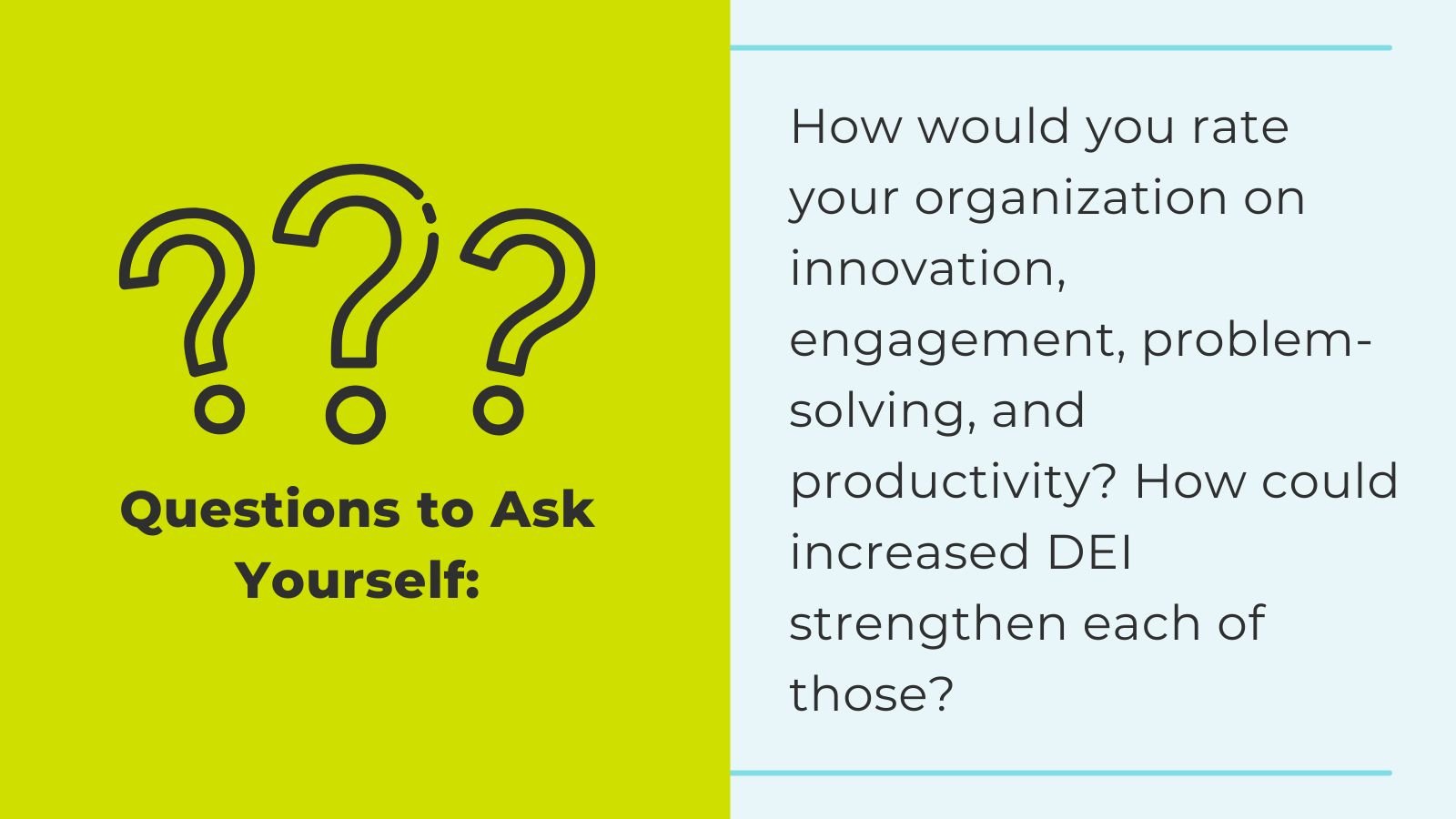 The Business Case for DEI
One way to get guaranteed DEI buy-in is highlighting how it's healthy for your organization's bottom line.
Companies

in the top quartile for ethnic and racial diversity are 35 times more likely to be profitable than similar companies who aren't.

Companies with more women in C-suite level positions have 34% greater returns for shareholders.

A

study

by the Boston Consulting Group found organizations that have diverse management report 19% higher revenue due to innovation than companies that don't, sharing that, "diversity is not just a metric to be strived for; it is actually an integral part of a successful revenue-generating business."
DEI Recruiting Best Practices
The following best practices and exercises will help your organization see where it stands, where your gaps are, and provide you with a roadmap to ensuring your recruiting strategy is DEI-centric.
Commit Across Your Company

Conduct an Internal Audit

Consider Flexible Schedules and Remote Work

Standardize Your Interview Process
A Recruitment Commitment to DEI is a Company-Wide Commitment to DEI
You want to ensure you have a company-wide commitment to DEI. It's not just enough to have those doing the recruiting buy-in—savvy job seekers will do research on your organization and if your DEI isn't obvious in your marketing collateral, website design, or reviews, your DEI-centric recruiting is moot. You can have your employees sign a DEI commitment, conduct DEI training, or launch your new DEI initiatives with a presentation or party! Get the word out there and ensure key decision-makers are on your side.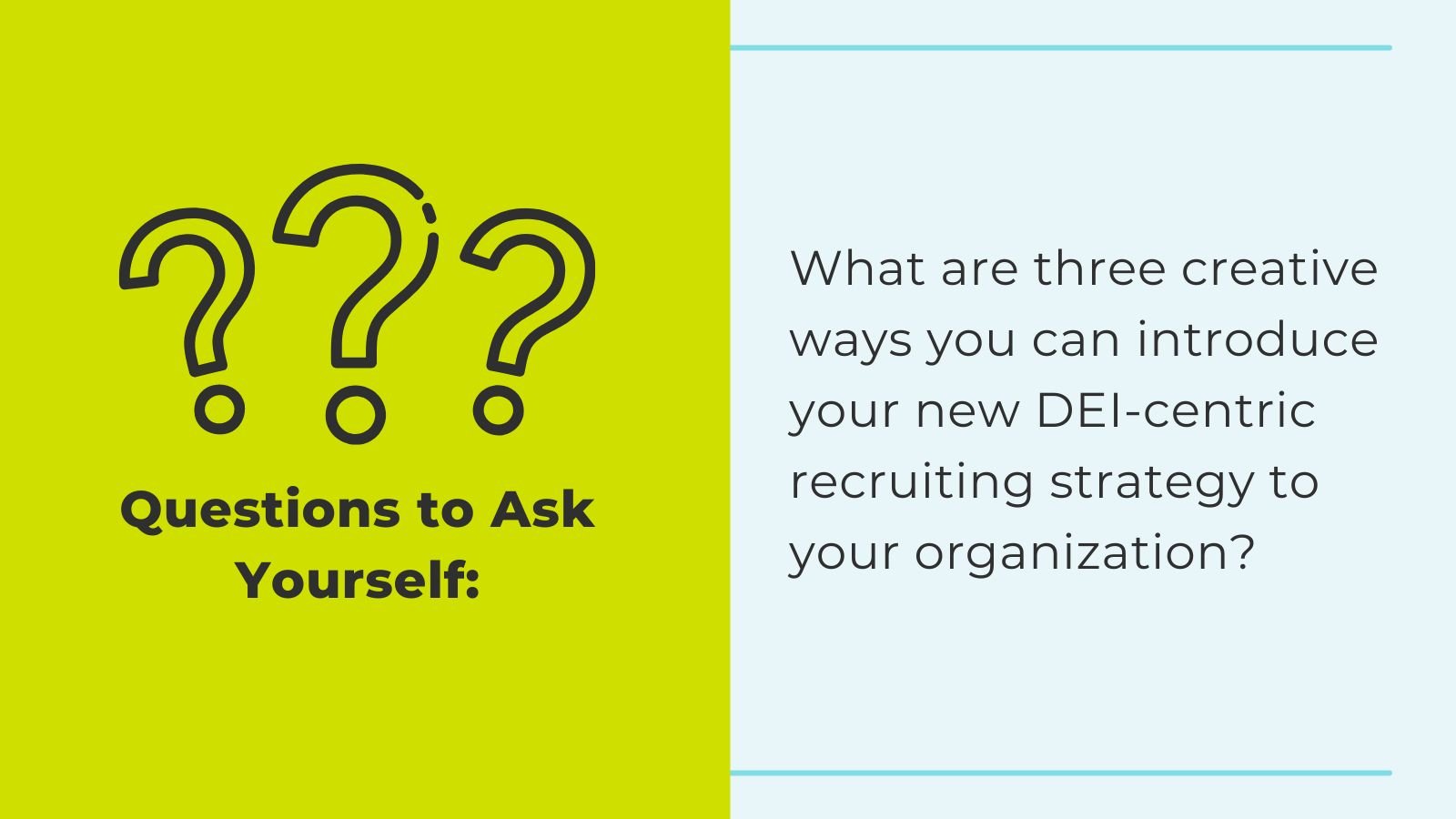 You can have the strongest DEI recruiting, but if the rest of your organization doesn't follow suit, employees won't stay—40% of employees leave a company after experiencing harassment, bullying, or stereotyping. DEI is a company-wide effort. Part of your DEI recruiting strategy must include gaining company-wide buy in. Who are the key players or department heads you must engage with? Is a committee needed? How can you present DEI to the company as a whole? Remember that money talks and employee turnover costs US companies trillions of dollars every year.
Create an Employer Brand that Showcases DEI
Your employer brand is how employers view your organization. Aspects of the employer brand include employee testimonials, company collateral that showcases what it's like to work at your organization (blogs, success stories, social media posts), and online reviews.
Create a DEI Statement
A DEI statement will ideally address multiple facets of how your values and experiences advance diversity, equity, and inclusion in your work. You can place this prominently in any employer branding. Click here to check out 25 examples of diversity statements from companies you know.
Educate Your Team
Many individuals truly don't understand the importance of DEI initiatives. Visit our guide on Workplace Diversity & Eliminating Bias for additional resources.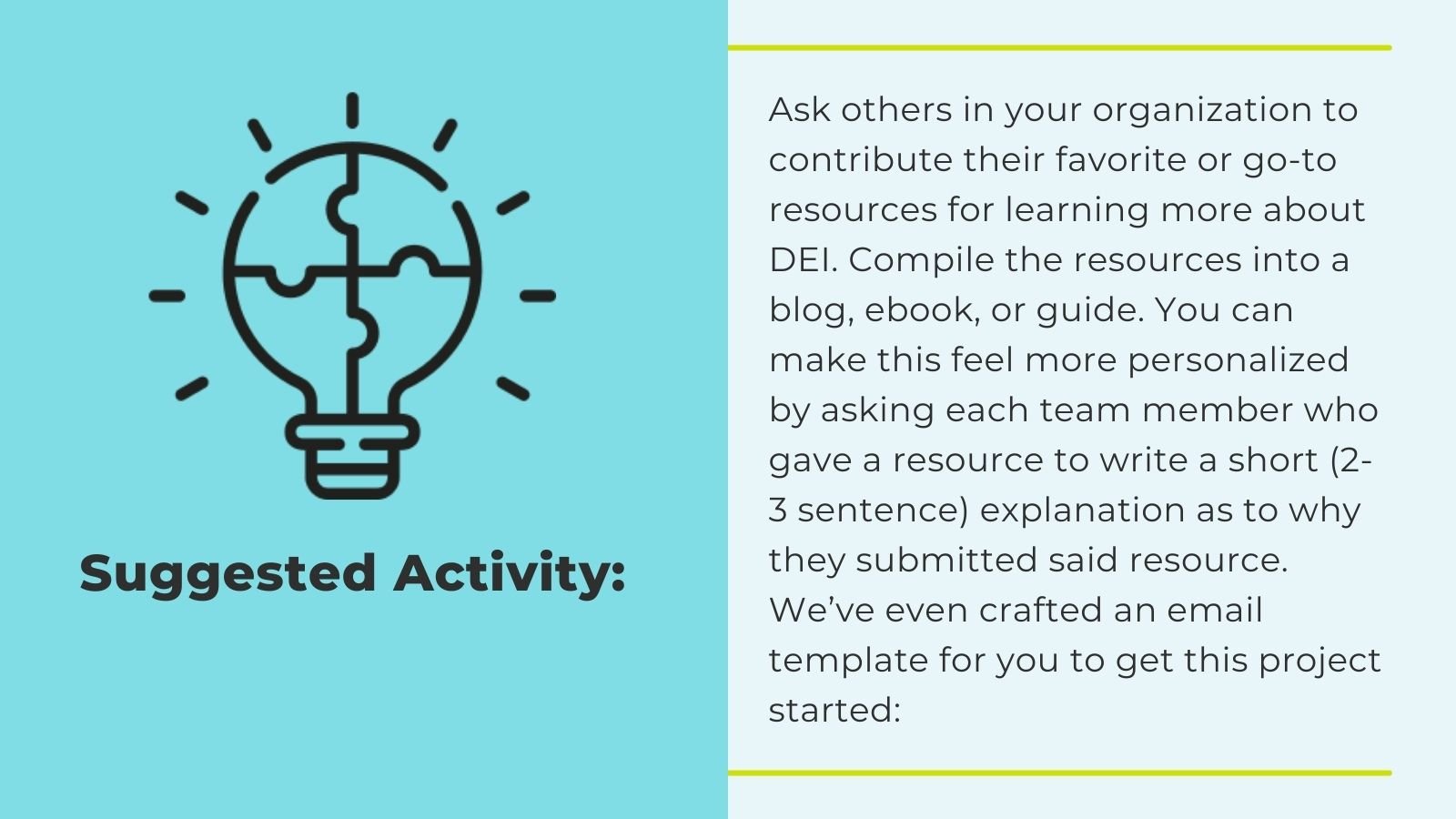 Hello Team,
In order to create a more diverse, equitable, and inclusive (DEI) workplace, we realize we all need to become more educated on the topic. We'd like to compile a database of DEI resources for the team to use (you can see an example of what we want to do here), and we'd like your help! Please send us up to three of your favorite DEI resources that can help educate the team. If you wouldn't mind your contribution being made public, please feel free to include a few sentences on why this resource is particularly impactful.
Thanks in advance for your help in moving things forward!
Admit Your Biases
The Georgetown University National Center for Cultural Competence defines explicit bias as bias, "characterized by overt negative behavior"—think someone who's openly, proudly racist, homophobic, misogynistic, or ageist. Implicit bias is trickier. They define implicit bias as bias that "operates outside a person's awareness and can be in direct contradiction to a person's espoused beliefs and values." Implicit bias automatically seeps into a person's thinking and behavior, often without them realizing it. A hiring manager only hiring people that remind them of themselves is an example of implicit bias. So is thinking someone's "too old," "not old enough," or "not the right gender" for a role.
Admitting bias exists is a significant first step to ensuring you combat biases in your hiring process—we're all governed somewhat by feelings we may not know we have. Admitting we all have biases allows you to put checks into place to ensure those implicit biases don't interfere with hiring decisions.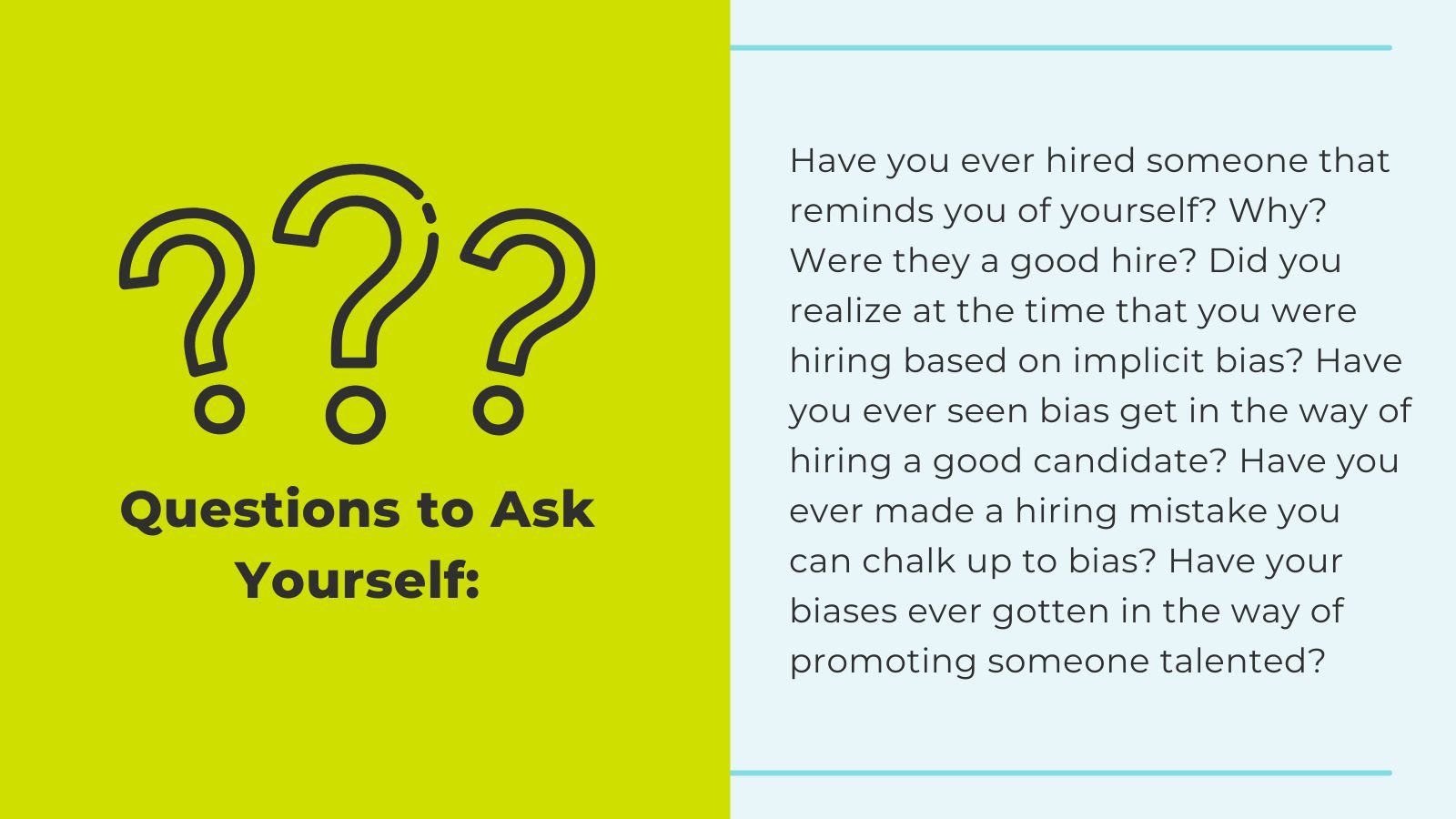 Involve Diverse Employees
You want to make sure you involve diverse employees when designing your new DEI recruiting strategy. You also want to ensure you're involving a diverse group of employees as part of the hiring process—the more perspective you get, the stronger your recruiting will be.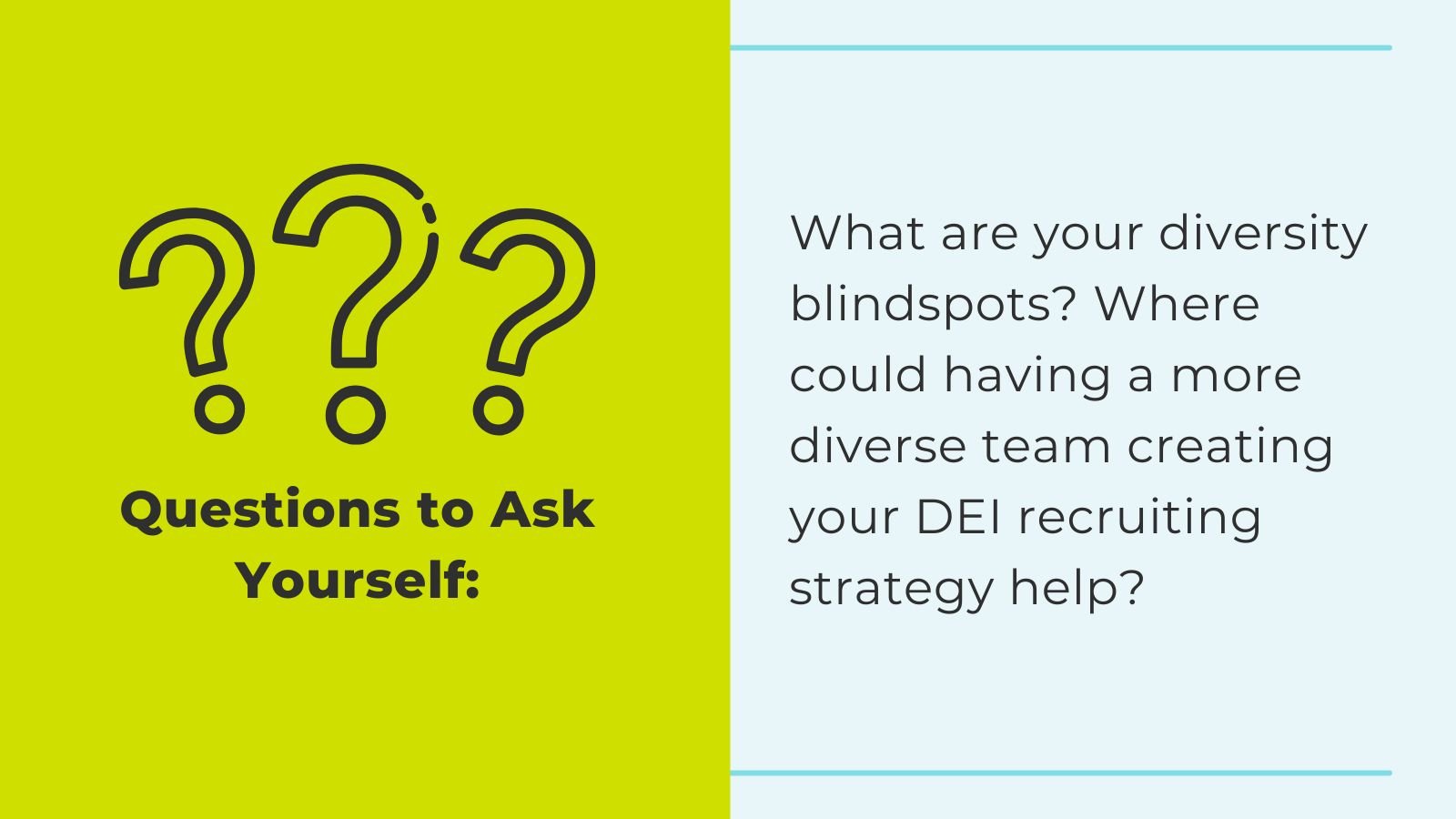 "I just really like them," isn't a good reason to hire someone. Scorecards are a great way to help eliminate biases and make everyone think of specific reasons a candidate is a good fit for a role.
Conduct An Internal Audit
Let's examine how DEI-friendly your current recruiting process is. We'll reevaluate your:
Requirements
In 2013 The New York Times reported on the then-new phenomenon of companies hiring people with college degrees for jobs that historically didn't require college degrees. Are you doing this at your organization?
In order to attract a more diverse workforce, organizations should reevaluate the requirements of their job postings. Make them as accessible as possible. If something feels arbitrary or like it's there simply for gatekeeping reasons, get rid of them.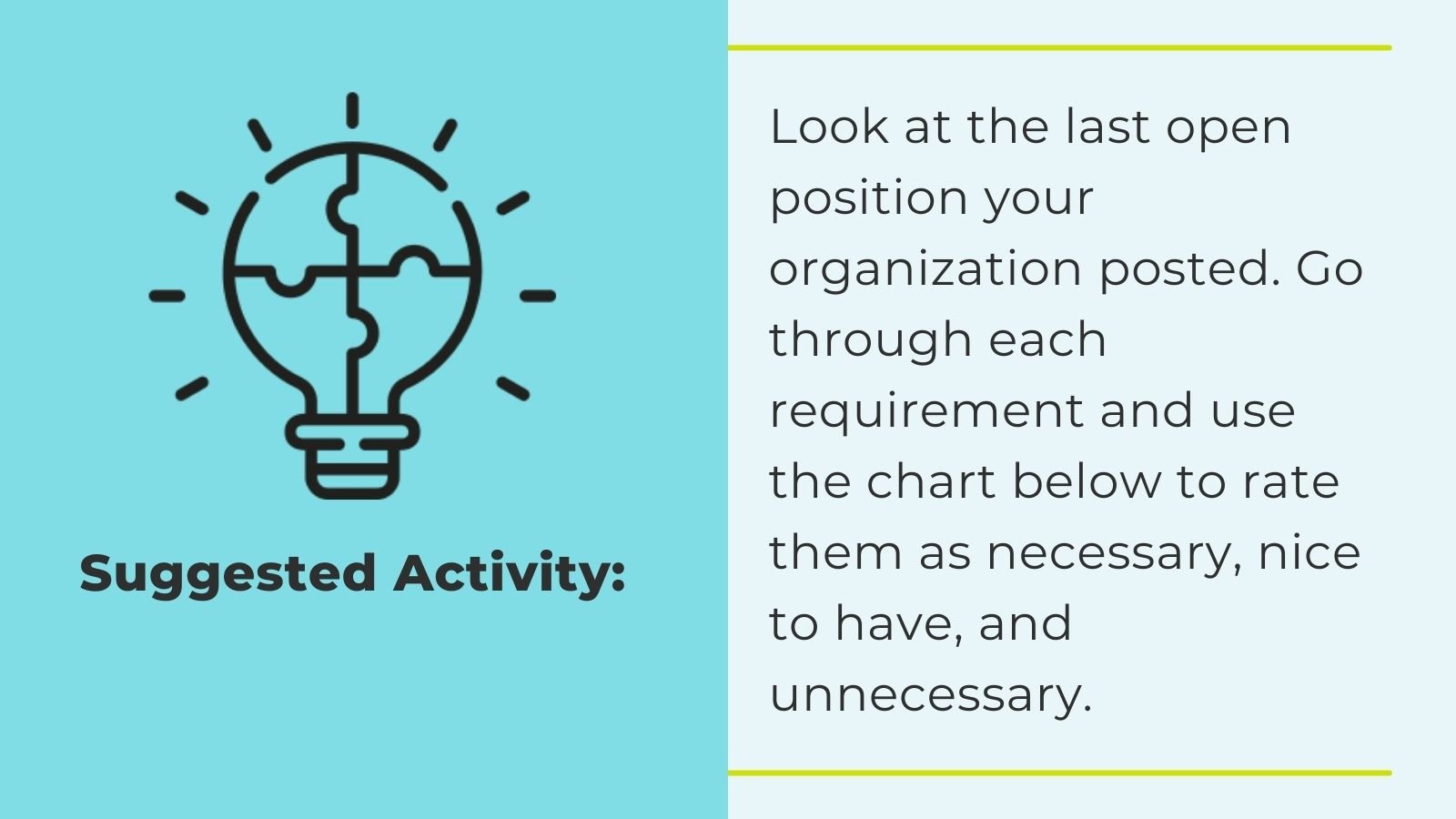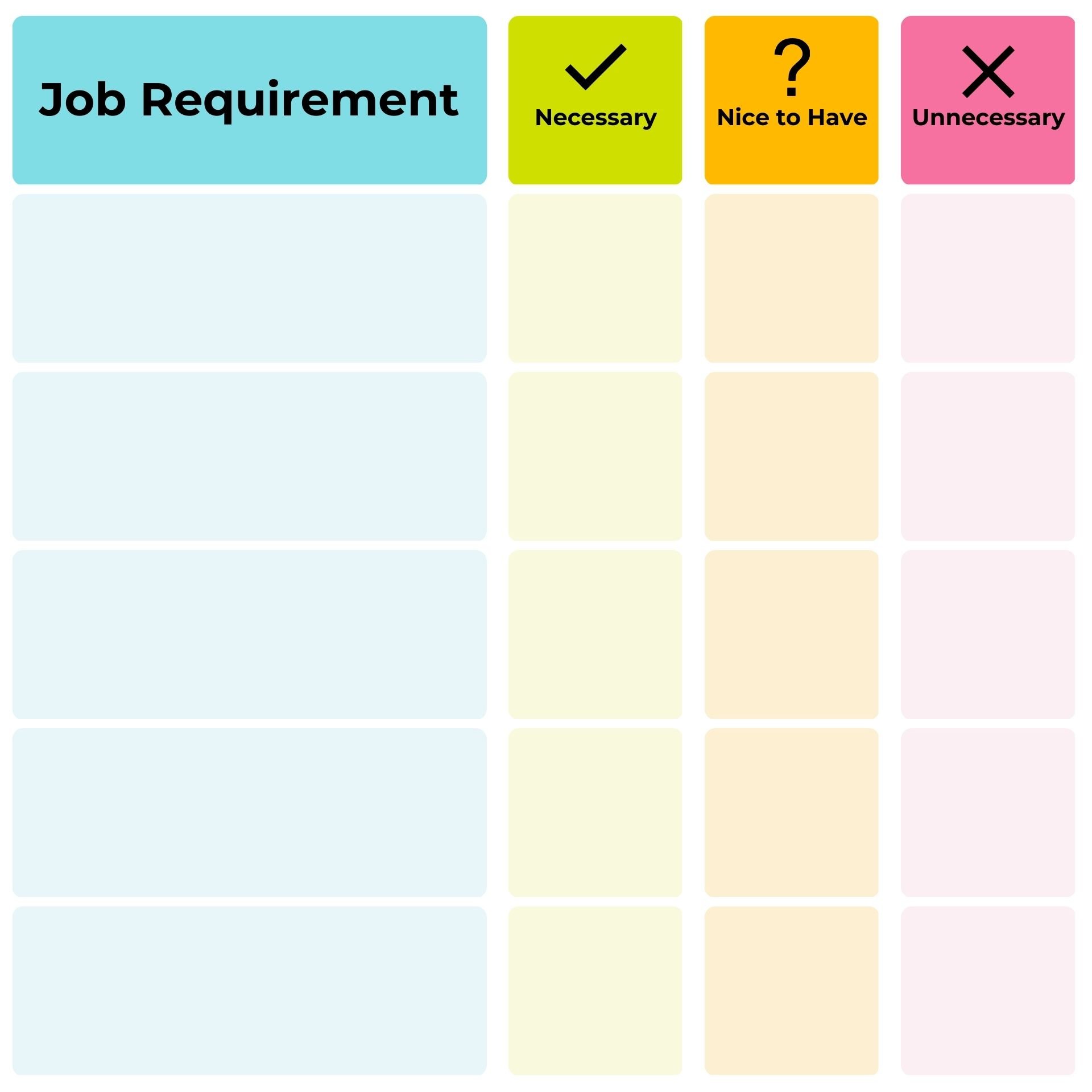 Processes
Creating equity in your organization goes well beyond eliminating racist and sexist jokes from the water cooler talk. The top step you can take to ensure a safe and welcoming work environment is to put the policies and procedures in place that clarify employee expectations and protect your candidates and employees.
Company policies may not seem like they're part of the recruiting strategy, but remember that today's job candidates do their homework on company policies before deciding whether to apply.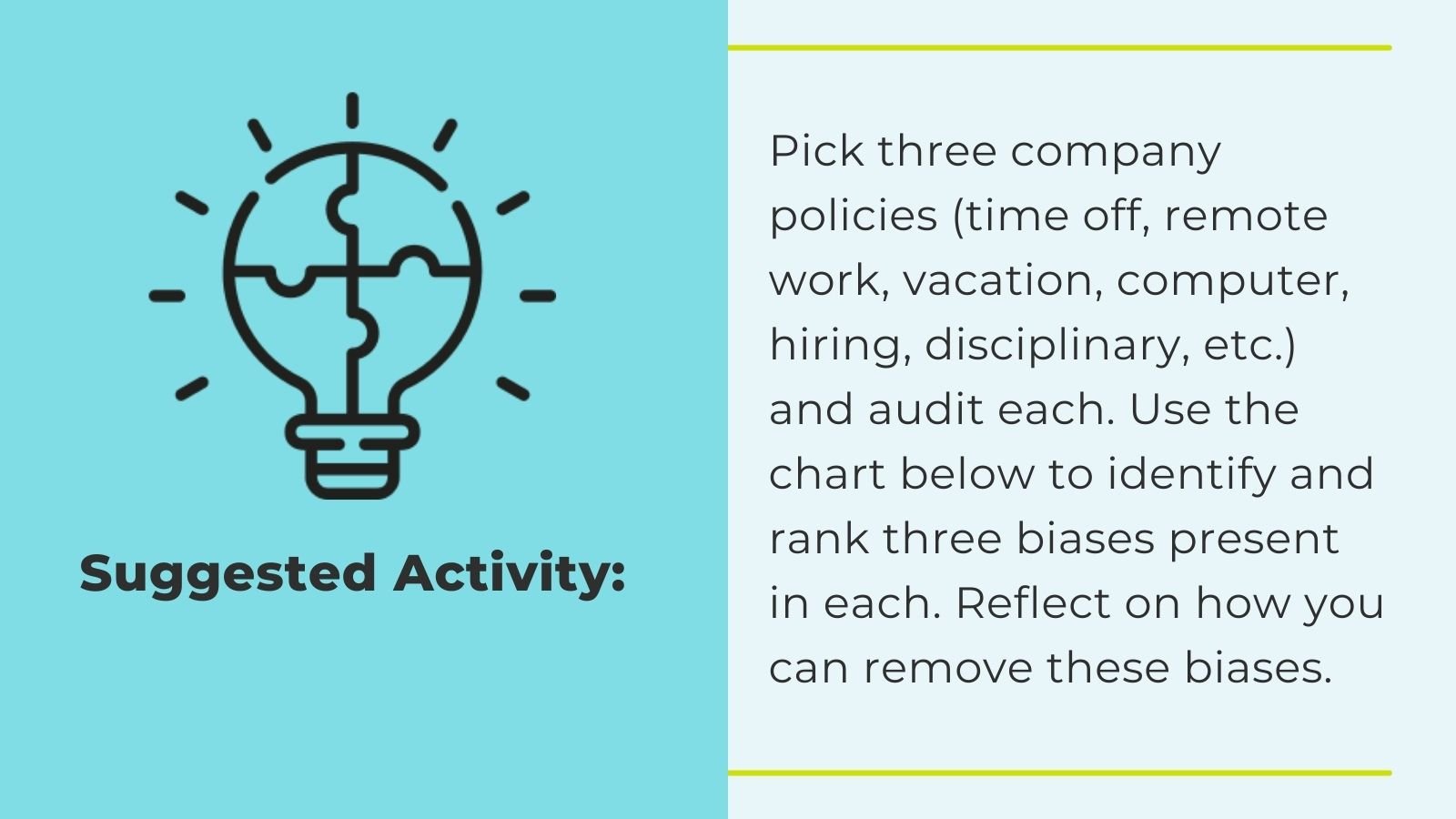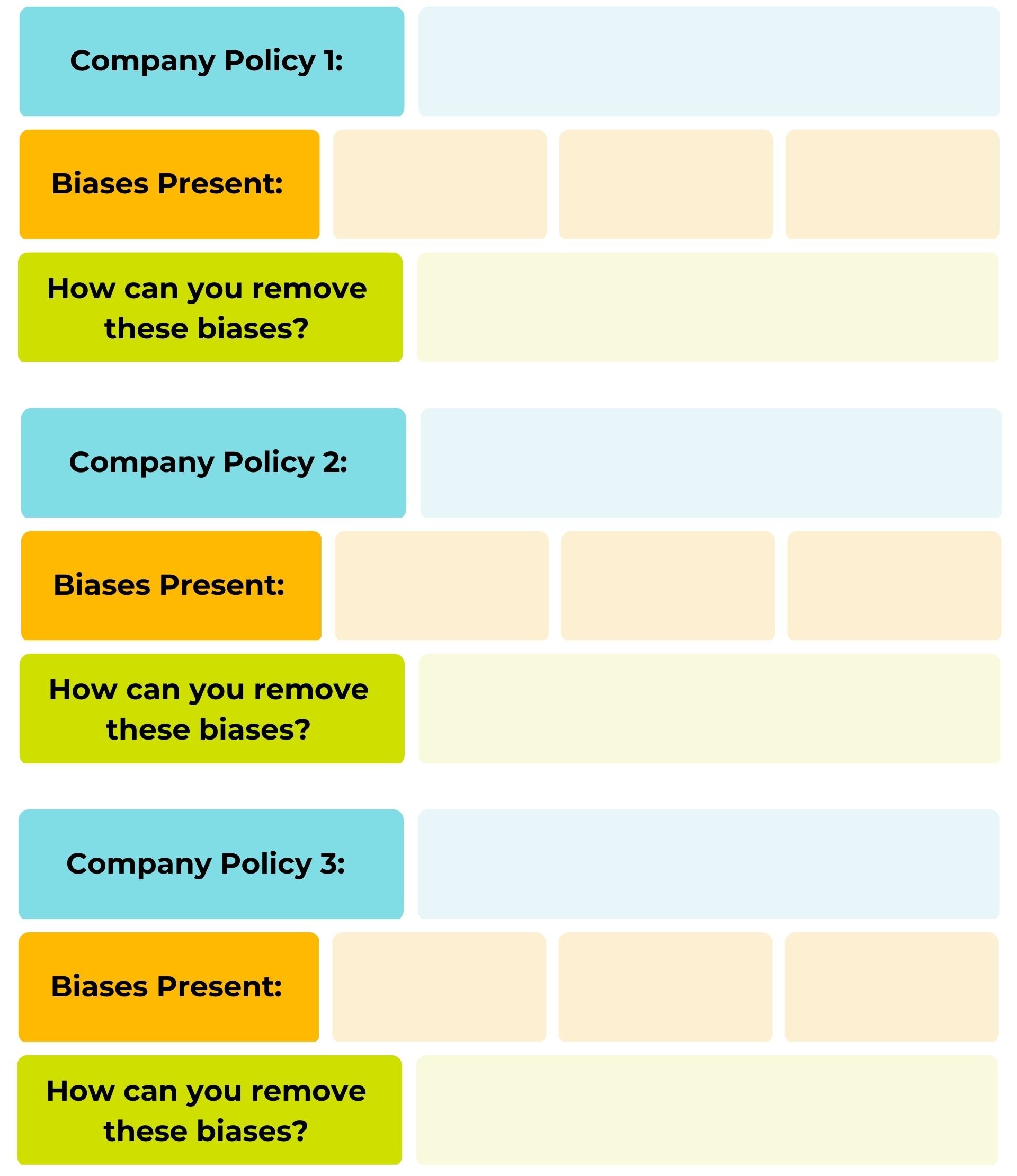 Careers Page
Showcase your company culture to make sure all candidates know they'd be welcome and valued. Set the expectations as an organization for what candidates can anticipate in the process as well as your own renewed dedication to a diverse team. Try adding photos and sharing team-building activities, like a volunteer day you participated in, to show what it's like to work for your organization.
Suggested Activity: Does your current careers page showcase DEI in your workplace? What changes can you make to rectify this (or strengthen it, if you're already sharing your commitment to DEI)?
Job Descriptions
Beyond the list of job requirements, here is where you can showcase your company's unique qualities—be sure the language you use is inclusive. Beyond the list of job requirements, here is where you can showcase your company's unique qualities:
Use gender-neutral language, such as "server" in lieu of "waiter" or "waitress."

Be upfront about how you welcome diverse candidates.

Link back to your DEI statement.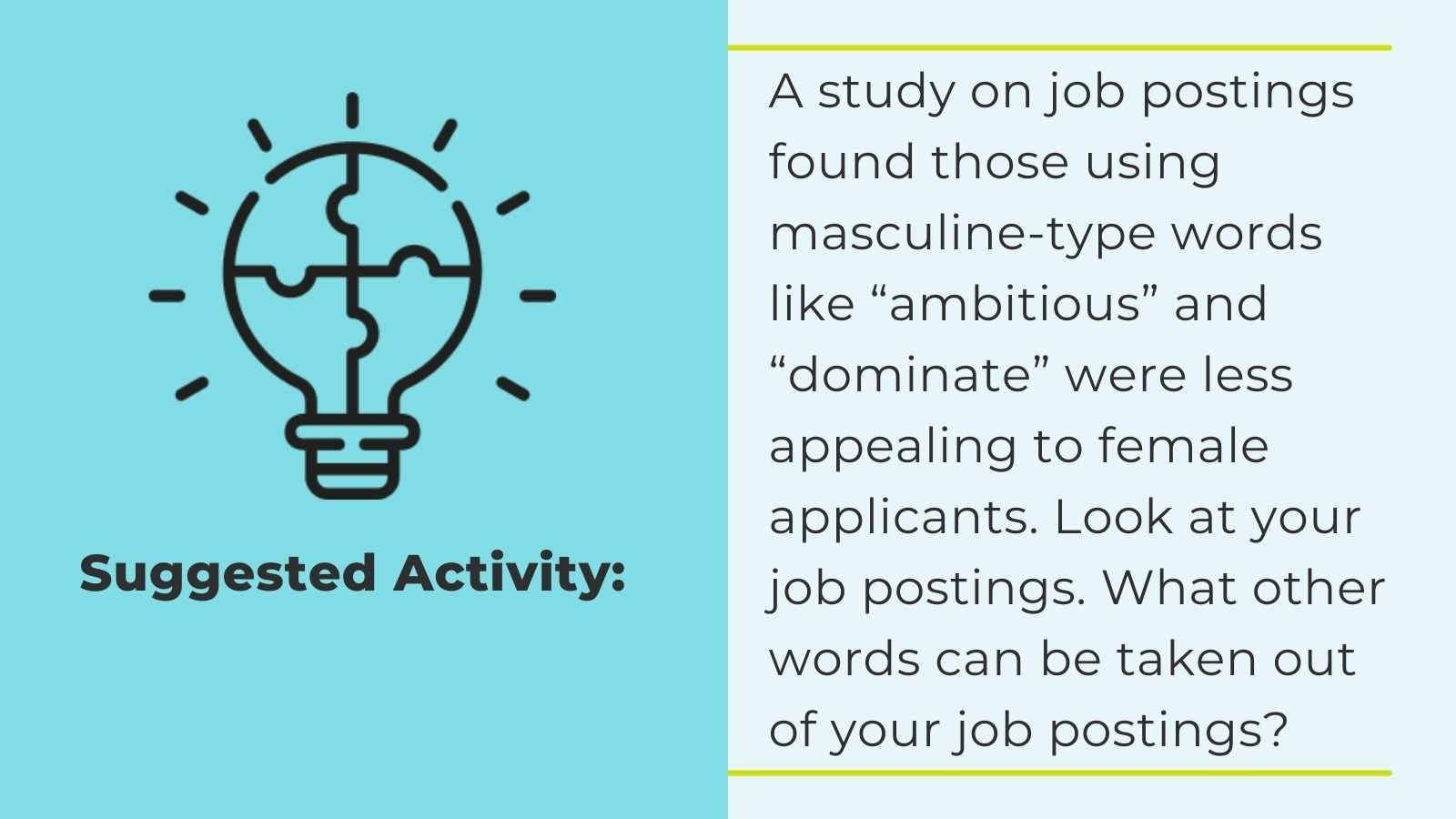 Networking
85% of roles are filled through networking, including referrals. Networking is a powerful recruitment tool and one we utilize frequently at HiringThing. However, relying too much on networking can result in a homogenous workforce. People's networks are often comprised of people who are similar to them demographically—McKinsey's research on diversity found that when men are asked about their professional networks, 63% of them state it's comprised of "more or all men."
You can help create more opportunities for others by providing access to your own contacts and networks. Make introductions. Give recommendations. Mentor. Sharing your network provides opportunities for others.
Create a Culture of Respect and Transparency
It's important for management teams to encourage employees to speak up if they think certain policies are hindering diversity in any way.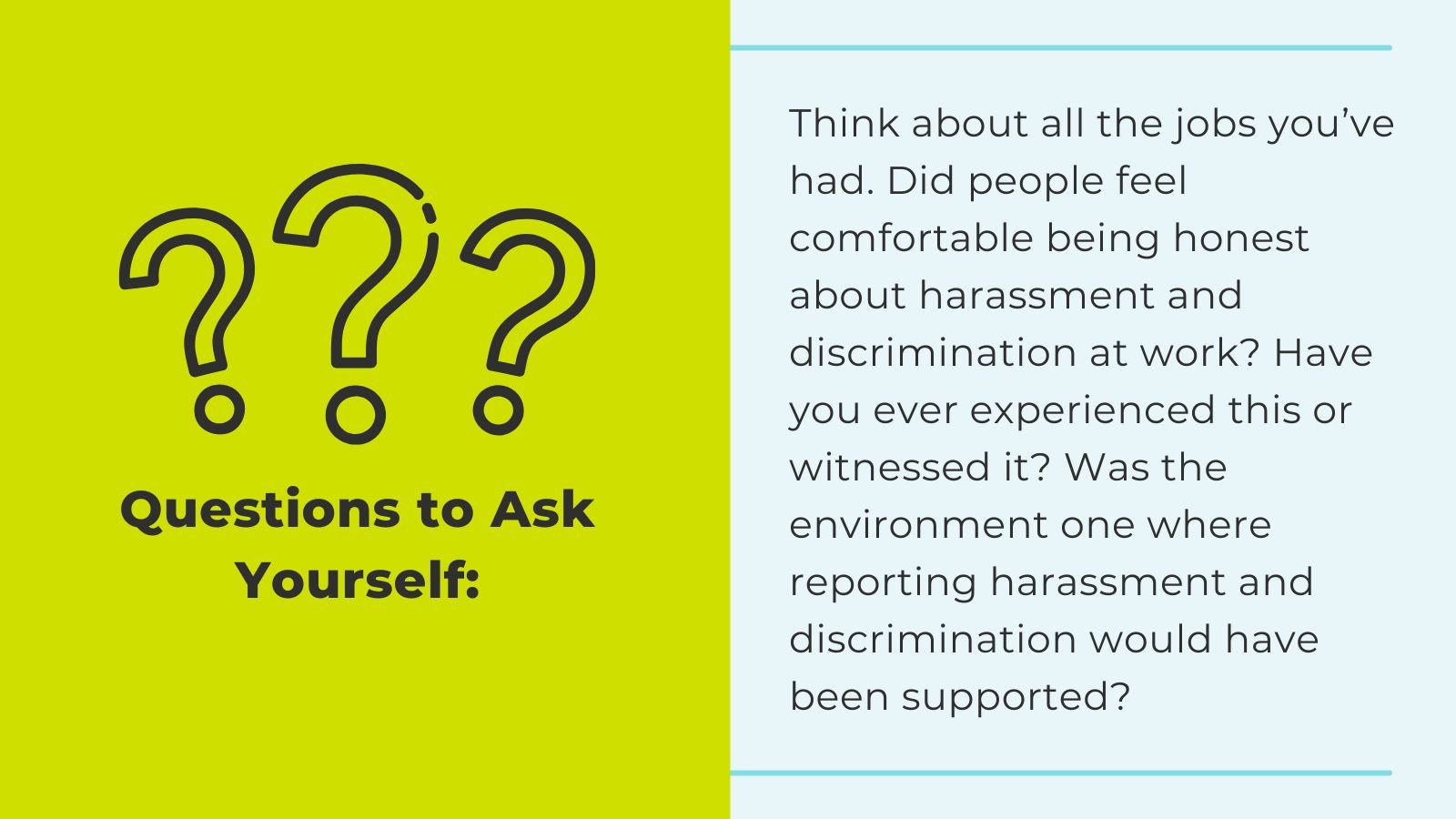 Listen
A Glassdoor study found white employees (who make up 60% of the US workforce) tend to give a significantly higher rating for their company's DEI initiatives than African American employees.
When asking your workforce about their perception of company performance on diversity and inclusion efforts, it's particularly critical to listen to the voices of your diverse employees in an open, non-defensive manner.
Consider Flexible Schedules and Remote Work
Flexible Schedules

Remote Work
Flexible Schedules
Consider changing your time off and scheduling policies to include more religious holidays, community events, and so on. Encourage flexible work hours that will allow candidates to continue being involved with their communities, and not require them to conform to a cookie-cutter schedule at all times.
Remote Work
If your talent pool expands, so will your employees' socioeconomic, geographic, and cultural backgrounds. Today's job seekers want remote work, so this will widen your candidate pool and appeal to the masses.
Standardize Your Interview Process
Structuring the hiring process in a standardized way gives organizations the ability to compare candidates' answers or insights—if candidates are being judged on the same criteria, it leaves less room for the feelings or gut instincts where biases thrive.
Interview Question Standardization
Ensuring that initially all candidates get asked the same questions means you can compare their answers fairly.
Blind Resumes and Interviews
Committing to viewing resumes blind (by not seeing names or photos) is a great way to remove bias. You could also do blind interviews, where you don't know anything about the candidate to start–no name, photo, or background.
HiringThing removed photos from the applicant profiles in its platform.
Skills Assessments
A study of 150 companies found that those that used assessments in their hiring had more racially diverse workforces. Pre-employment assessment tools, like SkillSurvey, give you the information you need to make talent decisions based on data-driven insights.
Strengths-Based Interviewing
All too often perceived negatives or weaknesses are used to gatekeep jobs, which is antithetical to DEI efforts. "They don't have the requisite five years experience" is an easy way to sideline a candidate who may have four years experience, as well as a host of soft skills that would make them a rockstar candidate. Strength-based interviewing doesn't focus on what candidates don't have, but instead focuses on what they can bring to your company, which gives candidates with diverse backgrounds a more equal advantage. An example of strength-based interviewing would be to have a candidate list their top five soft skills and then explain how these would help propel the company forward.
Asking a candidate their pronouns before an interview starts is a great way to organically showcase that you care about DEI.
Make it a Group Effort
Making the hiring process a collective effort is another way to help eliminate bias. If the hiring process is left up to just one person, you're getting just one perspective, including individuals' biases. A collective effort with multiple views and inputs means that colleagues have chances to counter each other's biases and help each other think outside the box.
Reverse the Culture Fit
Culture-fit interviews were trendy for a while, but missed the mark. Group interviews are still a good chance for all team members to get to know your top candidates, but instead of seeing whether job candidates fit the company culture, reframe the interview to see how the candidate can enhance your company culture.
How Technology Can Help Strengthen DEI
An applicant tracking system (ATS) is human resource software that helps companies quickly and efficiently screen, audit, and organize job applications through parameters the company sets. An ATS automates and streamlines the hiring process by helping candidates and companies schedule interviews, skills tests, or questionnaires, send out timely communication and begin the onboarding process.
Applicant tracking systems are designed to improve and optimize the hiring process and can help organizations meaningfully implement all the best practices suggested in this guide.
Some additional ways an ATS can help with DEI include:
Set parameters:

Applicant tracking systems are built to help people streamline hiring.

You set the parameters with your hiring. It's your call if your system eliminates candidates with gaps in their resumes or with no college degree (eliminating both of these for applicable positions is the inclusive move).

Automate Your Shortlisting:

Your ATS can be used to impartially whittle down your list to the most high-potential candidates. Use the screening tools included in your ATS to find candidates with the most potential and the best resume of skills, allowing you to completely remove personal opinions about specific candidates from the equation, and only focus on information that's relevant.

Utilize Asynchronous Video Interviews

:

One-way

video interviews

allow recruiters to eliminate biases by providing all candidates with a uniform interview structure. Candidates record themselves responding to a predetermined set of job-relevant questions. With one-way, you eliminate the small talk that often propagates unconscious bias.

Use Scorecards:

It takes people an average of 27 seconds to make a first impression, which certainly means they aren't confronting whether said impression is biased or not—they don't have the time!

Scorecards

can help remove these biases or "gut instincts" from the hiring process. Rather than saying, "This candidate has good vibes," hiring professionals using scorecards will have standardized data to back up their assertions.
A Private Label Applicant Tracking System is a way for organizations from franchises to Vertical SaaS providers to HR Solutions to offer hiring solutions to their clients. Click below to learn if a Private Label Applicant Tracking System can help grow your business.
Plan Your DEI Recruiting Strategy
Now that you've completed this workbook, you should have an idea of how to start creating a DEI-friendly recruiting strategy. We've created a chart to help get you started! First, identify five DEI goals you wish to accomplish in your recruiting strategy. We suggest having a mix of short and long-term goals here.
Step One
Outline five initial DEI Goals. We've provided a small chart if you find that helpful.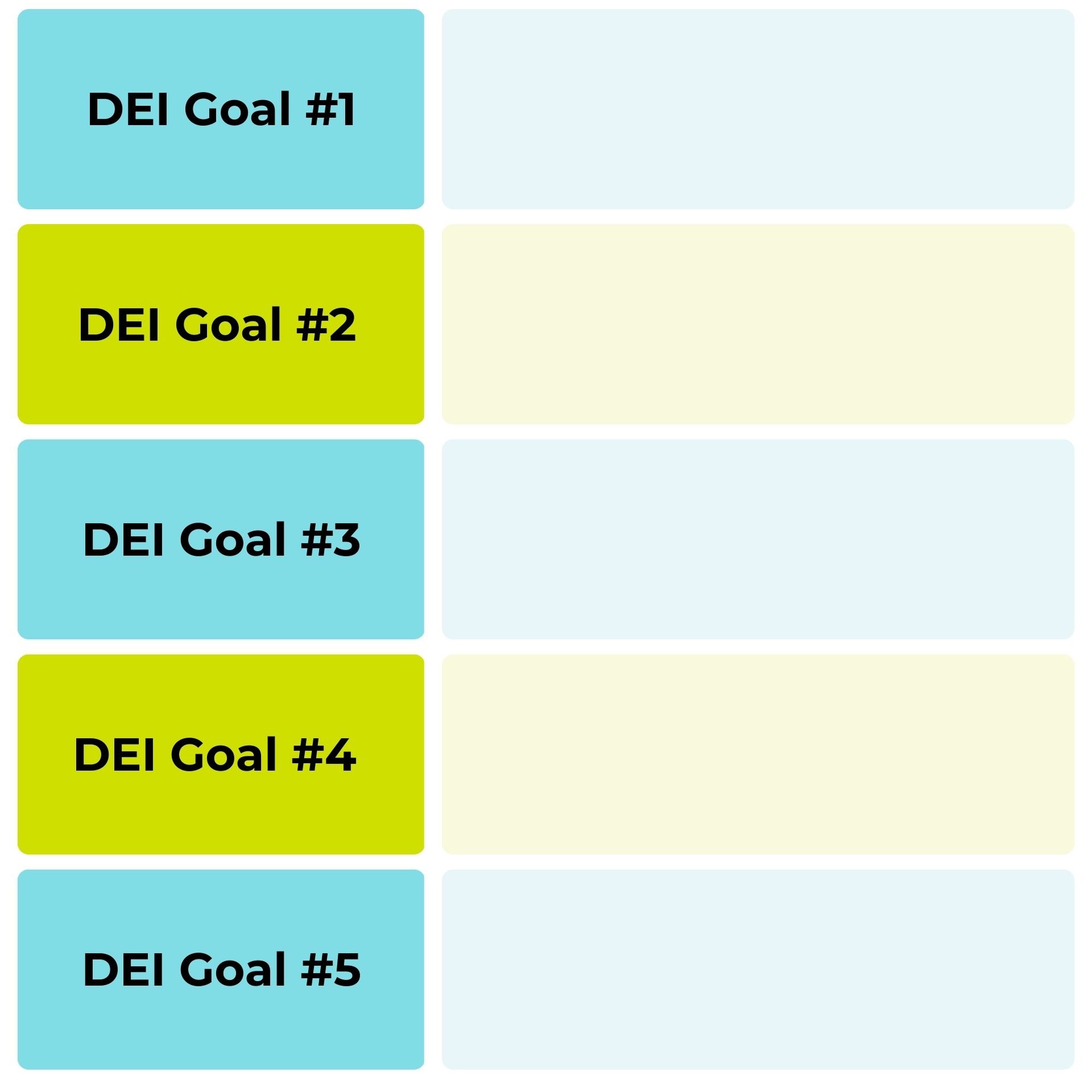 Step Two
Using the chart below, chart out each of your goals. Strategize on a planned go-live date for each goal. List the parties and stakeholders involved in each. Next, determine what action items (and who'll be in charge of executing each) are necessary for achieving each goal.
Editor's note: Your goal may need more than three action items, and that's ok. This chart is designed to help you get started—your full strategy will most likely be much more robust. We've also included a column for outcome notes—what worked? What didn't? What needs tweaking?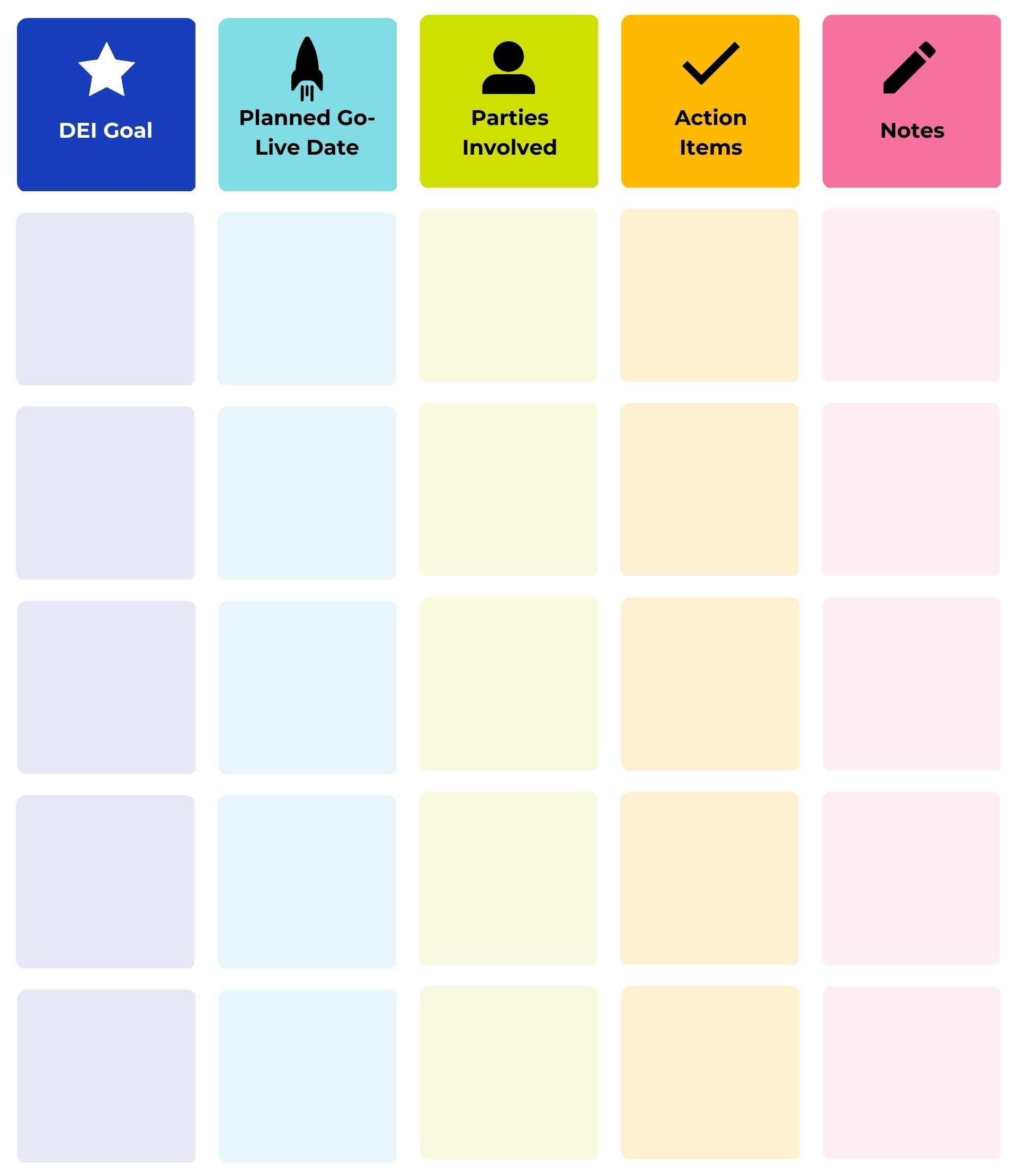 Remember, DEI doesn't exist in a vacuum. This should be a group effort. We recommend sharing these activities or better yet, The HiringThing DEI Workbook, with everyone involved in creating your recruiting strategy. Have everyone complete the exercise, then use your cumulative efforts and insights to create the most well-rounded strategy. Good luck!
Conclusion
57% of recruiters have strategies to attract diverse candidates. Our goal is to get that to 100%. Please share this workbook with other hiring professionals you may know who are interested in a DEI-friendly hiring strategy.
We'd love to hear what you've learned from completing the exercises in this guide Please share them with us on Twitter @HiringThing with the hashtag #DEIHiringThing.
About HiringThing
HiringThing is a modern recruiting platform as a service that creates seamless hiring experiences. Our private label applicant tracking system and open API enable technology and service providers to embed hiring capabilities from sourcing to onboarding. Approachable and adaptable, the platform empowers anyone, anywhere, to hire their dream team.