Why PEOs and ASOs Can Benefit from a Private Label ATS

Pat Brothwell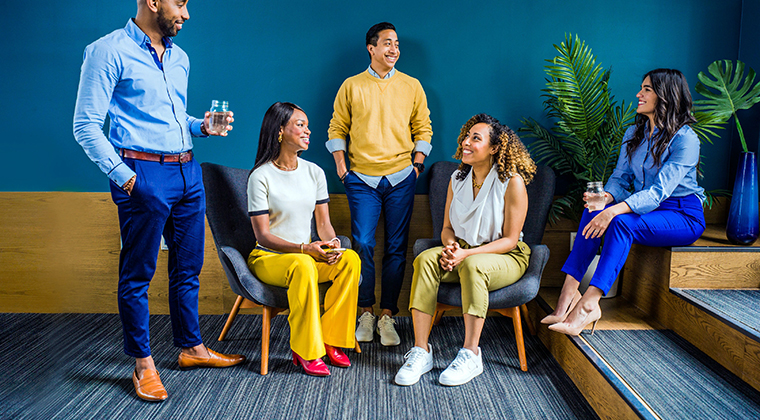 The National Federation of Independent Business identifies the nationwide talent shortage as the number one challenge facing businesses in 2022. Further research predicts more considerable talent shortages to come—23.9 unfilled positions by 2030 that can cause a $2.3 trillion loss of revenue.
If you're a PEO or ASO professional, we're probably not telling you anything new—hiring is and will continue to be a significant problem for your clients. If you don't have recruiting solutions to offer them, like an applicant tracking system (ATS), we're glad you found your way to this post!
Private labeling an ATS can take your recruiting service to the next level, helping clients face their most significant business challenge while giving your organization a competitive edge, expanding your market share, and adding an additional, dynamic source of revenue.
This post will explain why all HR service providers, including PEOs and ASOs, can benefit from a private label applicant tracking system. If you've already arrived here ready to get started on your private label ATS journey, feel free to start your demo process just below. If not, please read on to discover all the ways your PEO or ASO can benefit from a private label ATS.
Table of Contents
What is a Private Label ATS?
An applicant tracking system is human resource software that helps companies organize, automate, and optimize recruiting. An ATS provides a centralized repository for job candidate data, including resumes, applications, references, background checks, and other applicant data an organization requires.
Private label software is purchased by a company from a SaaS provider and customized with tailored workflows and company branding. You may have also heard private labeling called "white labeling." Though often used interchangeably, white label applicant tracking systems are produced by one company and rebranded by other companies, while organizations partner with a private label ATS provider to customize solutions to meet their specific recruiting needs and present the ATS as a proprietary solution. Our "What is a Private Label Applicant Tracking System?" guide dives further into the ins and outs of a private label ATS.
Ten Benefits of Private Labeling an ATS for PEOs and ASOs
Solve Your Clients' Top Challenge
We've already established how challenging the recruiting climate currently is and how challenging experts predict it will continue to be—82% of companies expect to face hiring challenges in 2022, and 1 in 4 people willingly quit their jobs last year. Small and medium-sized businesses are in tough competition for high-quality talent, and studies have shown that ATS use has helped 86% of users hire faster and 78% of users improve the qualities of their hires.
Show your clients how ATS usage can strengthen their hiring process and help them be more profitable. Our post, "What A Private Label Applicant Tracking System Does for End Users," has all the stats and information you'll need.
Grow Revenue
A branded ATS means you have an additional HR solution to help attract new clients and monetize for your existing customer base. Studies find monetization is 4x more efficient than acquisition and 2x more efficient than retention at improving revenue growth.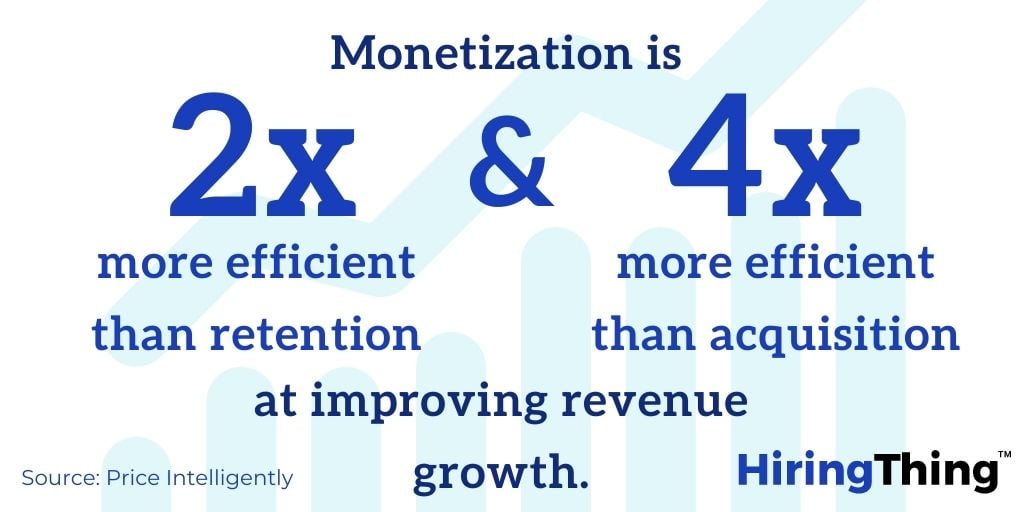 Remember that as a PEO or ASO, you are profitable when you can generate consistent positive cash flows from your solutions. Consistent cash flow allows you to market your services better, get better talent, invest in your infrastructure, and develop meaningful partner relationships. As we established in our first point, hiring will be a consistent challenge and thus a constant source of revenue for your organization.
Utilize Customer Experience as a Sales Tactic
For PEOs and ASOs, profitability and growth rely on the HR expertise you can use to empower clients. Solving your customers' biggest challenges (recruiting) creates a happy, engaged customer base, which is your biggest marketing and sales weapon. 64% of marketers agree word-of-mouth marketing is the most effective form of marketing.
Low-Risk Investment
A private label investment is low risk since organizations can terminate their subscriptions if a product becomes unprofitable. Additionally, private labeling (vs. building a product from scratch) means you don't have to waste valuable time and money on development costs—DevSquad reports that building a minimum viable product (MVP) usually takes 2 to 10 months but can take much longer.
Remain Competitive
You're in a competitive industry dominated by giants. According to the IBISWorld PEO Industry Report, three-quarters of industry revenue is likely driven by less than 2% of current working PEOs. You need solutions that help you stand out. The good news is that the market isn't saturated. Take advantage of that!
SHRM

finds that 54% of SMBs don't employ HR experts to help with their hiring!

Only

35% of SMBs

use applicant tracking systems, meaning more than 65% don't realize what an ATS can do for their growth.

The same industry report expects PEO growth to continue steadily till 2026.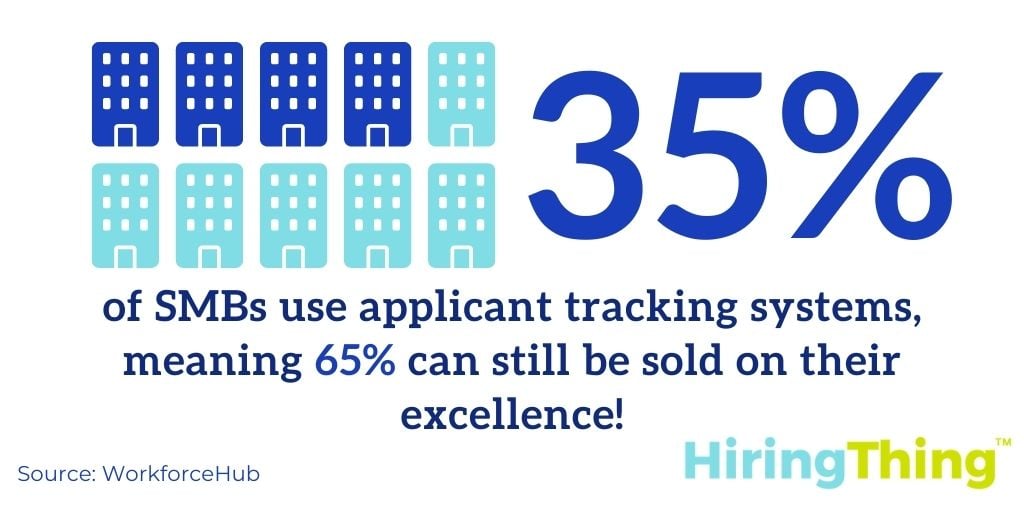 The value proposition that can set you apart from other PEOs and ASOs is a proprietary recruiting solution. Obviously, if more organizations were offering this as a solution (or selling it in a dynamic way that got customers interested), more SMBs would understand the importance of professional HR help when it comes to their recruiting. Use a private label ATS to stand out, gain customers, and move ahead.
Expand Market Share
Recruiting technology is a growing market. General HR Tech spending grew 57% from 2020. Even pre-pandemic, 74% of companies planned to increase their spending on HR tech, citing recruiting and retention as the top challenges driving HR tech acquisition. The ATS market is growing fast, too, expecting to reach $2.22 billion by 2027.
Check out our post Private Labeling is a Great Way to Take Advantage of the ATS Demand to learn more about the market for recruiting technology solutions.
Increase Customer Retention
Retaining customers is a challenge for any business, but retention initiatives are well worth the efforts. Did you know that even a 5% reduction in turnover could increase your profitability by 25%?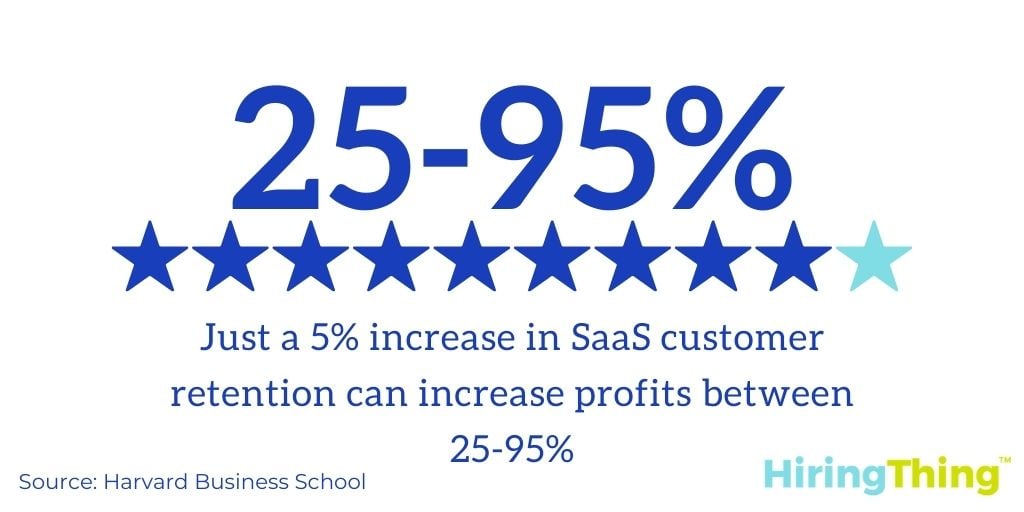 Customers churn when their top challenges aren't solved or feel a professional service isn't adding value. Adding a private label ATS to your arsenal tackles your customers' number one challenge head-on. Businesses can be passive about many problems, but not recruiting, not in our current climate.
Offer a Great Onboarding Experience
It's common for customer churn to happen at the beginning of a professional relationship (for example, 80% of tech users are likely to churn within their first three months because they simply don't know enough about the products and services at their disposal). Once many companies gain a customer, they don't offer any meaningful education to teach customers how to use their product or service. It becomes up to the customer to determine how to best use a service to meet their needs.
Don't fall victim to this easily avoidable churn pattern. Provide a great onboarding experience for both brand new customers and customers who are new to a solution within your platform. Good private label providers will use their expertise to help their clients onboard their customers.
Expand the Bandwidth of Your Team
When you partner with a competitive private label solution, you get the added benefit of the professional support of their expert team, which could include everything from customer service to marketing to engineering, which allows your team to focus on core functionality. It also allows you to give your customers a heightened customer experience and drive additional revenue. Some examples include:
Sales and marketing support can help you get additional customers through email nurture campaigns, webinars, and content creation.

An expert product team means your ATS will always have new features and functionalities to delight customers, and someone to keep up with ATS trends.

Customer success and support means your customers are getting support and resources from the team that created and knows the ATS, resulting in a much better end-user experience.

The private label team can also train and enable your employees to educate current and potential customers about the long-term benefits of ATS use.
Two big reasons for customer churn are ineffective (or lack of) onboarding and poor (or lack of) customer service. While all good companies try to put the customer experience first, rapid growth or lack of resources and expertise can stretch you thin. Private label partnerships are built-in insurance that your customers get the support they need.
Increased Productivity
Capterra found that organizations using an ATS are 40% more productive than organizations functioning without one. That's a statistic geared towards the end-user, but think how more productive your PEO and ASO employees can be if they don't have to worry about servicing or supporting one of your solutions!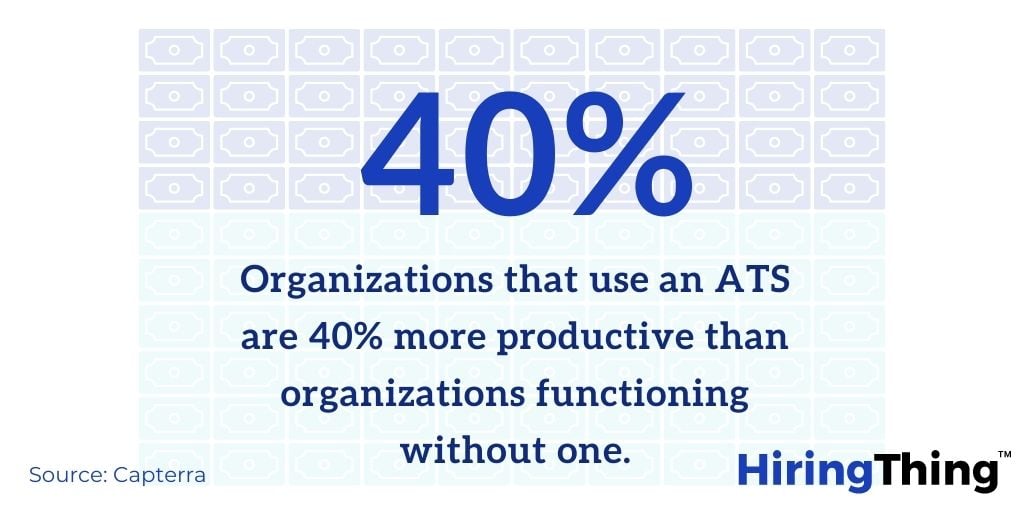 Extend the Reach of Your Networks
A competitive private label applicant tracking system company already has valuable relationships with major and niche job boards that can benefit your customers. Additionally, they may have established relationships with third-party integration partners ranging from background checks to video interviewing companies. You could try to build those sorts of networks from the ground up, but partnering with a company with established relationships will always be the stronger networking strategy.
Scalability
As your clients grow, so will their HR needs, including hiring. That's why it's so crucial for PEOs and ASOs to offer solutions that can scale to meet the news of growing (also shrinking) clientele. Private labeling applicant tracking systems means you can customize the workflows to scale alongside your clients.
Because private labeling is a bespoke solution, the workflows, offerings, and capabilities at your disposal can also grow while your ASO or PEO grows. The bigger your organization gets, the more complex your processes can get, and having this solution and partnership can ensure processes don't get too complex and you can continue offering exemplary service your clients have come to expect.
Bias Reduction
A key to driving revenue, increasing retention and growing your business is being attuned to the wants, needs, and challenges of the customers you serve. Currently, Diversity, Equity, and Inclusion (DEI) is another of your customers' biggest struggles.
Employee-experience platform, Culture Amp, reports that 81% of its users believe that DEI initiatives are beneficial to organizations. However, only 34% say they have enough resources to support these initiatives.
With a private label applicant tracking system, you can provide your customers a resource to start making their workplaces more diverse, equitable, and inclusive. Applicant tracking systems can help reduce biases by standardizing the interview process and enabling recruiters and hiring managers to make hiring decisions on set criteria rather than simply gut feelings. They can also make it easier to post jobs to diversity networks. Since you decide on workflows and permissions when you private label an applicant tracking system, you can design yours so that it comes to users' set up to weed out biases.
You can read here or here how scorecards and video interviews (both interview tools any competitive ATS will have) respectively help organizations cut down on bias. Additionally, read how Titan ATS made their platform more DEI-friendly.
Grow Your Business
Every business wants to grow. With a private label applicant tracking system, you'll be strengthening and growing your business by:
Providing a low-risk solution your customers crave.

Increasing revenue.

Expanding market share.

Increasing customer retention.

Boosting your team's bandwidth.

Scaling with your clients,

Empowering clients to reduce bias in their hiring processes.
To learn more about the economics behind integrating a private label applicant tracking system as part of your solutions, download our report "The Economics of an Integrated Applicant Tracking System: How HR Solutions Can Improve Their Bottom Line."
About HiringThing
HiringThing is a modern recruiting platform as a service that creates seamless hiring experiences. Their private label applicant tracking system and open API enables technology and service providers to add hiring capabilities to their solution. Approachable and adaptable, their platform empowers anyone, anywhere, to hire their dream team.