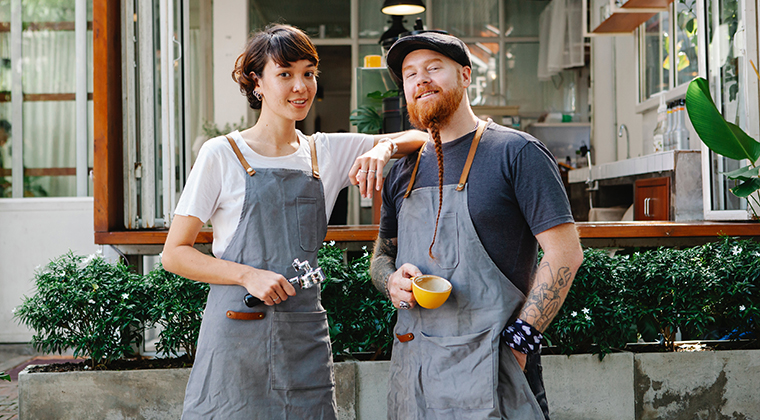 Hiring for a Multi-Location Business Is Challenging
If you manage the hiring for a multi-location business, such as a restaurant with several locations or a franchise with several stores in a region, you understand the complications of recruiting and onboarding candidates across multiple locations. You may face competition in acquiring the most qualified candidates or struggle to find qualified candidates in the first place, especially if your business is subject to seasonal peaks. Effective communication might be a struggle when you're dealing with multiple managers in different locations, or maybe a lack of unified branding is affecting your brand trust or recognition. Thanks to its wide variety of customization options and applicant sorting, an applicant tracking system (ATS) is the best way to simplify your hiring process. Let's look at what an ATS with multi-location functionality can do for you.
Many multi-location businesses are part of the hospitality industry, which has its own challenges—Four Key Challenges in Hospitality Recruiting and How to Overcome Them provides industry-specific solutions for hospitality professionals.
The Benefits an ATS Can Bring Multi-Location Businesses
Standardizing the Hiring Process
Your multi-location business needs a standardized and efficient hiring process across your whole brand. First, consider what your specific needs are and how your business operates. For instance, does each location have its own logo and branding guidelines, or is branding the same across all locations? Do you need administrative control over all your locations or are they acting autonomously? Do you want locations to be able to share qualified talent? These are some of the questions to consider when searching for an ATS that caters to multi-location businesses.
Streamline Communication
Multi-location business owners know that efficient communication is a must. The hiring process can be a difficult task when applications and interviews are managed across locations. The more internal stakeholders from different locations that get involved, the more complicated communication becomes. In addition, poor communication increases the odds of qualified candidates being overlooked.
An ATS helps coordinate communication with all internal stakeholders through tools like message templates, applicant statuses and ratings, and integrated interview requests. HR administrators can customize ATS features and still ensure a standardized approach to recruiting across the entire organization that minimizes employer liability risk. Provide your team with varying levels of permissions to maximize internal efficiency while maintaining control. Comprehensive ATS's like HiringThing offers unlimited users so your entire team can collaborate.
Reduce Turnover
Employee turnover is a serious issue, especially in certain industries like tech, retail, and education. Each time an employee resigns or is terminated, managers must start the hiring process all over again. In addition to the costs related to job boards and the screening process, a significant output of time is required for the recruiting process. Studies estimate that hourly employees cost $2,000–$7,000 to replace. Reduce your risks with new hires and make sure you have the right candidates from the start.
Screen and pre-qualify applicants: Eliminate ineligible applicants at the beginning of the hiring process by utilizing pre-screening knockout questions. Pre-qualify applicants by using assessment solutions, such as Corvirtus, Topgrading, or Criteria Corp.
Background checks: Reducing losses and keeping your business compliant are important. Be sure to use a credible background check vendor like Crimcheck. This is vital to ensure you hire employees who will interact appropriately with the public and other employees and who won't be at risk of criminal or violent behavior.
Streamlined onboarding: Save time in your onboarding process while providing applicants with a favorable first impression of your company. Onboarding, an important aspect in a new hire's perception of a company, plays a role in employee retention. Recent studies have shown that 23 percent of new hires leave within a year. Providing your valuable new employees with a convenient, organized onboarding process can help your organization make a great first impression. A comprehensive ATS will offer you time-saving tools such as the ability to send multiple digitally signable documents to applicants with an offer letter, create custom onboarding document templates to share across multiple offer letters, and receive notifications when documents are submitted.
The HiringThing Difference
With HiringThing's ATS multi-location functionality, managers can easily hire across multiple locations and even brands. Our customized branding options support companies of any configuration – from those with only a handful of locations to those with hundreds and from franchises with various unique brands to corporate-owned locations with uniform branding. Posting location-specific jobs to the top sites is a breeze, as is scheduling interviews, screening potential candidates, and making job offers.
HiringThing has unique options that can seamlessly align with the goals and business practices of a company with multiple locations:
Applicant pool: This feature is great for multi-location businesses targeting entry-level applicants. If several promising candidates applied for a single position, hire one and place the rest in a company-wide applicant pool for consideration for other positions. Filter applicants in the pool by geographic area to find applicants close to the location that is hiring.
Manage multiple locations with one account: Take away the challenge of managing your hiring for multiple locations. With our multi-site functionality, franchise owners can monitor hiring at all their locations while giving hiring managers access to the jobs only at their respective locations. Schedule and coordinate communication with applicants and stakeholders, or just better understand how hiring managers are faring throughout the hiring process. Easy-to-configure user permission levels provide the ability to assign different levels of usage universally and by location.
Communication and logistic complications can slow the hiring process and lead to overlooked candidates. In a tight job market, it's vital that multi-location businesses use an ATS that understands these complications and provides viable, efficient solutions.
About HiringThing
HiringThing is the fully integrated, award-winning applicant tracking system that will drive revenue by helping your clients hire their next best employees. Want to see the platform in action? Set up your demo today.