Four Key Challenges in Hospitality Recruiting and How to Overcome Them

Allie DeCaro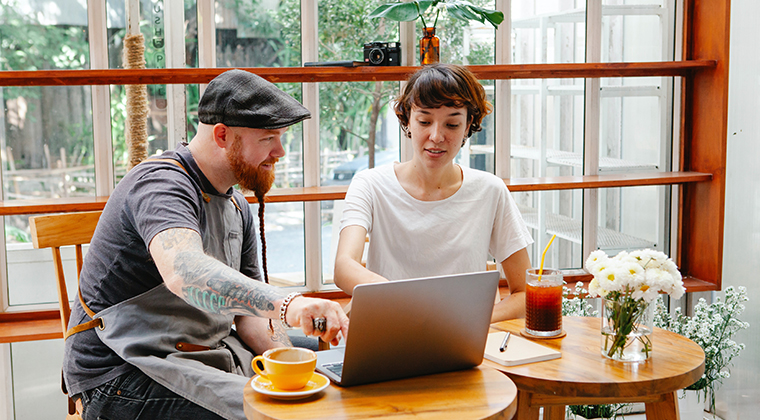 A pre-pandemic report conducted by The Caterer back in 2016 found that 82% of hospitality professionals said it was harder at that time than at any time in the past to recruit qualified staff, with 93% of respondents saying it was either somewhat difficult or very difficult to recruit. In this post, we'll explore four key challenges in hospitality recruiting and provide solutions for overcoming them.
Hiring Has Always Been a Challenge for Hospitality Roles
The hospitality industry has long been notoriously difficult to recruit for, with the perception of long hours and low pay (followed by a lack of career progression) being the top reasons many candidates stayed away.
The pandemic has only made hospitality hiring more difficult. A recent poll found that half of former hospitality workers said they weren't planning on returning to their previous jobs. Additionally, a third of former hospitality workers said they weren't even considering reentering the industry in general. The consensus from these workers is that they want better pay, better benefits, and a better working environment.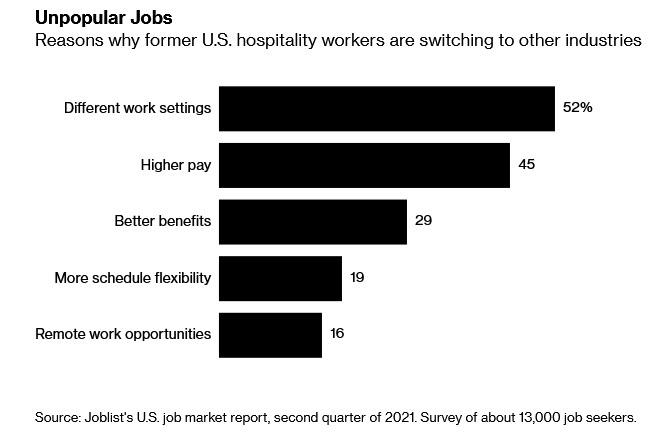 The good news is that experts don't think all is lost. Alice Cheng, CEO of hospitality job board Culinary Agents, recently spoke to Eater about the state of the industry.
"A lot of the data that we see is there's so many people looking at jobs, more so than in the past, and they're waiting," Cheng said. "So, the data implies that people are looking, saving, clicking, curious, but they're not taking action as quickly as they did in the past, for various reasons."
Cheng's outlook remains positive. "They will come back in waves and on their timeframe," she says. "That's just going to take a little bit of time. Nobody wants to hear that."
What does this mean for hospitality professionals desperate to staff their franchises, hotels, and restaurants now? It means being innovative, rethinking how things worked in the past, and understanding how to combat the most common challenges facing hospitality recruiting.
Getting Candidates to Apply
We've already outlined how difficult it is to find candidates for hospitality roles, citing that low pay is a turnoff in many instances. However, the current labor shortage is forcing companies to rethink what they pay. McDonald's is raising wages in its corporate-owned stores by an average of 10%. A Pittsburgh ice-cream parlor that doubled its wages to $15.00 an hour says it recently got over 1,000 applicants.
How else can hospitality professionals increase their applicant traffic?
How to Overcome This Challenge:
Use Niche Hiring Boards
Niche job boards, like the aforementioned Culinary Agents, understand the intricacies of your market. While these boards may not have the traffic of your Indeeds and LinkedIns, they put quality over quantity and ensure candidates know and want the kind of roles you offer.
Ensure Your Postings Are Mobile Friendly
Close to 90% of today's job seekers utilize a mobile device as part of their search and 40% of applicants won't apply for a position if the job isn't mobile-friendly. Promoting a posting as mobile-friendly will also improve the number of job applicants by 11.6%.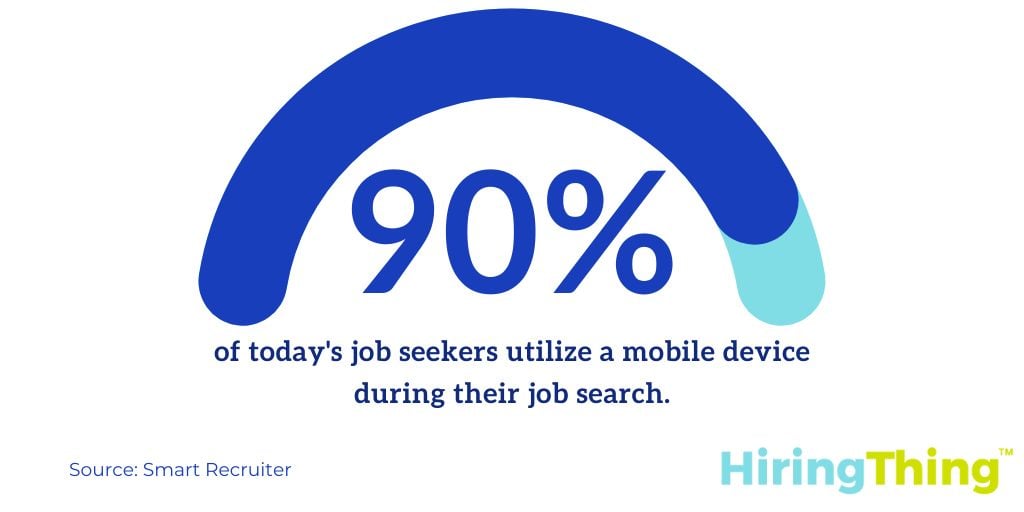 Advertise Open Positions to Customers
If you're looking for someone passionate about your brand who already has an idea of what your job entails, why not advertise to current customers? A QR code in your restaurant, hotel lobby, or menu makes applying super convenient for your smartphone-wielding patrons.
Use a Referral Program
Employee referrals are 55% faster to hire than candidates from job boards! And starting a referral program (especially with HiringThing) is easy!
We're excited to announce that we've recently partnered with Culinary Agents to ensure that our users can find the best hospitality talent! Read our interview with Culinary Agents CEO Alice Cheng here.
Back to Top
Keeping Job Seekers Engaged
Once you find candidates, you want them to continue through the application process. LinkedIn found that recently, there's been a 20% increase in job-seeker drop-offs from the application and hiring process—and Career Builder found that 60% of job candidates will quit an application that takes too long. Organizations don't only need to work on attracting candidates but ensure they funnel through the entire hiring process.
How to Overcome This Challenge:
One easy way to do this is to streamline the application and make it as barrier-free as possible. Another factor in keeping candidates engaged is establishing a strong employer brand that makes candidates excited about the prospect of working for your organization.
Dutch Bros, an Oregon-based drive-through coffee chain, is the perfect example of a company using its employer brand to continually attract and retain top talent and ultimately help the company grow. Despite most franchises struggling during the pandemic, Dutch Bros opened up 72 new stores in 2020 and has plans to open 100 additional stores throughout 2021—they're doing something right!
The magic lies in Dutch Bros people-centric employer brand. "We're in the relationship business—coffee is the medium," co-founder and CEO Travis Boersma told Capital Pacific Magazine. He went on to say that he feels his job is "to find a compelling future for his employees, whether their education, their next career, their community leadership, or their future with Dutch Bros." While this is a great soundbite for a CEO to give a magazine, this mission is apparent in Dutch Bro job postings.
"It's fun to work in a company where people truly believe in what they are doing. At Dutch Bros Coffee, we are more than just a coffee company. We are a fun-loving, mind-blowing company that makes a difference one cup at a time."
That's how all Dutch Bros job applications start. They then provide wages and benefits (which today's job candidates want to know before deciding to apply or not) and a sidebar with a company history and mission before listing qualifications and responsibilities. Dutch Bros gets how critical exciting job applicants is to attract quality job candidates.
Want more ideas for increasing your franchise's applicant traffic? Check out Increase Your Franchise's Applicant Traffic Today.
Back to Top
Combatting Turnover
The U.S. Bureau of Labor Statistics found the turnover rate for the hospitality industry is 2 to 3 times higher than the rate of all other industries.
How to Overcome This Challenge:
Strong Onboarding Experience
31% of employees quit new roles within the first six months, and a top reason is a poor onboarding experience. Ensure that your hiring to onboarding process is a seamless experience for candidates and that they remain excited and engaged with their new role through their first 90 days (and beyond, obviously, but 90 days is industry standard for "onboarding").
Be Transparent
The top reasons for employee turnover include unclear job expectations, unclear communication, and lack of growth opportunities. Be as transparent as possible during the hiring process so that the employee's role is the one they expected.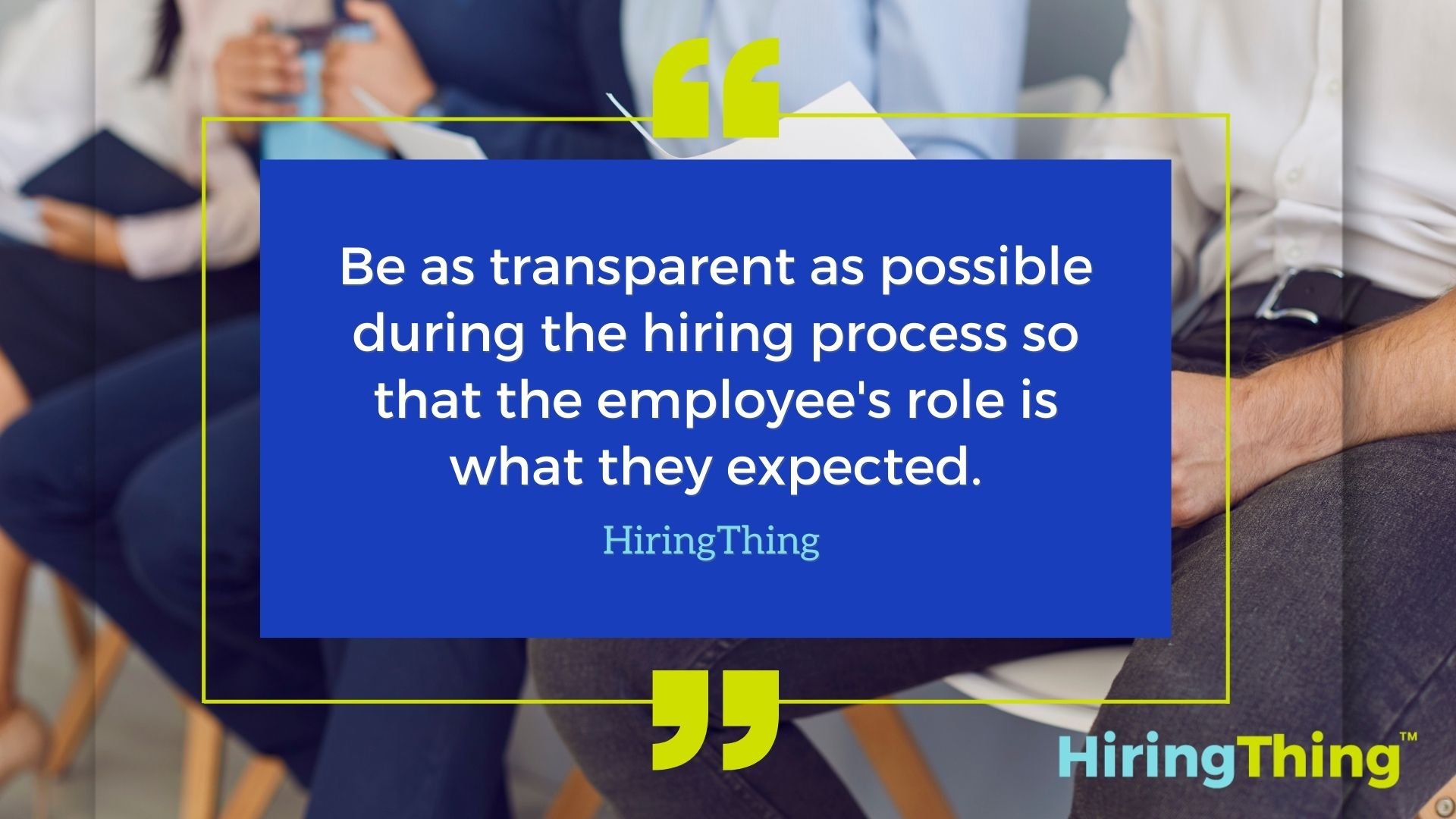 The Employee Referral Program Strikes Again
We already discussed the importance of an employee referral program, but did you know employee referral programs also reduce turnover?
The HiringThing Guide to Increasing Your Applicant Traffic is a great resource for more ideas on improving your hiring process, including ways to combat turnover.
Managing Multiple Locations
A challenge often unique to the hospitality industry—restaurants, hotels, franchises—is that you're often hiring for multiple locations. Ensuring consistency and automation across locales could be challenging.
How to Overcome This Challenge:
Multi-location hiring software like an applicant tracking system (ATS) can help!
ATS Adoption
An ATS is built to ensure that all job candidates get the same branded hiring experience. It streamlines and automates the hiring process so that your job candidates walk away wowed.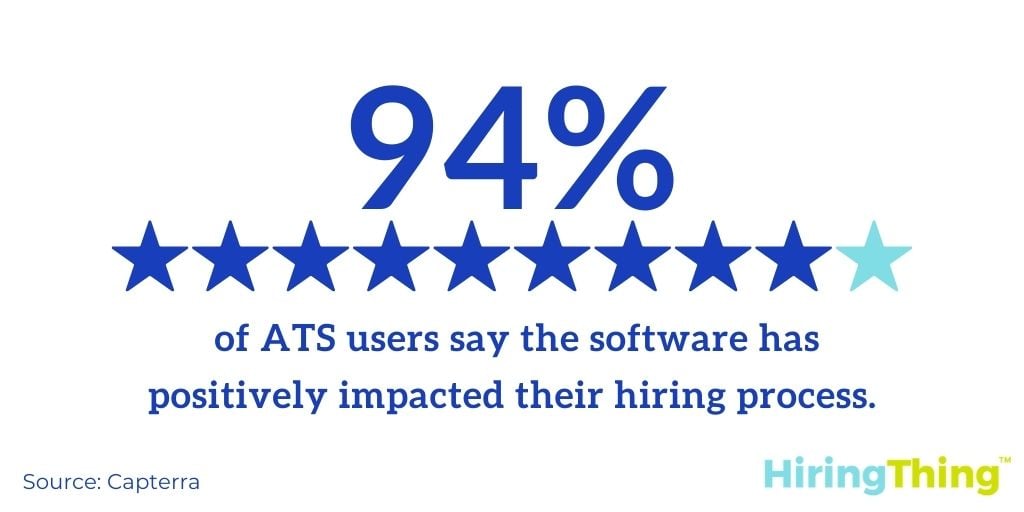 Private Labeling an Applicant Tracking System is a way many hospitality businesses, ranging from franchises to multi-location businesses increase their revenue, grow their businesses, and remain competitive by offering a bespoke recruiting solution. Want to learn more? Check out our post, What is a Private Label Applicant Tracking System?
Applicant Pooling
HiringThing customers can take advantage of applicant pooling. Applicant pooling allows you to share applicants across different job postings (and locations) within your account.
About HiringThing
HiringThing's approachable, adaptable ATS used throughout the hospitality industry. The HiringThing platform empowers everyone, everywhere, to hire their dream team. Try HiringThing's easy-to-use, feature-rich applicant tracking system with a free 14-day trial today!