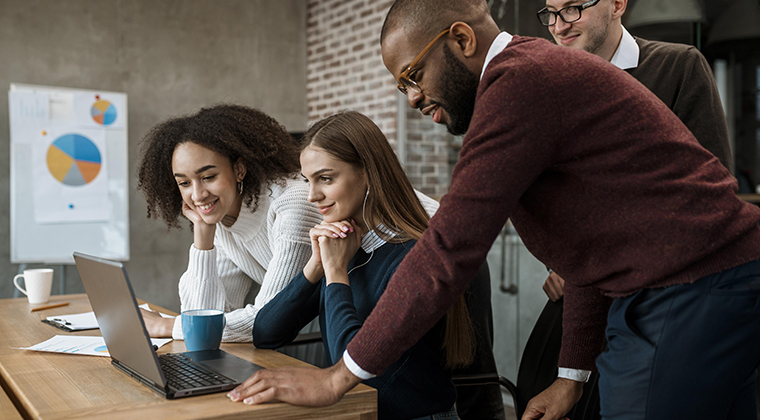 2022 is the Year of Vertical SaaS
Ask anyone attuned to trends governing the world of software as a service (SaaS), and they'll tell you a major 2022 SaaS trend will be the prevalence of Vertical SaaS platforms. The Vertical SaaS—niche software solutions created to service a specific business model or industry—has been growing steadily but recently spiked. The market size for vertical SaaS platforms has tripled over the last decade. The number of vertical SaaS companies increased by 28% since early 2020, and more Vertical SaaS companies have gone public in 2021 than any previous year.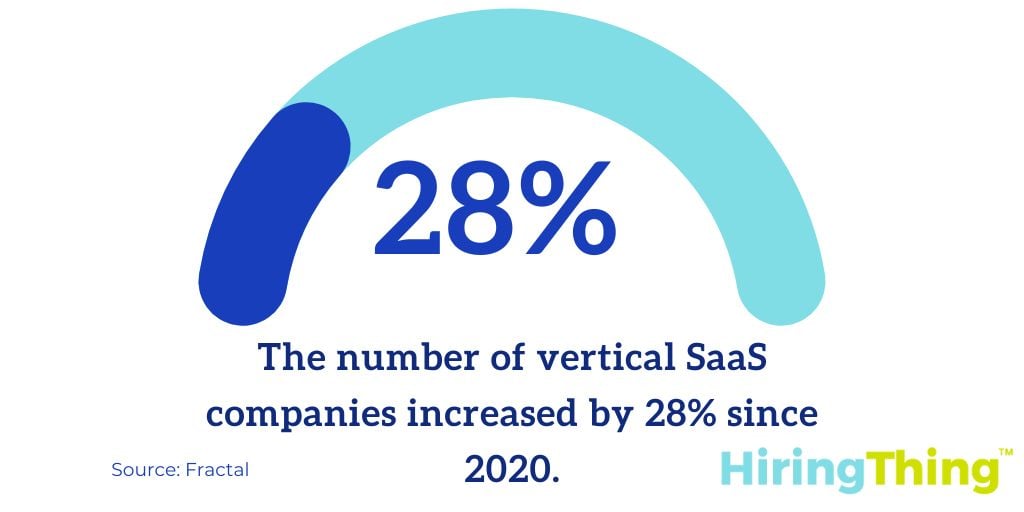 Vertical SaaS Platforms Must Grow to Remain Competitive
The growth of the Vertical SaaS industry reflects how ubiquitous digitization is becoming. Today's customers and employees expect even the most niche industries to utilize technology. Traditionally, Vertical SaaS platforms weren't interested in being all things to all customers and concentrated on being the best solution to the customers in their industry. Fewer competitors within these niche industries allowed early leaders to dominate their respective fields.
While this meteoric growth is excellent news for those in the business of Vertical SaaS, it also means unique challenges. Legacy platforms face competition for the first time, and newer platforms must find ways to differentiate themselves in a tight market. Vertical SaaS providers, from SaaS startups to more established platforms, must grow their offerings in 2022 to remain competitive and relevant while avoiding evolving SaaS challenges.
Three Key Components of Vertical SaaS Growth
Forbes published an article in December of 2020 titled "Three Key Components to Vertical SaaS Growth" that's an excellent roadmap for Vertical SaaS platforms looking to successfully grow their businesses.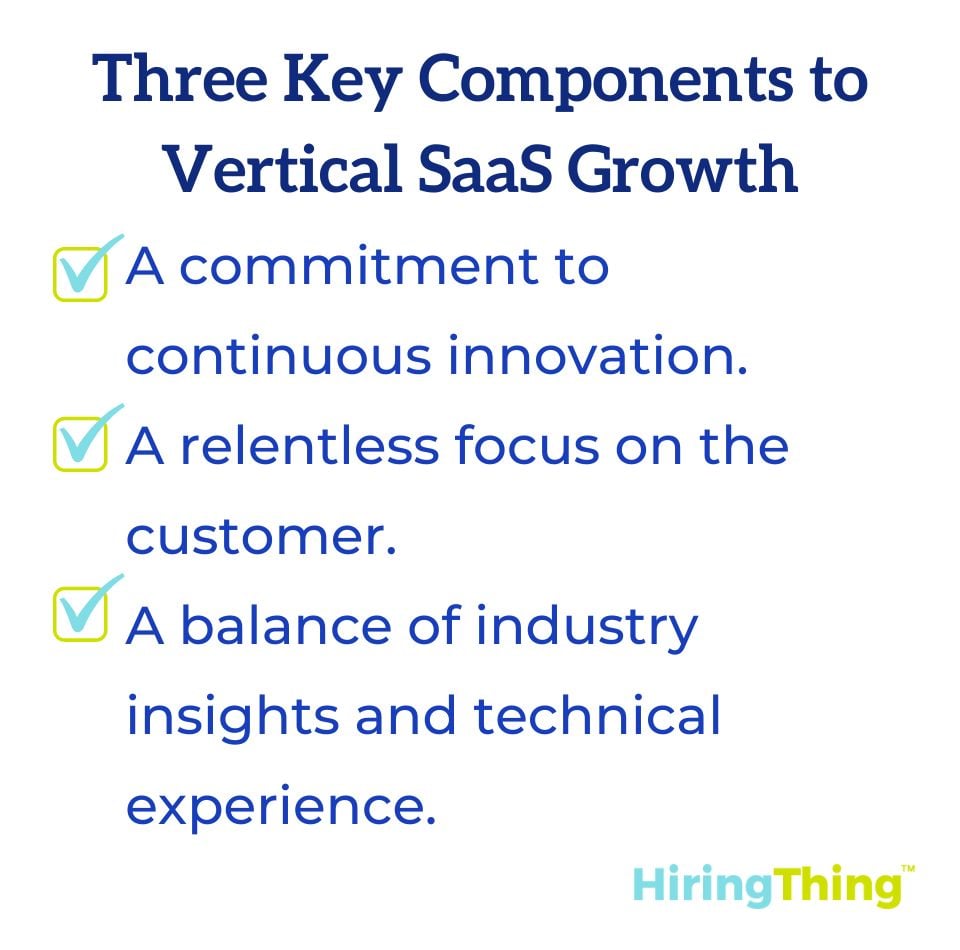 Forward-thinking Vertical SaaS platforms utilize integrations. Every capability a Vertical SaaS provider adds gives their users an additional solution, which increases their value—the more integrations a Vertical SaaS platform adds, the more they can charge per subscription.
A private label applicant tracking system (ATS) is an integration that can support the three aforementioned key components to Vertical SaaS growth, helping take these platforms to the next level.
What is a Private Label ATS?
A private label ATS is purchased by a company from a SaaS provider and customized with tailored workflows and employer branding. Organizations partner with a private label applicant tracking provider to meet their specific recruiting needs. The strength of private labeling is that end-users who buy or use the product are not aware it was developed by the private-label provider, strengthening the brand of the private-label purchaser.
How a Private Label ATS Can Support Three Components of Vertical SaaS Growth
A Commitment to Continous Innovation
The beauty of a private label partnership is the Vertical SaaS provider doesn't have to be an ATS or recruiting expert. As part of the partnership, the ATS developer will continuously work with the Vertical SaaS platform to customize workflows, troubleshoot clients and end-users, and provide customer success support. Good ATS partners will also share their engineering, product, sales, and marketing teams. An extended team makes continuous innovation much more viable for the Vertical SaaS platform.
Furthermore, the success of the Vertical SaaS provider's ATS efforts is the success of the ATS developer. It behooves them to continuously improve the functionalities of their platform to keep the Vertical SaaS provider a happy partner, which translates to continuous recruiting innovation for the Vertical SaaS clients and end-users.
A Relentless Focus on the Customer
84% of customers say the experience a company provides is just as important as its products and services. Vertical SaaS platforms need to focus on solving the main challenges of their clients, and no matter what industry a Vertical SaaS platform serves, hiring and recruiting will be a top challenge for their end-users.
Recruiting was the number one challenge of small and medium-sized businesses (SMBs) in 2021, and economists predict this will extend in 2022. ATS usage has proven to improve the hiring and recruiting experience.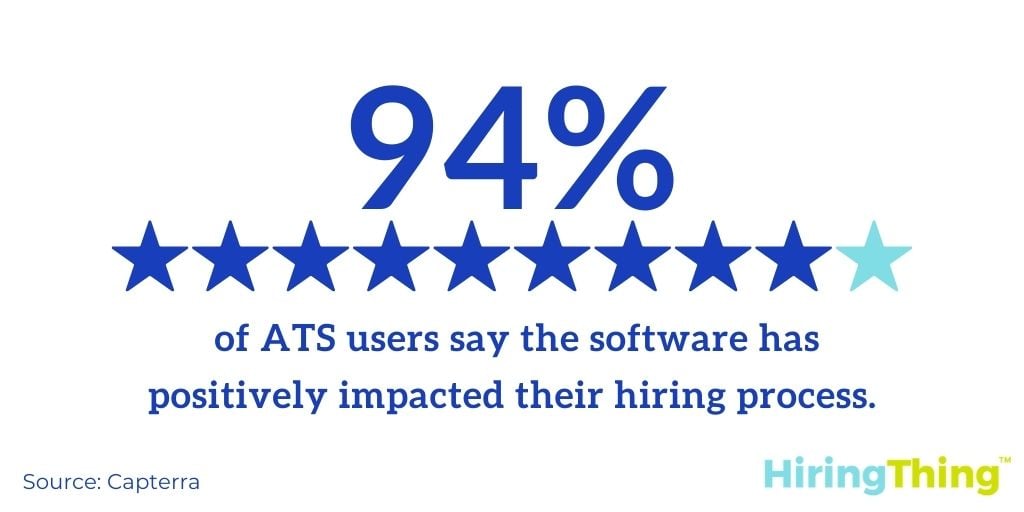 The partner support discussed in the last section, combined with solving customers' recruiting challenges, is sure to make any Vertical SaaS customer feel prioritized.
A Balance of Industry Insights and Technical Experience
Niche industries have niche needs. A Vertical SaaS platform could, of course, easily integrate a cookie-cutter ATS their clients and end-users have to learn to implement, onboard and use and hope the workflows and functionality meet their niche needs. Conversely, a private label partnership means working together to provide bespoke recruiting solutions specific to the industry the Vertical SaaS platform serves. The Vertical SaaS platform brings industry insights. The ATS developer brings the recruiting industry insights and technical expertise. That's more than just a balance. That's a true partnership.
The Vertical SaaS platform brings industry insights. The ATS developer brings the recruiting industry insights and technical expertise. That's more than just a balance. That's a true partnership.
Download "The Economics of Integrated Applicant Tracking Solution: How Vertical SaaS Platforms Can Improve Their Bottom Line"
Do you want to learn how Vertical SaaS platforms can grow their business through private label ATS integration at a more granular level? "The Economics of an Integrated Applicant Tracking Solution: How Vertical SaaS Platforms Can Improve Their Bottom Line" examines how Vertical SaaS companies acquire private label ATS to grow revenue, increase customer retention, extend their teams, gain competitive advantages, expand their market share, and take their platform to the next level.
About HiringThing
HiringThing is a modern recruiting platform as a service that creates seamless hiring experiences. Our private label applicant tracking system and open API enables technology and service providers to add hiring capabilities to their solution. Approachable and adaptable, their platform empowers anyone, anywhere, to hire their dream team.
Request a demo to see how HiringThing can help transform your business with a private label ATS.