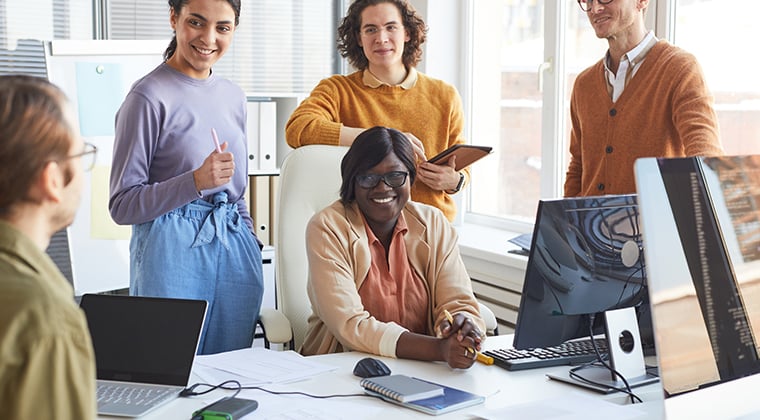 The Membership Marketing Benchmark Report found that 45% of associations have reported membership growth in the past year. Associations continue showcasing their professional relevance despite a tough few years with pandemic challenges.
To remain relevant, professional associations need to consistently find innovative ways to add value to their members. To stay competitive, they must consistently find ways to grow their association revenue, typically through creative ways of adding non-dues revenue (NDR) to their business models.
A private label applicant tracking system—proprietary recruiting software that can help association members take their recruiting capabilities to the next level—adds immense value for association members, generates new NDR streams, and is a quick, low-risk investment associations can make to help their organizations grow and thrive.
This post will explore ten reasons associations should be investing in their own private label applicant tracking system. If you've already arrived here determined to get started on your private label applicant tracking system journey, feel free to set up a demo below. Otherwise, please read on and let us convince you why you need this new solution.
Table of Contents
What is a Private Label Applicant Tracking System?
An applicant tracking system is human resource software that helps companies organize, automate, and optimize recruiting. An ATS provides a centralized repository for job candidate data, including resumes, applications, references, background checks, and other applicant data an organization requires.
Private label software is purchased by a company from a SaaS provider and customized with tailored workflows and company branding. Organizations partner with a private label ATS provider to meet their specific recruiting needs and present the ATS as a proprietary solution.
You may have also heard private labeling called "white labeling." Though many use private labeling and white labeling interchangeably, there's a crucial difference between the two.
White-labeled applicant tracking systems are produced by a SaaS company and rebranded by other companies. In contrast, private label applicant tracking systems allows companies to brand an ATS as their own but work with the SaaS developer to customize the platform to suit their association's specific needs.
Our "What is a Private Label Applicant Tracking System?" guide dives further into the ins and outs of a private label ATS.
Ten Ways Associations Can Benefit from a Private Label ATS
Increased Revenue
The American Society for Association Executives found association membership fees make up only 39% of an association's total revenue. The other 61% comes from non-dues revenue, which forward-thinking associations use to grow their organizations.
We have another blog with ideas for Four Innovative Sources of Non-Dues Revenue for Associations.
Your private label applicant tracking system can be monetized with subscription-based pricing that sets clear expectations around monthly packages. Usage-based pricing is another option. Here, your users pay for what they use. Location-based pricing is ideal if your customer base consists of franchises or multi-location businesses that offer fixed operating costs at each location.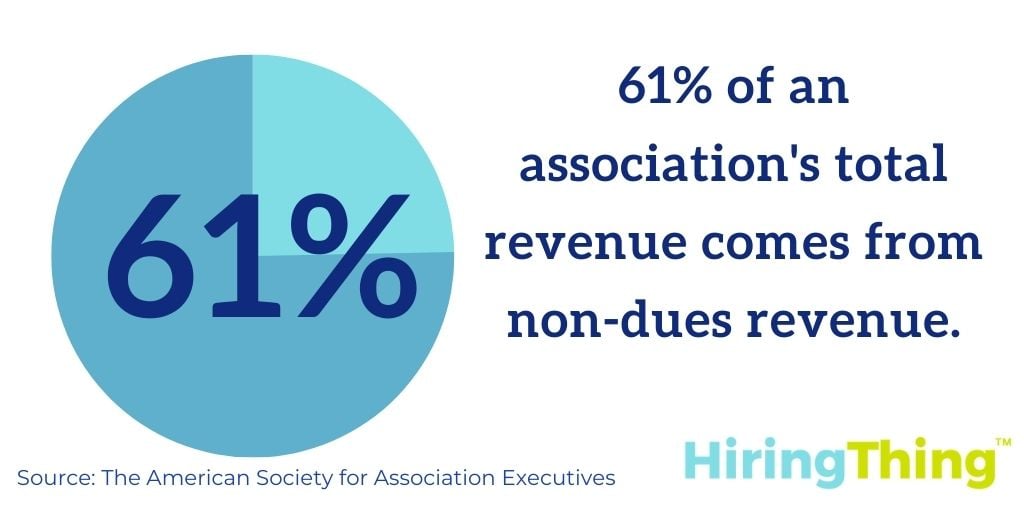 HiringThing offers an ATS monetization model called Flex Pricing. With Flex Pricing, all your members automatically get access to your ATS—it's just a matter of them deciding to utilize it. This subscription-based plan is designed so that your members can quickly scale up or down to meet their recruiting needs and only pay for what's being used. You could read about how a HiringThing customer used Flex Pricing, also known as the QuickStart program, to grow ATS usage and drive revenue.
Added Member Value
39% of associations indicate that "lack of value" is a top reason for members not renewing memberships—number one was "lack of engagement" at 50%. These two reasons play off one another. Members aren't going to be engaged if they can't find enough value in a membership.
Solve Your Customers' Top Challenge
Organizations in all industries are struggling to hire right now. Hiring was the top challenge facing businesses in 2021, extending into 2022. Applicant tracking systems can help organizations hire faster, get better-qualified candidates, and save money by avoiding bad hires and increasing retention rates. Take a look at the numbers:
94% of ATS users said applicant tracking systems positively impacted their hiring.

78% of companies

using an ATS say it makes recruiting easier.

86% of ATS users

say the software has helped them hire faster.

78% of ATS users say it has improved the quality of their hires

.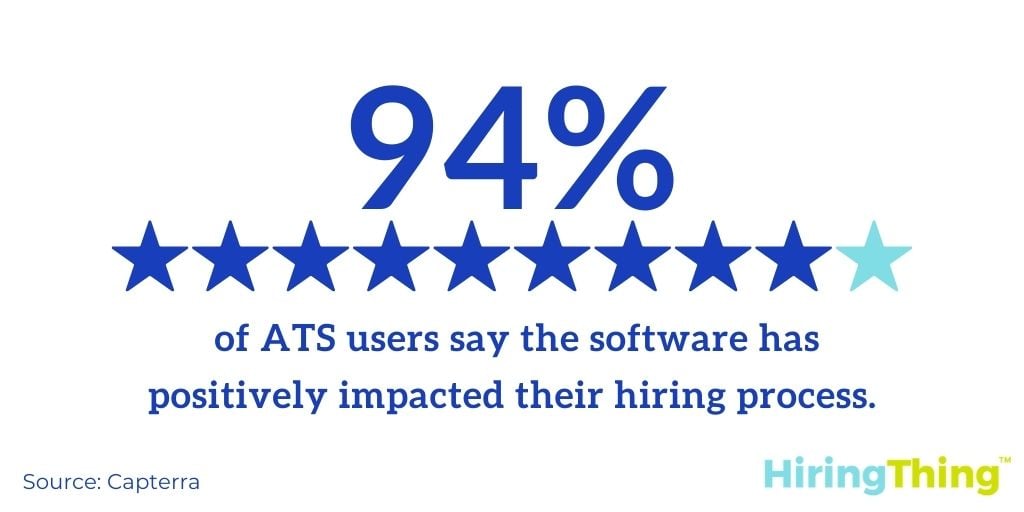 An applicant tracking system can help your members:
Save time and money.

Increase applicant traffic.

Provide a better candidate experience (crucial in today's hiring climate).

Build their employer brand.

Reduce employee turnover.
Check out the blog we wrote, What a Private Label Applicant Tracking System Does for End Users, for a more in-depth read on how an ATS can benefit your members.
The most crucial driver of non-dues revenue should be what benefits your members. Ask them what would make their life easier. Poll them and ask if an applicant tracking system is something they'd be interested in, using the stats provided to let them know how you can provide them with a dynamic recruiting solution.
Built-In Support
When you enter into a private label partnership, you get the added benefit of the professional support of their team, which could include everything from customer service to marketing to engineering.
How does this benefit your association? It allows you to give your members a great ATS experience, further enhancing the value of this tool and the value of their membership in your association. It can also help drive the adoption of your ATS and thus your NDR.
Sales and marketing support can help you grow revenue by promoting the value-add with email nurture campaigns, educational webinars, and content/collateral creation.

An expert product team means your ATS will always have new features and functionalities to delight your members.

Partner success and support means your customers are getting support and resources from the team that created and knows the ATS, resulting in a superior end-user experience.

The private-label partner can also help you onboard customers to your ATS, which means they're more likely to have a valuable experience using the product and continue doing so in the future.
Here at HiringThing, we've trademarked the terms Partner Perfection™ and Support Beyond Compare™ because of how highly we value the success of our clients. We're determined your private label experience with us will be unmatched.
Established Connections
57% of association members join to strengthen their network, so you're undoubtedly familiar with the power of a professional network and how long it can take to build (your members are joining you to help circumvent the often long network building process).
Partnering with a private label provider means entering a partnership with an entirely new network of connections for your members. Competitive private label applicant tracking systems will already have strong relationships with crucial job boards members can use to post and attract new talent. They'll also have a prebuilt network of third-party integrations, ranging from background check providers to skill assessments that will add value to your members' recruiting experiences.
Remaining Competitive
The Membership Marketing Benchmark Report discusses innovative ways successful associations have grown over the past year. 78% of successful associations developed "new products and services to assist members and member companies."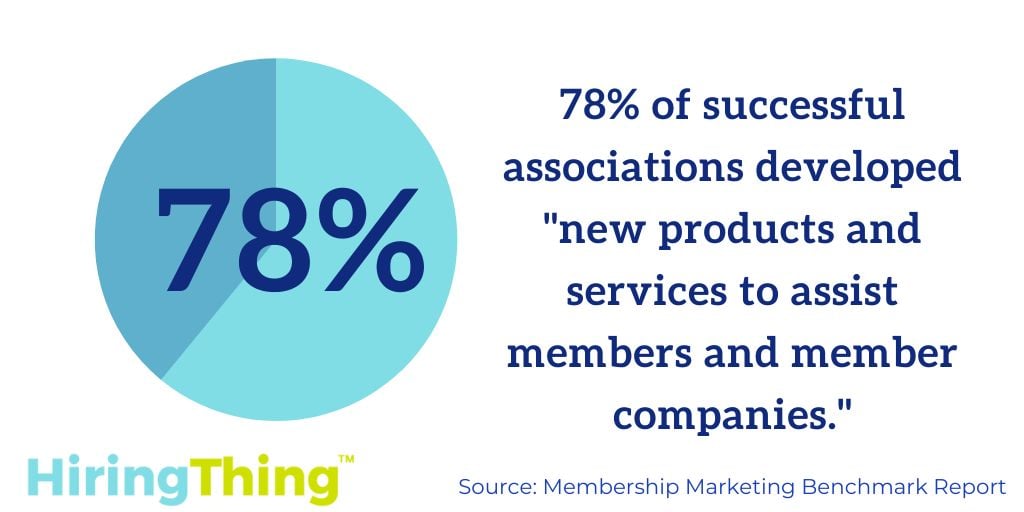 A private label applicant tracking system will assist members and member companies overcome the top challenges. An added advantage? Private labeling takes away the need to develop and test a new product! This innovative feature will help you stand out.
Increased Mission Relevancy
Associations usually have missions centered around advancing their profession or industry while helping those in the field develop their careers. What better way to showcase dedication to professional growth than helping your members grow their business through a strategic recruiting tool?
Since a private label applicant tracking system is branded as your association's and viewed by your members as a proprietary association solution, you're strengthening your alignment with being a leader in helping organizations in your industry grow and thrive.
Strengthened Brand
Unfortunately, associations are often associated with outdated practices and low-tech websites. Associations must showcase their tech-savviness, especially when it comes to attracting younger members (26% of associations struggle with appealing to the millennial and Gen Z professionals who now make up the bulk of our workforce). An Australian study found that professional associations that updated their membership experience with integrated technological solutions grew their membership by 11%.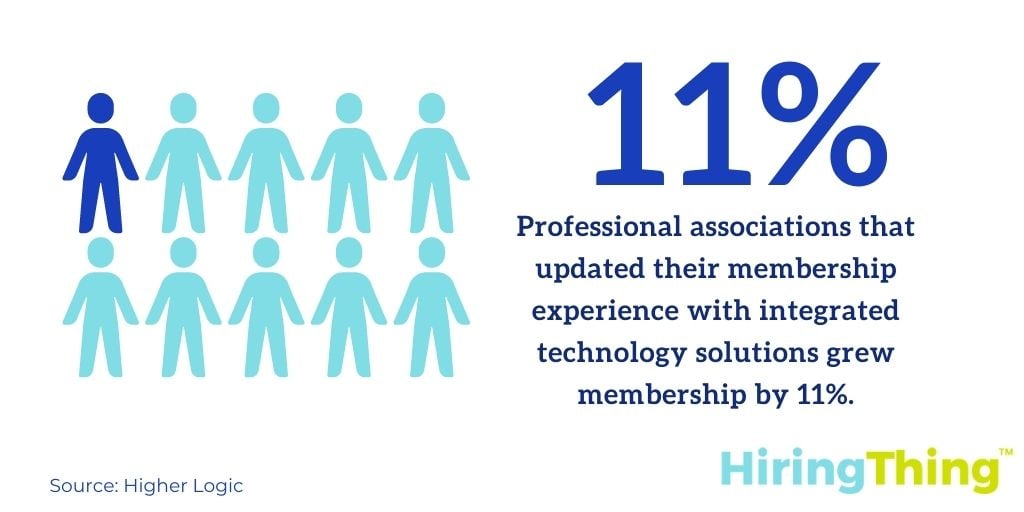 Rolling out new proprietary technology can do wonders for showcasing your association's brand as innovative, future-forward, and tech-savvy. It sends the message to current and potential members that you're at the forefront of solutions that will continue benefiting them.
Attracting young people is a key challenge facing today's associations. We have a post titled Five Association Challenges and How to Solve Them if you're in the market for additional association challenge solution ideas!
Quick Go to Market
Because a private label applicant tracking system is already developed by the provider, and you have that partner support to back you up, associations can roll out their new solution quickly and efficiently. A competitive private label ATS provider can work with an association to offer their members new solutions within weeks or even days of a partnership start date.
Decreased Member Churn
45% of associations reported a decrease in membership renewal (membership churn) in 2021. Retaining customers is the best way to ensure associations continue to grow and prosper. As discussed above, members often cite a lack of value as the main reason for their churn.
It goes without saying (and apologies if we sound repetitive, but we're only doing so because these points are important) that adding value to your members' professional lives will do wonders for keeping them around. However, many associations also struggle with communicating their value to members. This is where the partnership that comes with a private label applicant tracking system is key. The team at the private label provider can help with messaging, positioning, and ensuring your customers not only have a valuable new tool but are aware of its existence and value.
Expand Market Share
Best association practices say that if your current sources of non-dues revenue aren't working, expand into new, more lucrative markets. And the ATS market is doing very well.
The ATS market is expected to reach $2.22 billion by 2027 and has a Year-over-Year (YOY) growth of 4.74%. 74% of companies plan to increase spending on HR tech, with recruiting and retention being the top challenge cited as driving this acquisition. Recruiting technology is a thriving market if you're looking to drive revenue to your association.
Additionally, there are plenty of opportunities for ATS market growth. While almost all large organizations and Fortune 500 companies use applicant tracking systems, only 35% of SMBs have adopted ATS use—65% of that market is still up for grabs. An HR.com study also found 57% of recruiters at large organizations aren't satisfied with their applicant tracking system, which means there's ample opportunity to get those users using your ATS.
About HiringThing
HiringThing is a modern recruiting platform as a service that creates seamless hiring experiences. Their private label applicant tracking system and open API enables technology and service providers to add hiring capabilities to their solution. Approachable and adaptable, their platform empowers anyone, anywhere, to hire their dream team.