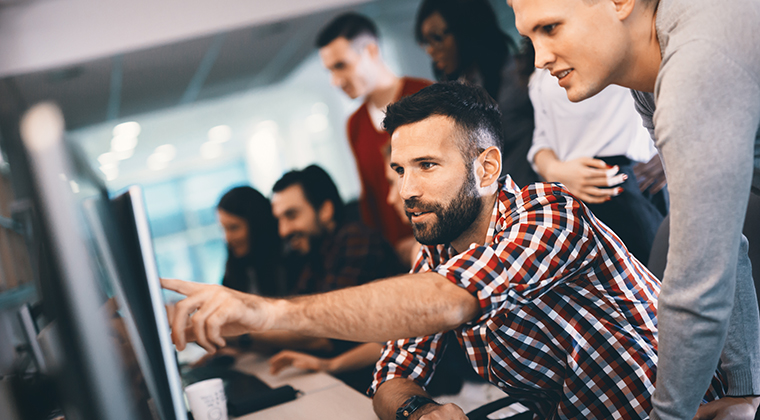 How Do You Create a Competitive Advantage in Your SaaS Space?
The average mid-sized company replaces 39% of their SaaS applications with ones with better functionality, mirroring what we've been hearing: consumers want their SaaS apps to solve several of their top workplace challenges.
In order to remain competitive and stand out from a crowded market—globally, there are approximately 30,000 SaaS companies with 14 billion customers—SaaS developers must consistently improve the value they bring to their customers, which increasingly means creating and launching new functionalities and products. It's especially pertinent for vertical SaaS developers whose markets are niche and even more competitive.
SaaS Best Practices to Make You More Competitive
If you start Googling "ways to make your SaaS more competitive," you'll get some combination of the following advice:
Prioritize the customer experience: Customers will spend more on a product that has superior customer service than one that has all the functionalities they seek. Improve customer service, support, knowledge base, and training for loyalty, retention, and upsell opportunities.
Offer insights beyond your product: today's consumers want not just technical solutions from their apps but industry insights and educational opportunities that give them the tools to be more competitive.
A commitment to continuous innovation: To get customers to renew their SaaS subscriptions, SaaS developers must develop new features and introduce new products that complement core functionalities.
Know your competitors' weaknesses: You want to see what your competitors are and aren't doing and see how you can capitalize on their detriments to make them your strengths.
All of this is solid advice and is part of what we would tell SaaS companies looking to make themselves more competitive (in fact, we've published blogs on delighting SaaS users and driving vertical SaaS growth that borrows from these best practices). However, it's admittedly not disruptive—to use a current buzzword du jour—in an innovative way. How can you disrupt your industry and give yourself that competitive advantage if you use the same playbook as everyone else in your space?
A Private Label Applicant Tracking System Will Give Your SaaS Company a Competitive Edge
Hiring is a top challenge for businesses of all sizes across all industries—90% of businesses hiring right now find recruiting difficult, and 76% of hiring professionals admit that attracting the right job candidates is a significant challenge. Why not add an applicant tracking system—HR software used to streamline and strengthen recruiting—to your suite of solutions? You're giving your SaaS company better functionality and helping your customers with a top challenge!
Applicant tracking systems help organizations hire faster, find higher-quality candidates, and make hiring easier. Private labeling your applicant tracking system means presenting your new solution as a proprietary feature, strengthening your brand, and providing additional revenue opportunities.
What is a Private Label Applicant Tracking System?
A SaaS company purchases private labeling software from another developer, which they can then present as a new, proprietary solution, giving SaaS organizations the ability to quickly and cost-efficiently add greater functionality and value to their core competencies.
You may have heard private label called "white label." While many use "private label applicant tracking system" and "white label applicant tracking system" interchangeably, there's a critical difference between these two modalities: customizations.
White label applications are produced by their developer and then outfitted with the purchaser's branding so they can sell their new solution to their customers. Conversely, a private label ATS goes a step further than a white label applicant tracking system's branding by customizing the new hiring solution to meet unique business needs through bespoke workflows, add-ons, and single-sign-on capabilities.
How Can a Private Label Applicant Tracking System Make Your SaaS More Competitive?
No matter your SaaS application's industry, every business is concerned with recruiting, hiring, and retaining great job candidates. If you're looking to expand your functionality with a valuable, universal solution that can add value for all your customers, why not recruiting?
Hiring is a universal business need, and private labeling capabilities mean tailoring your recruiting solution to the industry you serve.
A private label ATS drives additional revenue from current and new customers.
An applicant tracking system comes with the expert support of your private label partner and will improve your customers' experience.
Differentiate yourself from the competition! Hiring complements most functionalities, yet most SaaS products don't have proprietary recruiting solutions.
Hiring solutions can help you expand and grow your business while you help your customers expand and grow theirs.
Providing your customers the solution to a universal challenge helps you remain stickier and prevents customer churn.
When you partner with a private label applicant tracking system provider, you also get the expanded professional support of their team, allowing your employees to focus on core competencies.
Applicant tracking systems

benefit your end-users

.
Private labeling a new solution is a low-risk, high-reward investment.
Learn More About How HiringThing's Private Label ATS Can Help Make Your SaaS More Competitive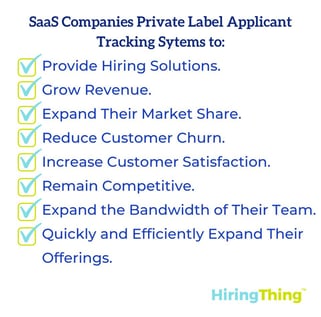 HiringThing is the premier private label applicant tracking system on the market. We've helped many SaaS organizations expand their functionality and become more competitive with the addition of an innovative recruiting solution. To learn more, check out Ten Reasons Your SaaS Platform Can Benefit From ATS Integration and set yourself apart from your SaaS competitors.
Related Resources
About HiringThing
HiringThing is a modern recruiting platform as a service that creates seamless hiring experiences. Their private label applicant tracking system and open API enables technology and service providers to add hiring capabilities to their solution. Approachable and adaptable, their platform empowers anyone, anywhere, to hire their dream team.