The Ultimate Guide to Establishing a SaaS Private Label Partnership

Pat Brothwell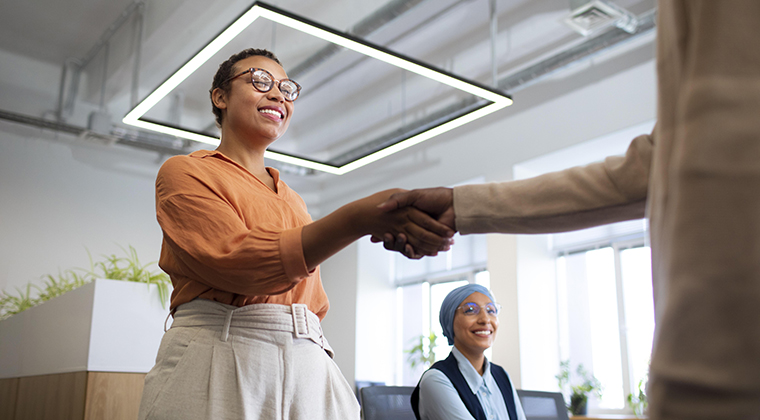 Private Labeling (Also Often Called White Labeling) New SaaS Applications Helps SaaS Businesses Remain Competitive
SaaS applications are ubiquitous in today's modern workplace—99% of businesses use at least one SaaS solution, and 80% of companies rely solely on SaaS applications to run their businesses. It's a crowded market, with the U.S. having approximately 17,000 SaaS companies serving 59 billion customers worldwide.
SaaS companies need to find a way to help themselves rise above the competition—Gartner's 2021 CIO Agenda found more than 80% of tech organizations are moving quickly on new development initiatives designed to make them more innovative, resilient, and competitive. As an alternative to building their own hiring software from scratch, many are turning to private labeling (also called white labeling) additional SaaS solutions to quickly and cost-effectively expand their products or services without neglecting their core competencies.
Here at HiringThing, we're a PaaS that private labels additional SaaS solutions for other companies. It's the cornerstone of our business. We were founded in 2012 as an applicant tracking system (ATS) developer. Applicant tracking systems are recruiting software built to automate, streamline, and strengthen hiring. After conducting extensive market research, we realized that private labeling our software so that other organizations can brand it, tailor it to fit their needs, and present it as a proprietary SaaS solution was the best way to help the most employers transform their hiring while simultaneously enabling our private label partners to grow their organizations.
We've pivoted from largely offering our ATS to end users to now serving as a private label PaaS partner. We know firsthand the power of a private label partnership. We're passionate about private labeling. It's an essential part of our business model. That's why we've created this guide.
By the end of this reading, you'll be ready to take advantage of everything a private label SaaS partnership—and as you read, you'll see why we call this a partnership versus purchase—can offer your SaaS business.
Table of Contents
What is Private Labeling?
SaaS Outsourcing is Growing
Data shows that 59% of businesses outsource in some capacity to cut costs. Additionally, software outsourcing is projected to be on a 10-year growth spurt through 2025 due to how pivotal and widespread SaaS functionalities are for many organizations.
You can think of private labeling as a form of outsourcing, but instead of taking a chance on someone whose experience and effectiveness may not be tested, you're letting an expert team manage and support your new SaaS solution, unbeknownst to the end-users you serve who believe this private label product to be one of your proprietary applications.
What is Private Labeling?
Private label software is purchased from a SaaS or PaaS provider and customized with the branding and bespoke workflows the purchaser requires. Instead of draining internal resources researching and building additional software, private label purchasers work with private label providers as a mutually beneficial partnership versus the traditional buyer/client relationship. Since end-users aren't aware of this behind-the-scenes partnership, it strengthens the brand and scope of the private label purchaser's product offerings.
Private labeling is a good tool for companies looking to grow because it allows them to quickly and cost-efficiently add new solutions, go to market fast, and expand the bandwidth of an organization's team by gaining the expert support of the private label developers' staff, perfect for a growing organization trying to scale!
White Label Vs. Private Label
You may have also heard private labeling called "white labeling." While the two are often used interchangeably, we prefer private labeling for a few reasons:
Typically, white labeled platforms are produced by a SaaS or PaaS developer and then rebranded for customers—white-label SaaS products are created to be mass distributed to as many customers as possible with no real customizations or tailoring.

Private labeling goes far beyond white-label branding. Private label PaaS or SaaS developers customize the platform to fit an organization's specific needs and work closely with them throughout their partnership's tenure to meet those needs. White label connotes generic, while private label connotes a bespoke solution and experience.
Why Do Companies Private Label?
Whether you're looking to gain additional customers, reduce existing customer churn, or expand your offerings without expanding your team or budget, private labeling can help. There are myriad benefits for SaaS applications looking to private label additional solutions.
This section will explore the most significant benefits of SaaS companies forming private label partnerships.
Save Time and Money on Product Development
There is no magic formula to determine the cost to build a SaaS application, but estimates place the range for developing a market viable product (MVP) between $50-250k. Keep in mind that this is an estimate. If you're looking for a competitive product, costs are likely higher—70% of software development costs occur after implementation. Unexpected challenges are why 53% of projects cost 189% more than the original estimate. You'll also need to allocate resources for upkeep and updates. Additionally, you'll need to either divert the attention of your core team to work on the new application, pay for new hires, or outsource development talent.
According to DevSquad, building a minimum viable product (MVP) takes an average of 2 to 10 months but can take much longer. Other sources report build times can range from 8 to 9 months to get a platform up and running. Additionally, keep in mind the time it takes to hire or outsource new talent to produce your new solution.
Private labeling bypasses the cost and time required to develop new solutions from scratch. Competitive private label developers can get you up and running with your unique solutions within weeks or even days. Their expert teams will work with you to integrate the new solutions with your core product.
Once again, here at HiringThing, we private label applicant tracking systems (ATS) to help companies add recruiting solutions. We created a post titled An Alternative to Building Your Own ATS to showcase the time and money companies can save by private labeling our recruiting solution vs. building their own if you want a more tangible example of how private labeling can save time and money on product development.
A Low-Risk Investment
Have you thought about what would happen if you spent hundreds of thousands of dollars over almost a year to develop a product customers don't like? If your customers don't want your private label solution, you can simply end the subscription with your partner. However, choosing the right private label partner (we'll explore later in this guide what goes into selecting the correct partner) means investing in a time-tested solution that works.
Expand Your Reach
83% of SaaS executives foresee an increased need for new products and services in 2022. New solutions mean expanding your reach, remaining competitive, and overall business growth in today's SaaS landscape.
Private labeling allows you to scale your business by adding new solutions and services with minimum investment. If you could add more products and services, you'll be able to expand the number and types of customers you serve. Ultimately, private labeling a solution is a fast, cost-effective, and low-risk way to expand your offerings without compromising your core competencies.
Keep Your Main Focus on Core Competencies
Developing new applications or services takes time and resources, especially if you're exploring a competency you've never worked with before. One mistake many SaaS or PaaS companies try to make is attempting to scale too fast without the proper infrastructure, effectively growing and offering new solutions, but at the expense of the solution that built your business.
Private labeling bypasses the time and resources that could take away from what made your core competency. It allows you to focus on what you do best: helping your customers solve their problems through your core product and expanding your sales and marketing efforts.
Expand Without the Expertise
Private labeling new solutions allows you to expand into new markets and offer competencies where you don't have experience or expertise. That's part of what makes private labeling so alluring. You're partnering with a company that's already established its expertise and relying on that expertise to expand your brand.
Strengthen Your Brand
Private labeling additional SaaS or PaaS competencies can also help strengthen your brand. Instead of integrating different solutions under the brand names of their developers, private label solutions are presented as proprietary products. End users don't know you're not the one developing and supporting the new solutions they're using, just that you're making their lives easier and ensuring they don't have to jump between as many applications to run their businesses.
Stay Flexible
The 2022 Global Software Outsourcing Trends and Rates Guide says, "Software development outsourcing ultimately became a required consideration or a strategic necessity to help businesses to respond to sudden business shocks effectively and adapt for long-term resiliency."
As we just learned through all the chaos of the pandemic, work closures, and shifts in workplace trends, highly adaptable organizations are the ones that stay in business. If your organization needs to pivot to address new customers' needs or challenges quickly, private labeling can ensure you're able to meet these needs in a timely, efficient manner.
Gain Revenue
Every new solution a SaaS provider adds to their platform increases their solution's value to existing and potential customers. A private label solution branded as a SaaS provider's proprietary software and tailored to meet the needs of their business and customers is a monetizable value-add—studies show monetization is 4x more efficient than acquisition and 2x more efficient than retention at improving revenue growth.
Expand the Bandwidth of Your Team
One of the greatest benefits of partnering with a private label developer is getting their team's professional support, expertise, and added bandwidth. You benefit from your partner's experience and resources.
This support can be everything from customer service to engineering. It provides a superior customer experience for your clients and can help drive additional revenue.
Sales and marketing support can help you market to new customers and get existing customers onboarded to your new solution.

An expert product team means you don't have to worry about adding new features or functionalities to your new solutions. The private label team has that covered.

Customer success and support mean your customers are getting help and resources from the team that created and knows your new solution, a team that's an expert of the ins and outs and knows all the troubleshooting tricks, yet presents as your brand's staff.

Engineering and development create the solution(s) you're private labeling, so you don't have to expend your engineering resources.

The private label team can also train and enable your employees to educate current and potential customers about your private label solution.
The Added Benefits of An Additional Development Team
In 2021, 61% of US recruiters said hiring developers was one of their biggest challenges, characterizing the process as complex, long, and expensive—the average developer salary is $110,140. Additionally, 86% of organizations believe a lack of tech talent is a crucial barrier to achieving their planned business outcomes.
Gaining a development team in the form of a private label partner means you don't have to go through the complicated, lengthy, expensive process of expanding your development team. It also means you don't have to have this particular barrier to achieving business outcomes—your private label partner's development team can achieve them for you.
Private Label Partners Are Invested in Your Success
Your success is your private label partner's success. If you can make a business of reselling their software, you will likely continue to be a customer — and your private label partner will want to keep you as a customer! With each private label partnership you form, you're gaining an additional investor in your success.
Retain Happier Customers
According to McKinsey, "SaaS businesses that aim to achieve higher growth put as much attention into caring for existing customers as they do into acquiring new ones, investing in specific post-sales constructs to increase cross-sell, upsell, and retention and sourcing the right talent, tools, and analytics. These efforts, combined with strong pricing and product support, result in median net retention rates (NRR) of 120 percent or more—which means these businesses are able to deliver 20 percent growth every year without adding a single new customer."
Retaining your existing customers is essential. Private labeling is a strategic way to make your SaaS product stickier and customers happier, reducing churn, increasing cross/upsell opportunities, and keeping retention high.
Private labeling is one way to make your SaaS product stickier. Need additional stickiness ideas? Check out Five Ways to Make Your B2B SaaS Stickier.
Private Labeling Gives Your Customers More Reasons to Stick Around
Investing in private label solutions means organizations can increase the scope of their offerings, which means customers have more reasons to use their platform. It also means accelerated responsiveness to meeting customers' demands. Suppose your customers are all looking for the exact new solutions or functionalities. In that case, you can private label those for a fraction of the cost and time it would take to develop them yourself, but to your customers, it's your new solution.
Private Labeling Can Help Fulfill Specific Requests
Private labeling can come in handy when fulfilling specific client requests. Clients, especially big clients, often make product requests —that's an accepted part of what makes B2B SaaS solutions so specific. Organizations can't honor every request, but turning down large requests from key clients could see you miss out on revenue or risk churning those clients.
Private labeling is a way to efficiently and cost-effectively honor client requests without stretching your resources too thin.
Private Labeling Enhances the Customer Experience
84% of customers say a company's experience is just as important as its products and solutions. Customer experience is integral to SaaS companies growing their revenue and business—86% of customers are willing to pay more for a great customer experience!
Today's consumers have never had more freedom regarding service providers, even in the niche markets vertical SaaS providers serve. If you're helping your customers with additional business challenges, with expert support, which a private label partnership provides, you're making their lives easier.
Who Private Labels?
Private labeling is quite popular across all SaaS industries—remember that 60% of organizations outsource in some capacity, and much of that is private labeling.
There are companies for private labeling social media management software, email marketing software, and integration tools—as previously mentioned, here at HiringThing, we private label recruiting software. For example, scheduling or payroll HR SaaS products private labeled our applicant tracking system to offer recruiting solutions on top of their scheduling or payroll core competencies. We also have vertical SaaS developers who have added recruiting solutions to their offerings through our private label partnerships.
Private labeling new solutions is a great way to help startups grow. Check out our post Grow Your Startup by Private Labeling New Solutions to learn more.
In short, any SaaS or PaaS application can benefit from private label partnerships.
Build a Business Through Private Labeling
Private labeling is most often used by SaaS companies wanting to extend their reach or enter new markets. It's also an option for individuals with a strong vision they're confident about marketing but do not have the technical expertise to make that vision happen. With the right messaging and partner, it's feasible to build a business around a private-label product.
The only caveat we want to mention here is to do your homework about the history of the private label developer. Remember, if something happens to that business, it affects yours. You want to ensure you're going into business with a stable organization you can count on to support yours.
Finding the Right Private Label Partner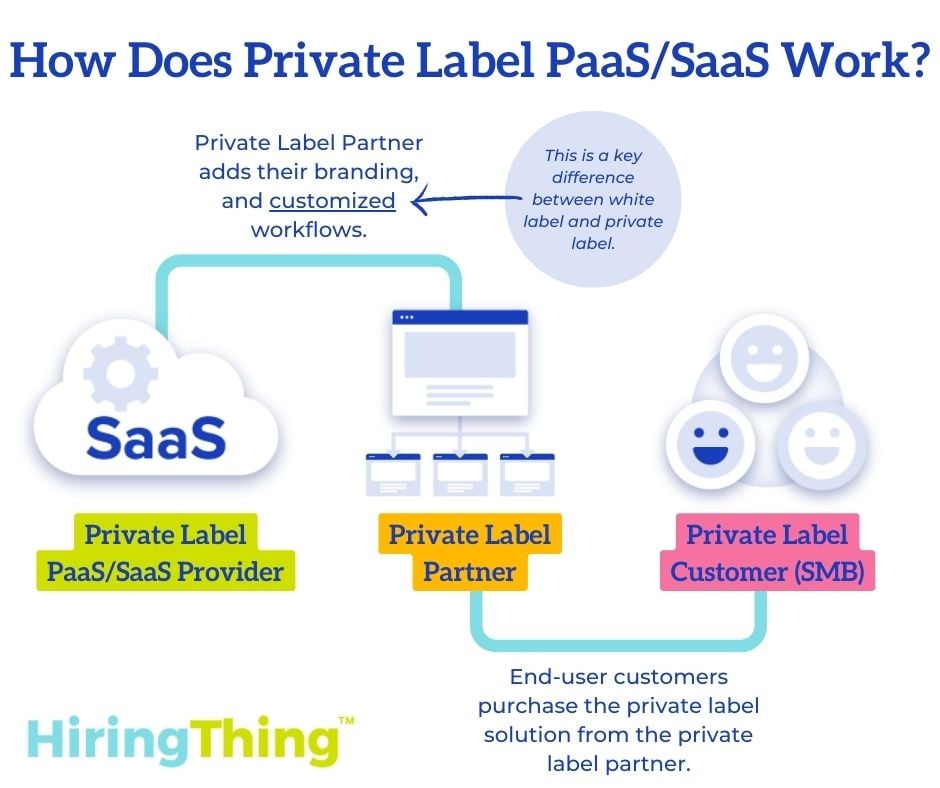 In this section, we'll outline the steps it takes to form the right private label partnership with a SaaS platform.
Consider Areas of Enhancement
You may already have a new solution you're looking to private label. If that's the case, great. You can feel free to skip this step. Other SaaS companies may know they want to expand their solutions and take advantage of the benefits of private labeling but don't know where to start.
Ask yourself the following questions to determine what new private label solution would most benefit your organization:
What are your customers' most significant professional pain points?

What solutions can you offer to help assuage these pain points?

What will benefit your customers the most?

What solutions are your customers asking for? What are the challenges they're consistently asking you to solve?

Are competitors in your market offering this solution, or would this be a differentiator for you in this space? Conversely, are you the last party offering this solution?
You're private labeling to expand your solutions and grow your business, so think customer-centric when adding additional competencies.
Some additional enhancements to be on the lookout for once you start essentially interviewing potential private label partners include the opportunity for top-line revenue, partner marketplace opportunities, marketing and sales support, and an open API.
Do Your Research
Once you've decided what solution(s) you'd like to private label, it's time to do your research. What technologies will accomplish your solution? How are they used? What is their pricing structure? What functionalities do the most competitive solutions have? What are users saying about these solutions?
We recommend going into the process of finding a private label partner with as much knowledge as possible so that you can make the most informed choice.
Find a Private Label Partner
The next step is to find a private label SaaS developer you can partner with to bring your new solution and vision to life. While private label developers advertise their products and services, it's often not as straightforward as searching for a regular B2B SaaS solution. Since these companies succeed by making other companies look good, they aren't as overt about their marketing as their straight-to-consumer counterparts. This doesn't make it hard to find a private label developer to partner with per se, just an added layer to keep in mind.
Google
Obviously, Google will probably be the first place you check. The best thing to do is search Google for "Private label + _____ (solution you'd like to private label)," and you should get the top private label SaaS developers for the industry or product you're seeking. For example, if you searched "Private label applicant tracking system" (remember, that's what we do here at HiringThing), the first non-ad result would be our blog, "What is a Private Label Applicant Tracking System?"
Though there are several differences between private label and white label, many organizations still use "white label," so, for example, searching for "white label applicant tracking system" is also useful.
Tradeshows
Tradeshows are a great way to connect with the best private label developers in your industry. Meeting representatives from the private label developer in person also allows you to ask any additional questions if this is your first private label venture.
Networking
Ask around to those in your industry and see what they've private labeled in the past. Additionally, industry-specific messages or chat boards are vital for gathering information about what private label solutions are available.
Partner Considerations
The 2022 Global Software Outsourcing Trends and Rates Guide found that 97% of SaaS companies that outsource "aren't qualified to deliver the quality and outcomes" companies need. It also found that "performance or fit issues" have caused more than 50% of companies to end outsourcing partnerships."
Finding the correct private label SaaS partner is critical if your private label endeavor is successful. This section will explain how to find private label SaaS partners and what considerations you should make while evaluating potential partners.
Remember that a private label partnership goes deeper than your typical buyer/customer relationship. They are an extension of your team, ultimately mimicking your original business, serving as a means to growth, and creating a revenue stream. You want to ensure that this relationship is right on every level before proceeding to stake a large part of your business in this new relationship.
Industry Reputation
Is this a high-quality product? Has it helped out other businesses? While many private label partners won't want to divulge that they private label, an excellent private label developer will be able to provide examples of how they've helped businesses with specific facts and figures, even if they can't name their partners.
HiringThing's private label capabilities account for approximately 90% of our business. That's the kind of stat you want to see when exploring industry reputation.
This is also where Google is your friend. Companies talk, sometimes anonymously, and you should easily be able to find reviews for any company.
Similar Values and Visions
Once again, this isn't simply a purchase but a strategic business partnership. Find a private label partner whose organization has values and visions that align with your own.
Transparency
Since you're looking for a strategic business partner, you want the relationship to be as transparent as possible.
Ensure company-wide transparency: During the consultation stage of your burgeoning partnership, you want to make sure all the experts at your company can speak to their counterparts at the private label developer. Ensure you access the product team, engineering, marketing, sales, and customer service. It should be a red flag if you aren't able to speak to all departments in your new partner's company.
It's especially pertinent to have the involvement of the product team early and often. A private label solution can be a robust product add and will ultimately need to end up on their roadmap to create the most fruitful partnership.
Make sure your demos or trials are all-encompassing: You should be able to play the part of a potential user when you demo software to learn how everything works. You're trusting this private label partner with the success of your business, so it's a red flag if you're unable to see how any of the user's journeys work.

Ensure contractual transparency: Don't be afraid to ask questions and thoroughly read any contracts before signing. A good private label partner isn't trying to pull any punches and should be able to walk you through the partnership terms in a meaningful way.
Support
When you sign up with a private label partner, you're not only getting their technical solutions but expert support:
Does your private label partner offer robust services and support?

Do they have a clear method for onboarding you as a private label partner and your customers as end-users?

Will they work with you to train your staff so you can start marketing and selling soon? Do they have resources to help you learn?
If a private label developer isn't offering support, you're better off going in a different direction.
Communication
If communication isn't timely or transparent during the sales/consultation process, that might be a good indicator of what it will be like during your partnership. Remember, the SaaS private label developer is helping expand your business, but you're also helping to expand theirs. Communication should never be an issue and should always be a two-way street.
Demo the Solution
After you find the right partner, make sure they can provide a solid demonstration of how the product works and ensure that it will work for your business model and customers, whether this is an in-depth demo or trial run.
Things you should look for during a demo include:
User experience: Will it be easy for employees at your organization to use the product? Is it intuitive?

End-user experience: Will this new solution provide a delightful experience for your customers?

Integration: It's also important to ensure that your private label solution integrates smoothly with your other solutions and the tools your customers use, so it doesn't become a headache for them.
Per the previous section, look for transparency, support, communication, and values during your demo. You won't necessarily leave a demo having every question answered, but you should leave a demo understanding that the product will work.
Tailor Your Private Label Product to Fit Your Business
Remember, private labeling goes further than slapping your logo and branding onto a SaaS product. If the organization you're researching can only do this, we recommend looking elsewhere.
Create a Distribution Plan
Work with your new private label partner to market your new solution to your customers. Decide whether this will be an upsell or value-add, and what your messaging will be. Will this be an option for every customer or just some? What is the pricing structure? What will the messaging around your new solution be? Remember, a good private-label partner can work with you to perfect your marketing approach.
Here at HiringThing, we have a pricing option called flex pricing. With flex pricing, all customers of a private label partner automatically have access to our ATS, and it's up to them to decide whether to utilize and eventually start paying for that access. With flex pricing, it's less about trying to get customers to buy into a new integration. Instead, we educate the customers on the power of their new solution.
In Conclusion
We hope you've come to understand the value of private labeling a SaaS solution and finding the private label partner that can take your business to the next level. In the next section, we'll give you a quick preview of our private label solution—the private label applicant tracking system—and the benefits it can offer SaaS providers.
How Can HiringThing's Private Label Recruiting Solutions Benefit SaaS Providers?
An applicant tracking system (ATS) is software used to streamline and automate recruiting and hiring. Most businesses—75% of recruiters and hiring professionals and 98.5% of Fortune 500 companies—use an ATS for their hiring and recruiting needs.
Why Do End Users Use Applicant Tracking Systems
Organizations utilizing an ATS report quicker hires, better hires, and an improved hiring experience.
78% of companies

using an ATS say it makes recruiting easier.

According to Capterra, 94% of ATS users say the software has positively impacted their hiring process.

86% of ATS

users say the software has helped them hire faster, and 78% of ATS users say it's improved the quality of their hires.
How Do Private Label Recruiting Solutions Help SaaS Organizations?
To fully understand the value of a private label ATS, it's important to note how much recruiting problems hurt your clients' brands, employees, and bottom lines. SaaS organizations offer these proprietary recruiting solutions to:
Become more competitive.

Expand market share.

Prevent customer churn.

Grow revenue.

Expand the bandwidth of their teams.
If you'd like to learn more about what a private label ATS entails, check out our popular What is a Private Label ATS? Guide below. If you already think a private label ATS could help your SaaS platform, sign up for one of our demos (since you now know exactly what to be looking for!).
About HiringThing
HiringThing is a modern recruiting platform as a service that creates seamless hiring experiences. Our private label recruiting technology enables organizations to add hiring capabilities to complete their solution. With our open API and developer-friendly documentation, we enable customized workflows and seamless connectivity for HR Solutions, PEOs and ASOs, Franchises, Vertical SaaS, and more. Approachable and adaptable, our platform empowers everyone, everywhere, to hire their dream team. Set up your demo today.